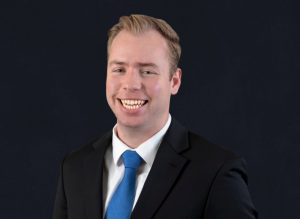 Personal injury attorney Blaine Mustoe's path to personal injury law stemmed from a personal experience. Some of his family members were victims of a terrible incident right before he started law school. While he thought the responsible party would stand up and try to make it right, they did not, and instead acted indifferently towards the damage they had done. Witnessing this injustice – one dealt directly to people he cared about – made him realize that holding wrongdoers accountable and helping the victims put their lives back together is what he wanted to do.
"My favorite part of being a lawyer is helping regular people stand up for themselves to powerful companies and organizations."
Blaine, like several of our attorneys, was born and raised in Kern County. He came back after law school to work at Rodriguez & Associates so that he could help the community that surrounded him when he was growing up. Blaine graduated from Arvin High School, also the alma mater of Daniel Rodriguez, Senior Partner and Founder of Rodriguez & Associates. Ironically, or maybe it was kismet, Blaine met Daniel Rodriguez in high school when Blaine was part of the We the People program, a high school academic competition in which students are tested on their knowledge of the U.S. Constitution and American Government. Mr. Rodriguez had volunteered an afternoon to teach the students public speaking skills and Blaine was part of that group.
Blaine is a first-generation member of his family to attend college. He worked multiple jobs to pay his way through school while also staying active in intramural sports and political clubs on campus and earned a degree in Political Science from UC Berkeley. Blaine attended UC Davis School of Law where he took part in mock trial exercises and volunteered in outreach programs with local schools. During his last summer of law school, Blaine worked at Rodriguez & Associates and was impressed with the firm's commitment and ability to champion local residents against powerful corporations and entities. Impressively, Blaine passed the California Bar Exam on his first try and when the partners of Rodriguez & Associates recruited him, he jumped at the chance to return home and work in the line of personal injury law, which he had been interested in from the beginning of law school.
At Rodriguez & Associates, Blaine has worked on a variety of cases including catastrophic car collisions, civil rights violations by law enforcement, and defective products.
In his spare time, Blaine volunteers as a judge and coach for We the People, the same program he was involved in at Arvin High School. He loves to be able to give back to the program that he enjoyed so much. He also likes reading novels and non-fiction, running, trying new recipes, and rooting for the Golden State Warriors.