Blog
Rodriguez & Associates – Here To Support You
Posted in Rodriguez & Associates on March 30, 2020
Yes, we're living in some pretty difficult and hard times, but know you still might have legal needs. We'd like you to know that our Bakersfield personal injury law firm can accommodate.
If you need to call us, contact us via our contact form or call us at (661) 323-1400. We can support you in a number of different ways.
For example, we can do a video conference call, FaceTime, or we can always talk to you by phone.
Or, if you'd like, you can come in – we have plenty of space to practice physical distancing.
We are always here for you when you need us.
Be well and stay safe.
Posted in Car Accidents on March 27, 2020
Car accidents can range in severity from minor bumps and scrapes to major multi-vehicle collisions. One of the most dangerous and impactful types of car accidents are broadside accidents, also known as T-bone accidents or side-impact collisions.
These collisions occur when one vehicle hits the side of another vehicle head-on, leading to severe damage to the vehicle and injuries to anyone sitting inside. Because of their severity and complexity, it can be difficult to determine who is at fault in a broadside accident.
Common Causes of Broadside Accidents
When it comes to broadside or side-impact accidents, the cause is not always clear immediately after the accident. Many factors and instances of negligent driving can cause these collisions, including the following.
Speeding, especially in inclement weather conditions
Distracted driving, including texting while driving or performing another activity that takes someone's mind, hands, and eyes away from driving
Failure to yield
Passing another vehicle in a dangerous or reckless manner
Failure to stop at a red light or stop sign
Any other instance of reckless or aggressive driving
After identifying how the accident occurred, you and your Bakersfield motor vehicle accident attorney will need to work closely together to prove that the other driver was responsible for causing the accident. If you can prove fault in this case, you may be eligible to collect compensation for your injuries.
Proving Fault in a Broadside Accident Case
Proving who is at-fault in a broadside accident can be very complex. It may be apparent to you that the other driver caused the accident, but he or she may accuse you of engaging in negligent driving. To prove fault in your lawsuit, you and your accident attorney will need to gather the evidence necessary to establish the following four elements.
The at-fault driver owed you a duty to operate his or her vehicle in a safe manner and follow all rules of the road.
The driver breached his or her duty of care to you.
The breach of duty of care directly caused the accident.
You suffered damages as a result of the accident that you can claim compensation for in your lawsuit.
There are instances where the fault in this case is obvious. For example, a driver running a red light is clearly at fault for the accident because he or she failed to follow the traffic signal. However, there are some cases where the negligence is not always clear — perhaps the driver claimed his or her vehicle had a defect that led to the accident, or claims that you acted in a way that led to the accident.
In these situations, collecting evidence is crucial, and you will need an attorney on your side to assist you with your claim. Your lawyer can provide a number of benefits to help you prove your car accident case, including the following.
Your attorney will have access to a network of expert witnesses who can provide testimony in your case, including medical experts and accident reconstruction professionals.
Your attorney will have the authority to access pieces of evidence that you may not be able to obtain, including traffic camera footage, traffic signal data, police records, and vehicle maintenance reports.
You can collect many types of damages in a personal injury lawsuit, and you may not be aware of the damages you are eligible for. Your lawyer can advise you on your legal options, helping you collect the pieces of evidence necessary to prove your need for compensation.
Broadside accidents can be very severe, resulting in thousands of dollars in medical bills and property damage, severe injuries, and other physical, financial, and emotional damages you may not have prepared yourself for. However, you can claim compensation for your injuries through a personal injury lawsuit or insurance claim with the help of a car accident attorney. Contact your lawyer today to discuss your accident and strategize your next steps.
Concerned About Meeting Due to Coronavirus?
Posted in Rodriguez & Associates on March 26, 2020
Get Your Free Claim Evaluation From Home
This is an uncharted time in our history, but injuries don't stop for anything, including the Coronavirus (COVID-19).  At Rodriguez & Associates, we want to assure our clients and potential clients that we are still here to serve you.  Although our approach to contact may be different than usual, our goal is the same—a client focused atmosphere that puts you first.
As always, our initial consultation is free and you do not need to come to our office. We can evaluate your claim, process the needed case forms and get your electronic signature without you having to leave your house. Visit our contact page to get in touch with us today!
Use Our Case Evaluation Form Online
Under normal circumstances, we would prefer to meet with you in person.  These are not normal times. We provide a FREE case evaluation form for your convenience.  Once you submit your case evaluation, someone will be in contact with you soon to discuss your potential claim.
Get Questions Answered by Text or a Phone Call
You can text us to have your questions answered.  We are also just a phone call away.  If no one is available to take your call immediately, leave a voicemail and we will call you back shortly.
Text Us! 
With our text option, simply go to the bottom of the screen and click TEXT US! Although a chat does not create a client-lawyer relationship, it does allow for a useful way to ask questions and to get information to our lawyers.
E-Signature Convenience
Documents that need signed to complete the intake process can be conducted using eSign. ESign provides a safe, convenient way of signing documents from anywhere without the need to print, scan, or fax documents back to our office.
To existing clients
Rest assured that we continue to work cases and monitor the status of court proceedings, which unfortunately are subject to change at any time.  If any currently scheduled matters are postponed or canceled, we will keep you advised.
Additional Procedures
Attorneys or staff members who are feeling ill or have been around family who are feeling ill are encouraged to remain at home.
If our office closes, attorneys and staff will be able to work remotely on your case.
Although in person contact will be limited, clients are encouraged to contact us with any questions or concerns.  We are available by phone or video conferencing to meet with you.
Our personal injury attorneys and staff are taking additional measures to disinfect work areas and commonly touched surfaces multiple times a day.
Our first priority is the welfare and safety of staff, clients, and prospective clients. Decisions regarding hours of operation, in-office meetings and personal contact outside of the office are to be determined with this in mind.  Thank you for your patience and continued faith in our law firm.
I Was Involved in a Car Accident Out of State… Now What?
Posted in Car Accidents on March 16, 2020
Car accidents can be straightforward or complex cases to claim compensatory damages in, depending on the circumstances of the accident. Car insurance laws vary from state to state, with some states operating on a traditional fault-based system and others operating on a rarer no-fault basis. If you are in a car accident within your home state with your current insurance coverage, you will follow the system that your state adheres to. However, what happens when you are in a car accident in a different state?
Your Legal Options After an Out-of-State Car Accident
After a car accident, you may suffer from significant physical, financial, and emotional damages. You have the right to claim compensation to recover from these damages if you did not cause the accident yourself. Typically, you have three options to claim compensation following a car accident with the help of a Bakersfield motor vehicle accident lawyer.
You can file a personal injury lawsuit in civil court.
You can file a claim with the at-fault party's insurance company, although some no-fault states will require you to prove certain circumstances before doing so.
You can file a claim with your own insurance company, depending on the type of coverage you have.
Thankfully, insurance coverage extends across state lines. When you choose to file a car insurance claim, the process will be the same no matter where you purchased your insurance and where you suffered an accident. However, you will need to make sure that you collect all evidence related to the accident before you leave the area.
If you choose to file a personal injury lawsuit, which is common in more severe accidents where the policy limits of your insurance company are not enough to cover your damages, the rules become more complicated.
Filing a Personal Injury Lawsuit for an Out of State Car Accident
If you are filing a personal injury lawsuit for your out of state accident, you have two options in regards to where you can file.
You can file in the state you suffered an accident in.
You can file in the state that the at-fault party resides in.
For example, if you live in California and get into a car accident with an Arizona driver while traveling through Nevada, you can either file your claim in Nevada or Arizona. Unfortunately, you will not be able to file in your home state unless the at-fault driver also lives there or the at-fault driver consents for you to file your claim there.
When it comes to which state's laws will apply to your case, the court will likely apply the laws of the state where your accident occurred — which can either be a benefit or a disadvantage, depending on where you live and where you were traveling. Speaking to an attorney can help you determine how the court may treat your case.
What to Do After an Out of State Car Accident
If you suffer a car accident while you are traveling or visiting family, it is very likely that you will not remain in that area for a long period of time. In this case, it is important to take appropriate steps to gather evidence and seek legal assistance.
Call 911 to the scene of the accident, speak to the responding officer, and collect his or her contact information so you can locate the report.
Take pictures of all vehicles involved, the scene of the accident, and any injuries you may have.
Collect the contact information for the at-fault driver and any witnesses at the scene.
Visit a hospital as soon as possible to receive treatment for your injuries, and collect all medical documents and bills.
Contact an attorney who has a license to practice in the state where you are filing your lawsuit.
Whether you suffered injuries in a car accident in your home state or in another part of the country, you still have the right to claim compensation for your injuries through a personal injury lawsuit or insurance claim. Hiring an injury attorney with experience representing complex car accident cases is your first step towards claiming your damages. Contact your car accident lawyer today to discuss your legal options and begin filing your claim.
Who is Liable for a Self-Driving Vehicle Accident?
Posted in Car Accidents,Personal Injury on March 7, 2020
Vehicle technology has quickly evolved over the past decade. However, with the advent of tech such as self-driving or driverless cars that allow passengers to sit back and relax instead of actively drive, accidents involving these vehicles have occurred across the country. In these situations, it can be difficult to determine who is liable for your injuries if you are in a collision with a self-driving vehicle — is it the passenger, the manufacturer, or the creator? A Bakersfield car accident attorney can help.
California Laws for Self-Driving Cars
Although the technology for these vehicles is becoming increasingly more sophisticated, the United States federal government has not effectively put regulations into place to control the manufacturing and testing of self-driving cars. As a result, many states are beginning to draft their own legislation and rules for these vehicles, including California.
Many self-driving vehicles are still in the testing phase, and the California Department of Motor Vehicles requires that all manufacturers who wish to test or deploy these vehicles must obtain a special permit and comply with its regulations.
According to these regulations, manufacturers will need to notify law enforcement, ensure their vehicles contain proper recording equipment, and submit various plans and reports before they test their vehicles. However, even with these regulations in place, collisions can still occur between driverless cars, pedestrians, and other vehicles on the road.
Determining Liability in Self-Driving Vehicle Accidents
When you are in a car accident with a regular vehicle operated by a human driver, the court or insurance company determines fault by looking at the question of negligence. Which driver failed to uphold his or her standard of care while driving his or her vehicle, leading to the accident?
In driverless car collisions, that human element changes significantly. The vehicle may suffer a malfunction internally due to a manufacturing error, the software may not accurately detect hazards on the road, the manufacturer may fail to comply with state regulations — and the list continues.
If you suffer an accident with a self-driving car, there are typically three separate parties you can hold liable in your insurance claim or lawsuit, depending on the cause of the accident.
You can file a claim against the owner of the vehicle, typically a company that is testing the technology on public roads.
You can file a claim against the manufacturer of the self-driving vehicle, in situations where a manufacturing defect led to the accident.
Finally, you can file a claim against the human operator inside of the vehicle at the time of your accident.
Proving Negligence in Driverless Car Collisions
While the laws surrounding self-driving car accidents are still vague, many attorneys and lawmakers continue to apply the standard of negligence when litigating these claims. As a result, you will need to determine the cause of the accident before you can file a claim against any of the three parties listed above, and you and your Bakersfield personal injury lawyer will need to gather the appropriate evidence to prove your claim.
For example, say a driverless car runs a red light and causes damage to the back of your vehicle. You find out that someone was operating the car remotely and failed to stop. In this situation, the operator of the vehicle may be liable. If the operator was a company employee, you can hold the company accountable too.
If the self-driving car had a remote operator, but suffered a manufacturing defect that caused it to run the red light and the operator was unable to override the issue, you would likely hold the manufacturer liable — which may also be the vehicle owner.
While determining liability in a self-driving vehicle accident can be complex, hiring a personal injury attorney with experience working with car accident cases can help you claim the compensation you need to recover. Your attorney will work closely with you to gather all pieces of evidence available, learn your side of the story, and craft a compelling case in your favor. If you have not contacted a lawyer to represent your claim, call today to schedule your free consultation.
Determining the Value of a Car Accident Claim
Posted in Car Accidents on March 5, 2020
When we represent a client in a car accident claim they often wonder what the settlement will be. Since every car accident has a unique set of circumstances, estimating the value of the claim at the beginning can be difficult. As we put together pieces of the case, we certainly will have a better idea of the value of the claim.
This outline is designed to give you an idea of how our Bakersfield car accident attorneys assess the value of a car accident claim.
Damage to the Vehicle
The car insurance company will assess the vehicle's damage. They will use this information to determine if there is an injury claim value.
Medical Expenses
The medical expenses incurred (i.e., treatment for car accident injuries) relating to the car accident will be part of the damages. Generally, people who receive medical services at the accident site tend to receive more than four times the average settlement or award. On the other hand, those who were treated at a later date (i.e., for chiropractic care) tend to receive payments that are lower than the average.
Pain and Suffering
Compensation can include physical pain and suffering as a result of the accident as well as mental and psychological effects (i.e., fear, anxiety, post-traumatic stress, loss of sleep). Since it can be hard to place a dollar amount on an individual's pain and suffering, insurance companies tend to use a "multiplier" to calculate the damages. It is usually a number between 1.5 and 5 or 6 (1.5 for minor injuries, 5 or 6 for permanent disability) which is multiplied by the injured person's total medical bills incurred.
Lost Income
Any current and future income loss is taken into account to help determine the value of the claim.
Loss of Enjoyment / Loss of Consortium
If the injuries from a car accident prevent or affect the person from enjoying daily activities, such as hobbies that they enjoyed prior to the accident, they may be entitled to compensation. Along the same lines, if a partner of an injured spouse loses physical companionship and support, known as "loss of consortium", the partner may be awarded compensation (only if the injured person is successful in the main claim).
Liability in the Accident
If the person filing the claim is considered partially responsible for the auto accident, the settlement offer can be substantially lower or the jury can reduce the award in proportion to the person's fault in the car accident.
Car accidents can and will impact your life. If you or a loved one has had a serious injury or loss in a motor vehicle accident, our Bakersfield personal injury attorneys have decades of experience helping people on the journey to putting their lives back on track.
How to Prove Lost Wages in a Personal Injury Case
Posted in Personal Injury on February 17, 2020
If you suffer injuries in an accident that someone else's negligence or recklessness caused, you can struggle with significant physical, financial, and emotional damages that you were not expecting. Under California state law, you have the right to claim compensation for these damages as long as you can prove that the at-fault party was liable — and you can receive funds for medical expenses, the development of mental health conditions, and lost wages during your recovery time. Proving lost wages can be complex, but a Bakersfield injury attorney can help guide you through this process.
What Are Lost Wages?
After an accident, you may suffer from significant injuries that prevent you from going back to work. You might spend weeks in the hospital or at home recovering from your injuries, and in some cases, the nature of the injuries you suffered could prevent you from returning to work altogether. In these situations, you and your family can experience serious financial hardship as your stream of income runs dry.
In a personal injury lawsuit, you can claim compensation for the wages you lose during recovery and, depending on the nature of your case, you may be able to claim funds for the loss of future earnings. Proving past wages is significantly easier than proving the loss of future wages,  but these funds are necessary for you and your family's well-being.
How to Prove Lost Past Wages
To claim lost past wages in a personal injury case, you will need to prove that you were unable to work as a result of the injuries you sustained in the accident. You and your attorney will first need to establish that your injuries prevented you from returning to work — this will usually consist of testimony from a medical expert as well as a presentation of your medical records.
After you prove this point, you will need to provide evidence establishing that you were absent from work and lost your pay as a result. You will also need to provide documentation that calculates the amount of wages you would have earned had you been able to remain on the job. Your employer will usually provide this evidence, and may need to give testimony as well.
Proving Future Loss of Earnings
Establishing future loss of earnings in a personal injury case can be difficult, since you will likely recover partially from the injuries as time goes on, allowing you to return to work on a part or even full-time basis. However, returning to work may not occur for years to come — and you will need financial support up until that point.
First, the court will look at your injuries and determine how likely you are to return to your previous work, and if the injuries' impacts harms your earning potential. You will need to supply medical evidence and testimony to discuss your recovery potential, when you could reasonably return to work, and the extent to which you will not be able to perform your current duties.
After you provide sufficient medical evidence, the court will look at the difference between your wages pre-accident and your earning potential after the accident. The court will also discuss how long you are likely to keep working; most courts will not award future lost earnings past retirement age.
Do You Need a Personal Injury Attorney?
Proving lost wages, especially loss of future wages or earning potential, can be very difficult without legal training and experience. Connecting with the medical experts who can provide testimony on your behalf alone is difficult, and when you factor in the other elements you have to establish to prove liability, filing a lawsuit can be daunting.
Hiring a personal injury attorney to assist you with your case can help relieve these pressures and provide you with the resources and knowledge necessary to prove your case. Your attorney will work closely with you to gather all necessary evidence, connect with medical experts and other expert witnesses, and advocate aggressively for your post-injury needs. If you have not hired an attorney already, contact one as soon as possible.
Daniel Rodriguez Makes the 2020 California Super Lawyers List
Posted in Awards,Press Releases on February 11, 2020
Bakersfield, Ca (February 2020) – Attorney Daniel Rodriguez, Founder and President at Rodriguez & Associates, has been selected to the 2020 California Super Lawyers list. No more than five percent of the lawyers in the state are selected by Super Lawyers. Daniel has been part of this list every year since 2009.
Super Lawyers®, part of Thomson Reuters, is a rating service of outstanding lawyers from more than 70 practice areas who have attained a high degree of peer recognition and professional achievement. The annual selections are made using a patented multiphase process that includes a statewide survey of lawyers, an independent research evaluation of candidates and peer reviews by practice area. The result is a credible, comprehensive and diverse listing of exceptional attorneys.
Daniel is a member of The National Trial Lawyers – an invitation-only group composed of the premier trial lawyers from across the United States. His firm has obtained more multi-million-dollar verdicts than any other law firm in the Southern San Joaquin Valley and has earned the highest personal injury verdict in Kern County history.
Congratulations, Daniel!
To learn more about Daniel Rodriguez, click here.
About Rodriguez & Associates
Rodriguez & Associates is Kern's County premier personal injury law firm. The lawyers have with more than 100 years of combined experience. As an award-winning law firm, it is known to deliver big firm results with small firm service. www.rodriguezlaw.net
Can I Still File A Lawsuit After Accepting a Settlement?
Posted in Awards,Personal Injury,Personal Injury Attorneys on February 10, 2020
The aftermath of a serious injury can be physically, emotionally, and financially difficult. You may suffer from chronic pain, lose significant amounts of wages during your recovery period, and struggle with expensive medical bills for necessary treatments. In these situations, it can be tempting to accept a settlement as soon as possible — but if the settlement is not sufficient enough to help you recover, can you still file a lawsuit?
Settlements versus Lawsuits: What's the Difference?
Before discussing whether or not you can file a lawsuit after accepting a settlement, it is crucial to understand the difference between these types of agreements.
A settlement is a private agreement to pay you an agreed-upon sum of money following an accident caused by the person that the entity authorizing the settlement represents. Typically, an insurance company offers a settlement after you file an insurance claim, or, in some cases, following negotiations with you and your attorney. Settlements from insurance companies may be quite lower than what you could claim in a lawsuit unless your attorney argues otherwise, but you can usually obtain the money much faster than you could in a lawsuit.
A lawsuit, on the other hand, is an action that you file in civil court against the at-fault party responsible for your injuries. You and your attorney will present your case in front of a judge and jury, establishing the liability of the other person and presenting evidence that details your physical, financial, and emotional losses. The court will decide whether or not the other person was at-fault, and may award you a settlement based on the damages you claim. The lawsuit process can be long and complex, but you have a greater opportunity to claim the maximum compensation you need to recover through this avenue.
You Cannot Accept a Settlement and File a Lawsuit
When you accept a settlement, you usually waive your right to pursue additional legal action against the at-fault party in your case. The insurance company will typically include a release of liability in your settlement paperwork, which prevents you from filing a lawsuit over the same incident.
However, you can back out of a settlement and pursue legal action before you sign the paperwork. Your attorney may evaluate the offer and determine that the funds are insufficient to pay for your injuries. You also have a greater opportunity to present evidence for a higher settlement in the courtroom, which may result in a larger amount of compensation. There are situations where a settlement prior to trial would be more beneficial than a lawsuit — your attorney will advise you on the best course of action for your case.
Should You Accept a Settlement After an Accident?
If you are suffering from the aftermath of a serious accident, an insurance company representative will likely contact you and ask you a series of questions about the incident. He or she may offer you a settlement soon after discussing your injuries, and it may be tempting to sign  this document instead of entering into lengthy trials and negotiations.
However, the funds the company may provide might not be enough to help you recover from your injuries. You may not know the extent of your damages at that point, and signing an early settlement can decrease your chances of obtaining the funds you need.
Accidents and injuries can lead to significant expenses, from medical bills to lost wages to property damage and more. To ensure that you receive the amount of compensation to recover from your accident, contact a personal injury attorney as soon as possible following the incident. Your Bakersfield accident attorney will be able to evaluate any settlement offers you receive, help you determine the damages you are eligible for, and advocate for your needs from the negotiating table to the courtroom.
Best Car Accident Lawyers in Bakersfield, CA
Posted in Awards,Car Accidents on February 5, 2020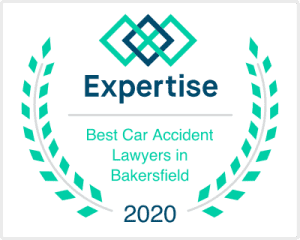 Rodriguez & Associates has earned a place on Expertise.com's 2020 list: Best Car Accident Lawyers serving Bakersfield, CA.
Expertise chose us based on 25 variable across the following five criteria: Reputation, Credibility, Experience, Availability, and Professionalism.
They evaluated 94 car accident lawyers serving Bakersfield and analyzed the results to provide a hand-picked list of 16 of the best car accident lawyers in the city.
Our firm was also added to Expertise's "19 Best Litigation Attorneys in Bakersfield" list for 2020.
Expertise's goal is to connect people with the best local experts. Every month they help over 10M customers find the best qualified service professional for their needs.