Blog
Understanding the Statute of Limitations for Personal Injury in California
Posted in Personal Injury on July 22, 2019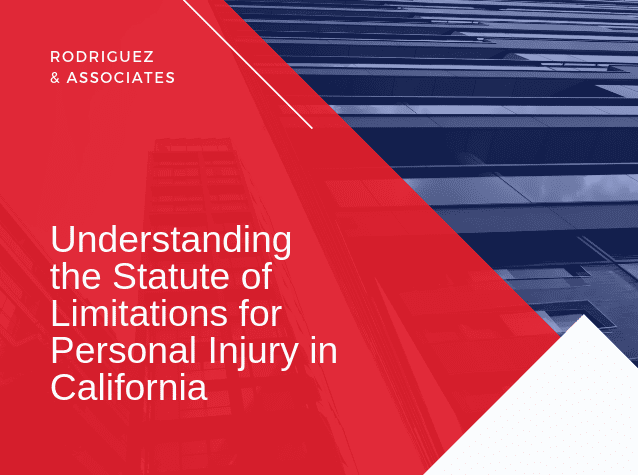 Most of us are at least familiar with the term "statute of limitations," but when it comes to understanding it in the context of a personal injury, there are hidden details and complexities to be aware of because they can drastically affect your ability to file a claim.
The Statute of Limitations in California is defined as "the deadline for filing a lawsuit." You must make a claim for your losses within that timeframe or risk losing any legal right to compensation. The Statute of Limitation varies from one type of claim to the next. For personal injury, you have two years from the date of the injury to file a claim in the State of California.
Personal injury can be anything from events where the other party had ill intentions, such as assault, battery, or emotional abuse, to accidents where there was no intent to harm, such as car crashes and injuries that happen in the workplace.
While two years is the standard amount of time to file claims against such injuries, there are exceptions — and in certain cases you have more or less time. Here are a few scenarios worth getting familiar with so you understand how much time you really have to file a claim.
Cases Against the Government
If the at-fault party is the government, you have six months from the time of the injury to file what's called an "administrative claim." This is a claim you file with the appropriate government office or agency before you file in court. The six-month timeframe only applies to the administrative claim, for which you'll need to download and fill out government forms.
Delayed Discovery of Injury
As mentioned above, the Statute of Limitations in the State of California is two years from the date of your injury. However, not every injury is apparent immediately following an event. For example, injuries from automobile accidents can take weeks and sometimes months to surface and cause the victim discomfort.
In such cases, the "delayed discovery" rule applies. Here, you have one year from the time you discovered — or reasonably should have discovered — your injury to file a claim.
When the Statute of Limitations Is Tolled
In some cases, the Statute of Limitation is "tolled" — that is, the time limit for filing a claim stops running. This applies to cases where the defendant is a minor, out of the state, in prison, or legally insane. In these situations, the statute stops counting down until the person's situation ends, whether that means they turn 18 years of age, return to the state, are released from prison, or are deemed to have their mental state of mind restored.
Whether or not the other party had intent to harm, you are entitled to compensation any time an injury occurs. While you should always try to file a claim as soon as the injury occurs, major injuries are one of life's unexpected challenges, and not everyone is able to deal with the paperwork and processes that go along with filing a claim right away. It helps to know beforehand your rights around this process in the event of a delay.
Once you know the basics, you should always seek a reputable lawyer who can further help you navigate this complex system and receive the compensation you deserve for you and your family's peace of mind. Rodriguez & Associates has a long history of helping clients through personal injury claims. If you or a loved one has been injured, reach out today to start a conversation. We have an office in Bakersfield and help personal injury victims throughout the state.
Rodriguez & Associates: New Location Effective July 15, 2019
Posted in Uncategorized on July 9, 2019
We would like to inform you that we will be at our new location effective Monday, July 15, 2019, at 8:00 a.m.
Our new address is:
1128 TRUXTUN AVENUE
BAKERSFIELD, CA 93301
Our contact information: Telephone number, fax number, and email will remain the same.
For questions, please contact us at 661-323-1400.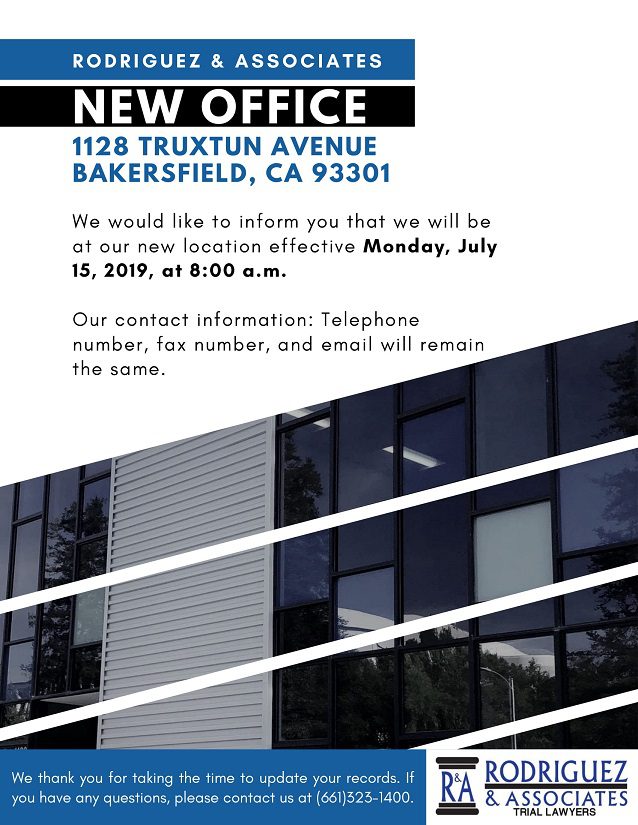 Bakersfield Oil Field Accident Lawyers
Posted in Oil Field Worker Injuries on July 1, 2019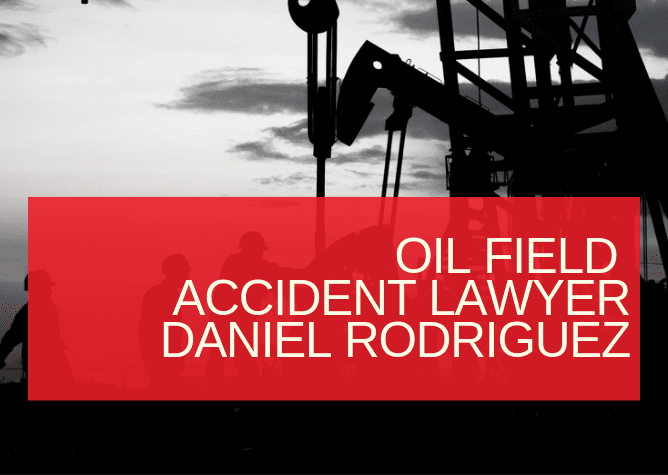 Bakersfield oil accident lawyer Daniel Rodriguez has personal experience working in oil fields. He knows how hard it can be – long hours, physically demanding work, and sometimes dangerous conditions.
While the oil industry is inherently dangerous, safety precautions are effective when safety rules are observed and followed. When oil well processing and transport facilities don't follow state and federal safety regulations as well as their own safety rules and injuries result, workers can pursue compensation.
Today, Daniel is in a position where he can help oil field workers who have been injured on the job.
He and his team of Bakersfield oil field accident lawyers have successfully provided legal help to oil and construction site accidents for over 30 years.
Posted in Personal Injury on June 17, 2019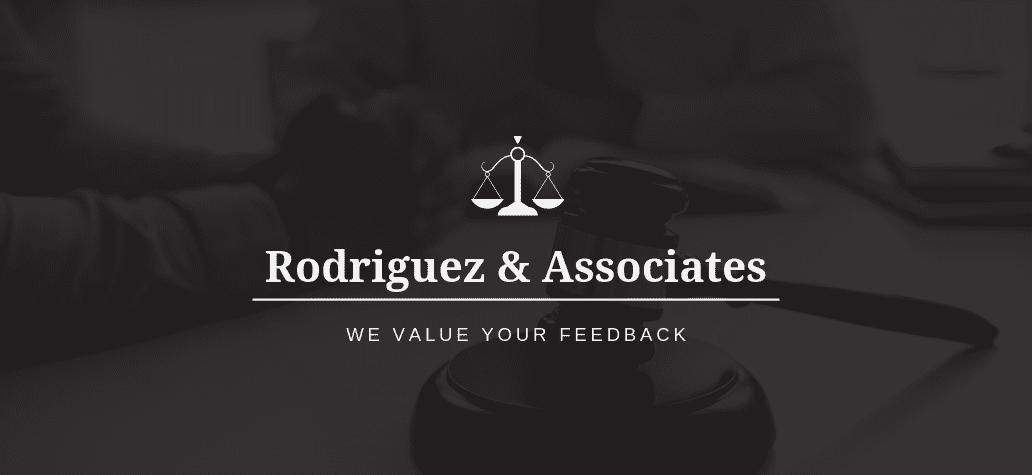 Our Bakersfield personal injury law firm helps victims focus on getting back on their feet by holding the wrongdoer accountable. Helping victims of personal injury is what we do best. And over the years, we've had the privilege of helping many individuals and families get back on their feet.
If you're one of the ones we've helped, we would appreciate it if you could leave us a review and feedback online. This helps more individuals and families find us, especially when they really need us.
Here is the link to leave a review: https://rodriguezlaw.net/reviews
How Much do Truck Accident Lawyers Cost?
Posted in Truck Accidents on June 17, 2019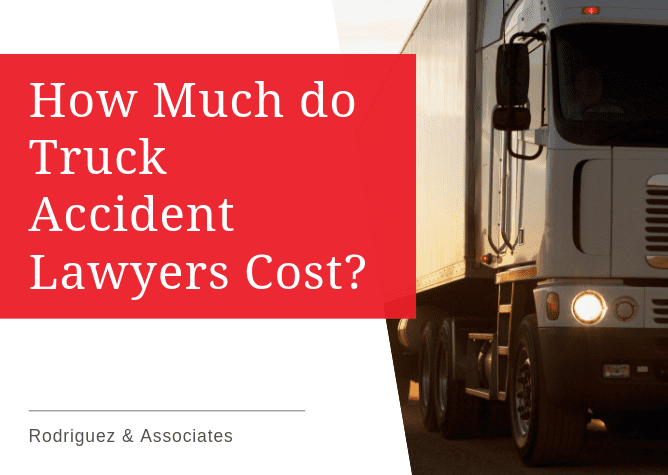 Being involved in a truck accident can be just as damaging as it is frightening. Truck accidents cause significant damage to passenger cars because of their size. If you've been in a collision with a truck, you might want seek the consult of a professional truck accident lawyer. However, it is important to know how much these professionals charge and if they offer payment plans to cover their fees.
Total Fees
The total fees associated with a personal injury claim exceeds the cost of a lawyer. Aside from compensating your lawyer, you must also pay all fees associated with the following services:
Expert witnesses
Investigators
Court filing
Medical report furnishing
Police report furnishing
These fees quickly add up in addition of your lawyer fees. In most cases, you can cover these costs through the compensation you receive if your claim is successful. Some firms even pay the legal fees up front for you and take it out of your total compensation after the court decides the case.
Most firms offer free consultation before you hire them onto your case. Take advantage of this free service to discuss your total potential fees and how you can pay your attorney for their help.
Contingency Fees
Most truck accident lawyers charge based on contingency fees. Contingency fees come out of your total compensation after the court processes your claim. This is a useful option that doesn't require you to pay any legal fees until you receive your completely awarded compensation. There is no requirement to pay for their services if you do not win your case. This can be a godsend for those who question how they can afford a lawyer on top of the court-related fees.
Some lawyers operate under contingency fees plus a retainer. This means you must pay a fee up front, before the lawyer helps with your case. This acts as a sort of insurance, and also helps some lawyers cover court-related fees that come up during the claims process. The lawyer deducts this retainer from the total contingency fee after you receive your compensation.
The percentage of a contingency fee that a truck accident lawyer charges depends on the case itself. However, a common practice among lawyers is to charge a 33% contingency fee, which would subtract 1/3 of your total compensation. It is important to discuss with your attorney that their fee should deduct from the net compensation you receive, in which you subtract all court-related fees first. Subtracting from the gross compensation would result in a larger contingency fee.
At Rodriguez & Associates, we work on a contingency fee basis. This means we receive a percentage of the verdict or settlement we win on your behalf. It also means you won't get charged unless we win. The risk is ours.
Hourly Rate
Some firms offer an hourly rate payment plan if they don't want to operate under a contingency fee. In this circumstance, you must pay your lawyer and legal fees regardless of whether you win your case. One rule of thumb to remember is that lawyers who are reluctant to offer a contingency fee might view your case as weak. Remember to think thoroughly about your case and the realistic probability that your case will succeed before filing claim.
Flat Fees
Some truck accident lawyers offer flat fees for their services. Flat fees apply to individual services in cases that don't require a complete lawyer-client dynamic. For instance, you might need a lawyer to review your claim before you file it, but don't want to hire an attorney full-time. In this case, you can hire a truck accident lawyer just to review your documents.
Consulting an attorney is always a good idea before pursuing legal action against any entity. Before hiring a professional truck accident lawyer, be sure to communicate about the details associated with payment and what options your preferred firm offers.
Can You Sue a Tow Truck Company for Damaging Your Car?
Posted in Uncategorized on June 3, 2019
Getting your car towed comes with its own level of stress and hassle depending on the circumstances. Regardless of the situation, towing could cost money in addition to the parking fine or cause to your vehicle damage as a result of moving your car. To make matters worse, sometimes your car gets damaged in the towing process, causing additional distress and costing more money to repair the damage. Suing a tow company is not always an option, but it is always best to verify if you can receive compensation for the damages your car sustained.
California Tow Law
California tow law dictates that a car owner can sue a tow company only if the company follows the law. In this case, a car owner can sue the tow company for up to four times the cost of the towing service, along with storage and the fees required to hire a personal injury attorney in some cases.
Burden of Proof
If a towing company practices improper towing practices, they are liable for the damage done to your car. This is the most direct route in pursuing a personal injury claim. If the damage was not directly related to the company's towing practices, a case becomes more complicated, and harder to prove.
Tow-related damage is the most effective type of proof you can possess. Although it might be hard to prove exactly what went wrong, documenting your vehicle before it gets towed is one way to prove that damage occurred during the tow-process. However, this option isn't available for someone who isn't present when the towing company towed their car. In this case, the claimant must present evidence of damage specific to the towing process. The most common types of tow-related damage that occur in improper towing practices are:
Bumper damage
Tire damage
Windshield damage
Damage done to either of these car parts via dents, scratches, or cracks, could imply negligent towing practices.
Can I File a Claim?
Any car owner can file a claim against a towing company, but it is in their best interest to consult with an attorney before pressing charges. Many firms provide free consultation and can let you know if your case has any grounds for success against the tow company. If you do have a valid case, an attorney will help you gather evidence and file your claim.
A claim filed for car damage during a towing procedure falls into your local small claims court circuit. When filing, it is important to emphasize that the tow company's negligence is the cause of your car's damage. Your attorney can help you prove the following things within your case's investigation:
The tow truck driver and company owed a duty to you, which was to tow your truck in a manner that prevents accidents from happening. California implies this under the state's tow law.
The tow truck driver or company breached this duty. Outside of the potential for tower negligence in hitching and driving your car, faulty components of the tow truck could have also contributed to the damage. This would still fall onto the tow company but remove the driver from the equation.
You can trace your car's damage to the negligence of the towing company.
You can also file a claim with your insurance company. You will still need to provide proof in this scenario, but court involvement is typically not necessary. Your insurance company's claims adjusters help in the process of settling with third-party entities in accidents like this.
Sovereign Immunity
One key detail that will impact your claim is whether the government owns the tow company. All government-owned vehicles, including those involved in public transit, enjoy protection under sovereign immunity. This means that they have protection from citizens filing lawsuits against them. While this protection doesn't extend to privately owned tow trucks, it is always best to check.
Suing a tow truck for damaging your car can be difficult if you cannot prove that their towing process directly caused the damage. However, you should consult with an attorney to determine this rather than making the call yourself.
Meet Kern County Personal Injury Attorney Danay Gonzalez
Posted in Kern County Lawyers,Personal Injury on June 3, 2019
Attorney Danay Gonzalez has a powerful voice. She uses it to sing ballads in English and Spanish; as a personal injury lawyer, she uses it to advocate for those who need it the most.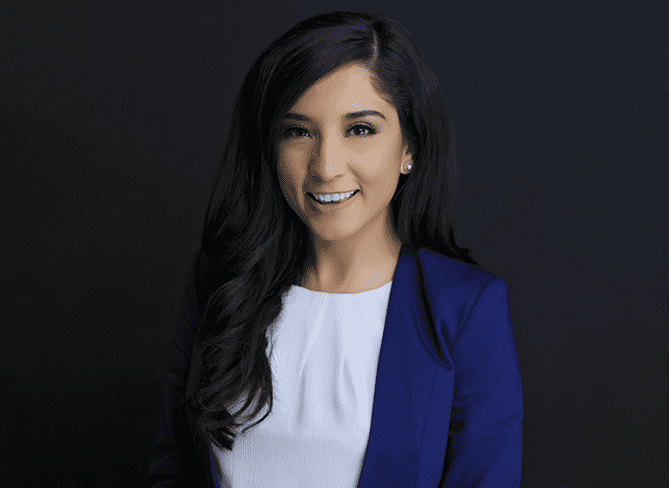 Growing up in Lamont, CA, Danay observed many of her classmates were afraid to speak up for themselves out of fear of getting their families in trouble or deported. At the same time, she admired Daniel Rodriguez, a successful member of the Hispanic community and a prominent attorney, who advocated for her friends and neighbors. She knew that she wanted to help others too.
Pursuing her dream of becoming an attorney, Danay attended UCLA and received her undergraduate degree in Political Science. She went on to receive her JD from the Dale E. Fowler School of Law at Chapman University. During her years in law school, she worked in the summers as a law clerk at Rodriguez & Associates so it was only natural that she would come back to her community and work for our firm after successfully passing the bar exam on the first try. When Danay is at work, she is passionate about fighting for people's rights and helping them find their own voice. If Danay is your attorney, you know that you are in good hands.
If you have been injured, let us help you put back together the pieces of your life. Schedule a no-charge consultation by calling 1-800-585-9262.
California Comparative Fault Laws
Posted in car accidents on May 24, 2019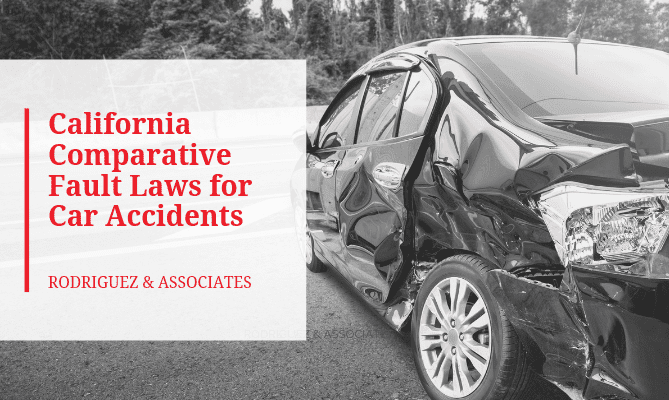 Most states abide by either comparative fault or contributory negligence laws when it comes to recovery for car accidents. Comparative fault is the norm, with only a handful of states still using contributory negligence laws. California uses a pure comparative fault rule. After an auto accident, the courts may assign a portion of fault to both parties. Even if a plaintiff has some fault, he or she may still recover at least partial compensation under state law.
Comparative Fault vs. Contributory Negligence
States with comparative fault laws allow an at-fault plaintiff to recover partial damages, while those with contributory negligence laws bar a plaintiff from recovery entirely for even 1% fault. Most states have done away with outdated contributory negligence laws for being unfair to accident victims.
Some states use a combination of both types of negligence laws. In Michigan, for example, the courts will only reduce economic damages if a plaintiff is 51% or more at fault, but will bar recovery for noneconomic damages altogether. California is a comparative fault state. After a car accident, both parties may share fault for the crash, and a plaintiff may still recover compensation even with a percentage of fault.
California's Pure Comparative Fault Rule
States with comparative fault laws follow either pure or modified rules. In pure comparative fault states, like California, a plaintiff can have any degree of fault and still be eligible for some compensation. Even if the courts find the plaintiff 99% at fault for the car accident, said plaintiff could still recover 1% of a compensation award in a pure comparative fault state. In a modified comparative fault state, however, the courts will limit a plaintiff's ability to recover past a certain percentage of fault.
Modified comparative negligence states often cap a plaintiff's allowable fault at 49%, 50%, or 51%. If the courts find the plaintiff more than the allowed amount at fault for a car accident, the plaintiff will lose any right to compensation. In all comparative negligence states, the courts will assign compensation according to the plaintiff's percentage of fault. If a plaintiff were 25% responsible, for example, the plaintiff would recover $75,000 of a $100,000 award ($100,000-[$100,000 x 0.25 = $25,000] = $75,000).
Obtaining the greatest possible compensation award in a pure comparative fault state takes hiring a car accident attorney. Your attorney will work to minimize your percentage of fault to ensure the greatest possible financial recovery. Keeping your degree of fault as close to 0% as possible will lead to the ability to take home more of a settlement or jury verdict award. The courts will only order a defendant to pay for an amount equal to his or her percentage of fault. Fighting to increase the defendant's degree of fault will result in higher compensation for the plaintiff.
Filing a Claim Against the At-Fault Party
California is also a fault-based insurance state. During the car insurance claim process, involved drivers will seek reimbursement from the at-fault party's car insurer. In no-fault states, on the other hand, all parties will call their own insurance companies, regardless of fault. To start the insurance claim process after a crash in California, you must identify the at-fault driver. Then, you will call that party's insurance company to file a claim.
Be careful what you say to another person's insurance provider. The insurance claims adjuster's job will be to get you to settle your case for as little as possible. Be truthful with the adjuster, but do not offer more information than is necessary. If you do not feel comfortable negotiating with an adjuster on your own, contact an attorney to handle settlement communications for you. A lawyer will protect your rights and best interests during the car accident claim process.
Meet Bakersfield Personal Injury Attorney Chantal Trujillo
Posted in Kern County Lawyers on May 22, 2019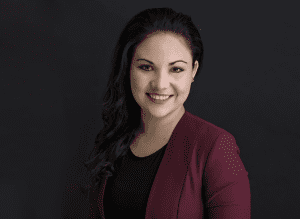 Dedicated. That is one of the words we use to describe personal injury attorney Chantal Trujillo. When she takes on a case, her mission is to secure the best verdict for her client and she does this by getting to know her clients, understanding their needs, and meeting their requests.
Chantal has been with Rodriguez & Associates for 8 years and has handled many personal injury and wrongful death cases. Some have gone to a jury trial where she has obtained impressive verdicts. Her dedication to her clients and cases have her working overtime but she doesn't mind because she considers our Bakersfield law firm her home away from home.
Born and raised in Bakersfield, Chantal left our area briefly to earn her BA from the University of Texas and her JD from St. Mary's University School of Law in San Antonio, Texas. She is happy to be back home and serving members of our community.
If you – or someone you love – has suffered from a personal injury, contact Kern Count's premier personal injury law firm at (661) 323-1400 to schedule a free consultation.
What Happens if You Hit a Car that is Illegally Parked?
Posted in car accidents on May 10, 2019
Many car accident cases are not black and white. It is not always easy to identify who was at fault or what caused the accident. In some cases, both drivers could share fault for the auto collision. In others, one party may be solely at fault. If you strike a vehicle that someone illegally parked in California, you could both share fault – you for hitting the car and the other driver for parking illegally. This does not, however, mean you automatically forfeit the right to file a claim or seek compensation.
Driver Duties of Care
All drivers have the duty to act in a way that upholds general duties of care to other drivers. It is negligent to fail to exercise a reasonable degree of care. Texting and driving, speeding, drunk driving, and parking illegally are examples of driver negligence. Breaking any roadway rule is also negligence. If a person parks illegally, it means the driver failed to follow regulations and traffic laws. Thus, the parker negligently put his or her vehicle in danger. The driver will therefore at least share some of the fault if someone else strikes the illegally parked vehicle.
The other driver, however, also has certain duties – including a duty to drive diligently to avoid collisions. The driver must pay attention to the road, drive at a reasonable speed, and prepare to stop unexpectedly. Hitting a parked car, even if someone illegally parked it, is negligence if a reasonable and prudent driver would have avoided the collision. Thus, if someone hits a car that is illegally parked, both parties could share fault for the damages.
Comparative Fault Laws in California
California is a pure comparative fault state. Both parties may share fault for an auto accident, and the plaintiff could still recover compensation. Under the state's pure comparative fault laws, if the courts find the plaintiff partially at fault for an accident – such as for striking the parked car – they will reduce the plaintiff's recovery award by his or her percentage of fault. For example, if the courts assign 90% of fault to the defendant for illegally parking, but 10% to the plaintiff for negligently striking the parked car, the plaintiff would receive $90,000 of a $100,000 award.
In a modified comparative negligence state, the courts will cap the plaintiff's ability to earn at a certain percentage of fault (usually between 49% and 51%). In California and other pure comparative fault states, however, no fault cap exists. A plaintiff could be 99% at fault for an accident and still recover 1% compensation. Navigating the state's pure comparative fault laws may take help from an attorney. A car accident lawyer can work to minimize your degree of fault to maximize your compensation award.
Optimizing your financial recovery after hitting an illegally parked car takes proving that the defendant was more at fault than you were for the collision. An attorney can revisit the scene of the collision, take photographs, and help gather evidence of the other driver's fault. Then, the attorney can present the case before a judge or jury on your behalf. A convincing argument from an attorney could be what you need to minimize your own fault and obtain greater compensation from the other driver.
Recovering After Striking an Illegally Parked Car
If you hit an illegally parked car in California, remain on the scene and do your best to notify the owner of the vehicle. If you cannot wait on the scene for the owner to return, the law requires you to leave a note in an obvious place on the vehicle with your full name and contact information. You and the other driver will exchange insurance information.
Then, you will call the other driver's insurance company and he/she will call yours. The insurance companies will conduct their own investigations and may offer settlements according to the stipulations of each policy. If settlement negotiations do not work, hire an attorney to help you take your claim to court.