Blog
By the Numbers: Motor Vehicle Crashes in the State of California
Posted in California,Car Accidents on November 15, 2019
As the most populous state in the nation, California attracts tourists and new residents alike who are eager to explore the many attractions the Golden State has to offer. While that's great for the state's economy, it takes a toll on the roads, which are densely populated and contribute to a high number of motor vehicle accidents each year.
While looking through recent statistics on California motor vehicle accidents can make it seem like crashes are unavoidable, these numbers can actually be quite useful, as they better inform drivers of when, where, and why these accidents happen. Equipped with basic safety knowledge as well as these statistics, both California residents and drivers can feel better prepared when they get behind the wheel.
Some key facts and statistics on California motor vehicle crashes include:
In 2017, California had the second-highest number of fatal crashes in the United States: 3,304. Only Texas ranked higher. Part of the reason for this is California's population, which is considerably denser than, say Nebraska, which recorded only 210 fatal crashes in 2017.
Night-times and weekends are the most dangerous times for motor vehicle crashes, according to the National Highway Traffic Safety Administration (NHTSA).
According to the most recent numbers from the California Office of Traffic Safety, alcohol-impaired driving fatalities — where a driver had a blood alcohol concentration (BAC) of 0.08 or higher — increased from 911 in 2015 to 1,059 in 2016. Also in 2016, 1.5 percent of all drivers killed in motor vehicle crashes tested positive for legal and/or illegal drugs.
Bakersfield, California, in particular, has seen a rise in drunk-driving-related accident in recent years.
The California OTC also found that motorcycle fatalities increased 11 percent from 494 in 2015 to 548 in 2016. Deaths of motorcyclists not wearing a helmet increased 9 percent, from 23 in 2015 to 25 in 2016. California is one of 19 states that requires motorcyclists by law to wear a helmet.
According to the California DMV, 80 percent of collisions and 65 percent of near-collisions are the result of distracted driving. The main reasons for driving distracted, which involves taking your eyes or mind off the road, include eating, applying cosmetics, watching events outside the vehicle, reaching for an object inside the vehicle, and, of course, using electronic devices such as mobile phones. California outlawed the use of handheld electronic devices while driving in 2017, but crashes related to them nonetheless persist.
If you live in or are planning to visit California, these statistics can seem intimidating. Properly educating yourself is a huge step towards becoming comfortable on the state's overcrowded and often chaotic roads. The California DMV's "California Driver Handbook" is a wealth of information when it comes to understanding the laws and getting familiar with best practices for driving in the state. We encourage our community to read through those pages and become familiar with not only the laws and regulations on the road, but also what you can do once inside your vehicle to ensure a safer trip for you and your loved ones.
What Is the Difference Between Personal Injury and Workers' Compensation?
Posted in Personal Injury,Uncategorized on October 28, 2019
Accidents can happen at any time and in any place, including your home, at school, or in the workplace. Depending on the circumstances of your case, you may be able to claim compensation for certain damages after an injury, like medical expenses or lost wages. However, the process you enter to obtain this compensation will change based on whether you suffered an injury at work or not.
California Workers' Compensation Law
In the state of California, you can collect compensation for injuries you suffer on the job. You must prove that your workplace duties caused the injury, such as overexertion while lifting boxes or a slip and fall on your construction site. Through a workers' compensation claim, you can collect benefits for lost wages and disability, as well as funds for your injury-related medical expenses.
Only injuries that occur during the course of your job qualify for workers' compensation benefits. If you suffer an injury during a commute, on your lunch hour, or even while stepping outside for a quick 15-minute break, workers' compensation insurance will most likely not approve benefits for you.
If someone else's negligence or recklessness caused your accident, you may be able to file a personal injury lawsuit or insurance claim against him or her – even if it happens on the job. This is true in cases where a third-party causes your injury at work, a defective product harms you, or your employer acts in an intentionally harmful manner.
What Is a Personal Injury Case?
Whether you suffer an injury at work that doesn't fall under workers' compensation or you are in an accident outside of work, you may be eligible for compensation through a personal injury lawsuit or insurance claim. For an accident to qualify under personal injury, someone else's negligence must have caused it to occur.
You can claim many different types of damages in personal injury cases, including the following.
Past and future medical expenses related to the injury, including medications, surgeries, and doctor's visits
Lost wages during recovery time
Emotional damages, like pain and suffering and a loss of quality of life
Disability accommodations to a home or vehicle
Property damage sustained in the accident
Punitive damages in situations where the at-fault party acted in an especially reckless or negligent manner
What Should You Do After an Accident?
If you are in an accident, you will need to take certain steps to preserve the evidence necessary to file your insurance claim, lawsuit, or workers' compensation claim.
If you suffer an injury on the job, take the following steps.
Seek medical attention as soon as possible. Your employer may require you to visit a specific doctor or you can choose one on your own – verify with your employer before you leave.
Report the injury to your employer within 30 days of the accident.
Receive your workers' compensation claim form from your employer and complete it. Contact an attorney if you need assistance with your claim.
Receive a decision from the workers' compensation insurer within 90 days of filing.
If the insurance company denies your claim, you can file an appeal. Contact an attorney to help you build your case.
If you suffer an injury anywhere outside of work or during a lunch break, take the following steps.
Call 911 and bring law enforcement and medical attention to the scene immediately.
Take photographs of your injuries, any vehicles involved, and the area where the accident occurred.
Collect the contact information for the at-fault party and any witnesses in the area.
Seek medical attention as soon as possible for your injuries and save all documentation.
Contact a personal injury attorney to assist you with your insurance claim or lawsuit.
Personal injury and workers' compensation are two different legal processes that can lead to different types of compensation or benefits. The main difference between the two is whether or not you suffered your injury on the job.
If you are unsure about your case's category or wish to discuss the legal processes further, contact a California attorney who works with both personal injury and workers' compensation cases. Your attorney will be able to advise you on which path you should pursue to claim compensation.
Rodriguez & Associates Oilfield Accident Representation Case Study
Posted in Case Studies on October 21, 2019
California resident Seina Zamudio came to Rodriguez & Associates after her husband, Oscar Zamudio, a veteran oil man loved by both his job and family, died from an accident on a drilling rig outside of Ventura, California in 2011. 
The business of oil extraction is a dangerous one, with many disasters and fatalities on record. In Oscar Zamudio's case, the rig itself turned out to be the cause of the accident that took his life. Rodriguez & Associates' oilfield accident lawyers successfully represented Seina and her three minor children in a products liability case against the rig manufacturer.
The Accident
On September 26, 2011, at 5:10 p.m., Oscar Zamudio, age 34, was pinned to the oil rig by a beam that had fallen.
This rig was constructed to move up or down on an A-frame that required two pins, one on each side of the frame. The first pin was meant to be removed and replaced in the frame as workers operated the rig. The second was never supposed to be taken out of the frame, as doing so could release the spreader beam, which weighed thousands of pounds.
For this rig, the International Association of Drilling Contractors had issued a warning in 2007 that if the wrong pin was removed from the A-frame, the spreader beam could detach and potentially crush someone. 
Tragically, that is exactly what happened to Zamudio. On the afternoon of September 26, a dismantling operation was underway when a worker accidentally removed the wrong pin from the A-frame, causing the spreader beam to fall and trap Zamudio against the rig. Coworkers rigged straps over the beam to lift it off Zamudio and administered first aid until an emergency crew arrived at the remote drilling site. Zamudio was pronounced dead at 6:10 p.m. on September 26. An autopsy revealed he had died from crush injuries to his pelvis.
The Case
Rodriguez and Associates Partner Chantal A. Trujillo represented Seina Zamudio and her three minor children in this case. For this product liability case, Trujillo looked at three specific criteria:
Could the manufacturer have designed the hazard — that is, the identical pins — out of the product?
If both pins remained identical, could the manufacturer have taken more steps to see that they could not be mixed up, such as welding the second pin to the A-frame? 
Could the manufacturer have better warned those using the rig about the inherent dangers having two identical pins in the A-frame?
Rodriguez and Associates argued that the Rig Manufacturer could have designed the problem out by welding the second pin to the frame, thereby making it impossible to remove. When the company said they could not weld it, our firm pointed out that the second pin, which was never to be removed, could have been made a different color to differentiate it. The manufacturer was unable to come up with a compelling rebuttal to this logic.
The Rig Manufacturer ran two motions for summary judgement to get the case thrown out and failed both times. The case was eventually settled out of court in October of 2015 for a confidential sum.
Every Client is Treated Like Family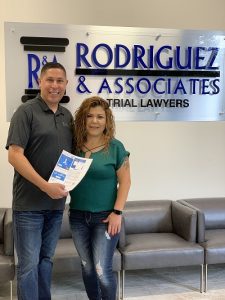 Rodriguez and Associates is founded on the values of helping those most in need and treating each client like a family member. In keeping with that, the firm has maintained a close relationship with Seina and her children long after the case was closed. For example, in 2019, years after the accident, we gave Seina tickets to see the LA Dodgers versus the SF Giants as a way of continuing to say thank you to her and her family, and for trusting us to represent them against the wrongdoers in this case.
Everyone dealing with the loss of a loved one after a wrongful death deserves the chance to get the help they need in the fight for justice. If you are a victim in a case of personal injury such as wrongful death, Rodriguez & Associates stands ready and waiting to assist you. 
How Daniel Rodriguez Built a Law Career Based on the Values of Home and Community
Posted in Personal Injury Attorneys on October 17, 2019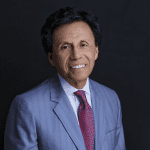 Daniel Rodriguez may be a renowned California lawyer today, but he comes from much more humble roots—ones he's not planning to forget anytime soon. As an article for the most recent issue of Kern County law publication Res Ipsa Loquitur details, it's his beginnings as the son of migrant workers and his early years spent struggling for his own education that have informed so much of what he does today with his personal injury law firm, Rodriguez & Associates.
From a young age, Daniel understood the importance of education. Even though he and his family moved a lot, he took it upon himself to ensure he and his five siblings were always enrolled in school, often filling out the paperwork to register them himself.
Daniel enrolled as an electronic engineering student at Cal Poly San Luis Obispo in the early 1970s, where he became the first Latino to graduate from that program. Even so, he always knew he wanted to become an attorney, though he found the profession initially challenging as a first-year law student at UCLA. "In engineering, there's a formula and there's always a right answer. It's black and white. It took me a whole year to understand that law is different. You have to be able to see both sides of the coin, both viewpoints at stake in a dispute," he told Res Ipsa Loquitur.
The value of that lesson has informed much on Daniel's career. Personal injury law is a tricky, often messy business that relies on nuances and gray areas. Being able to argue both sides of a case has been key to Rodriguez & Associates success over the years when representing its clients.
Perhaps an even more valuable lesson he has learned along the way is the importance of community and remembering one's roots. Despite success in law school that led to multiple job offers upon graduation, he decided to forgo working with a Los Angeles-based firm and instead returned home to the Central Valley, California. Once there, he actually struggled to find work as an attorney.
And when he eventually landed a job with an insurance company as a defense attorney, he quickly realized how discouraging it felt to represent the interests of companies rather than individuals.
So he changed course and instead went to work for a Bakersfield law firm where he was able to fight for people who were injured working, as the article puts it, "in the same orange groves he grew up working in or on the same cotton gins he and his father had worked on all those years before."
Eventually, he met a law clerk named Joel Andreesen and the two decided to start working together. Over the last decade, they have built up a firm around the values of helping people who most need it and giving back to the communities from which they came. Serving the community, both inside and outside of the courtroom, continues to be a value on which Daniel and his firm practice the law and to build a bond with each and every client along the way.
Does Homeowner's Insurance Cover Slip and Fall?
Posted in Personal Injury,Premises Liability on October 17, 2019
Homeowners have the responsibility to ensure that their property is free of any hazards to visitors and occupants – including any object or condition that can lead to a slip and fall. Homeowner's insurance policies typically cover the cost of medical expenses and other damages in case someone suffers an injury on the property, including slip and fall cases. However, the injured person will need to prove that the homeowner was negligent in his or her upkeep of the property to successfully claim that compensation.
Proving a Slip and Fall Case in California
In the state of California, you can claim compensation under homeowner's insurance if the homeowner's negligence was responsible for your slip and fall. You cannot claim compensation if the accident was not a result of an action by a homeowner or due to your own negligence.
For example, if you trip on wet grass on the homeowner's front lawn after a rainy night, you cannot hold the homeowner liable for your damages. However, if you trip over a broken stair that the homeowner was aware of and suffer injuries, you could file an insurance claim for compensation.
To prove a slip and fall case in California and establish homeowner negligence, you and your personal injury attorney will need to satisfy the following elements when speaking to the insurance company.
You will need to prove that the homeowner owed you a duty of care. If you were a visitor and not a trespasser, the homeowner has a responsibility to maintain safe premises. The homeowner also has the responsibility to fix any issues he or she is aware of that could lead to an injury.
Next, you will need to establish that the homeowner breached his or her duty of care to you in some way. This will likely involve proving that he or she knew about the issue that caused your slip and fall and failed to take action to fix it.
Then, you will need to prove that the homeowner's breach of care led to your injuries. This element depends on what caused your slip and fall. A broken stair, failing to shovel ice or snow, or unsecure area rugs are all common causes of slip and falls on private property.
Finally, you will need to prove that you suffered damages that you can claim through the insurance company. These damages must be a direct result of the slip and fall that the homeowner's negligence caused.
What Damages Can You Claim Through Homeowners' Insurance?
Homeowners' insurance policies typically offer two types of claim coverage: liability coverage and medical payment coverage, often referred to as med pay. Through these sets of coverage, you can collect compensation for any medical expenses you incur, lost wages during recovery time, property damage, and more. Speak to your attorney to determine which damages you may be eligible for.
However, you can only claim compensation up to the policy limits that the insurance company sets. If you suffered significant and severe injuries, are grappling with emotional damages, or missed months of work, you may not recover enough through an insurance claim to cover these costs. The insurance company may also offer you a settlement below what you need to recover.
In these situations, it may be best to file a personal injury lawsuit instead of an insurance claim. There are very few limits to the damages you can claim in a slip and fall lawsuit, as compared to the insurance process. Speak to your attorney to discuss your legal options and to determine which pathway is best for you.
Whether you slip and fall on someone else's property or you are a homeowner facing a lawsuit, having homeowner's insurance is crucial to ensure that an injured person receives the funds he or she needs to recover. Depending on the circumstances of the case, you may be able to claim compensation through homeowner's insurance for a slip and fall. Contact a personal injury attorney as soon as possible to discuss your case and to begin the filing process.
Posted in Community Involvement on October 9, 2019
We had another contest with HOT 94.1 Radio station to give away Dodger tickets for tonight's Game 5.
The listeners were asked to take selfies in front of our building or sign. These were the finalists.
Robert Gonzalez won. He's pictured below with his family holding a Dodger flag in front of our sign and with Daniel.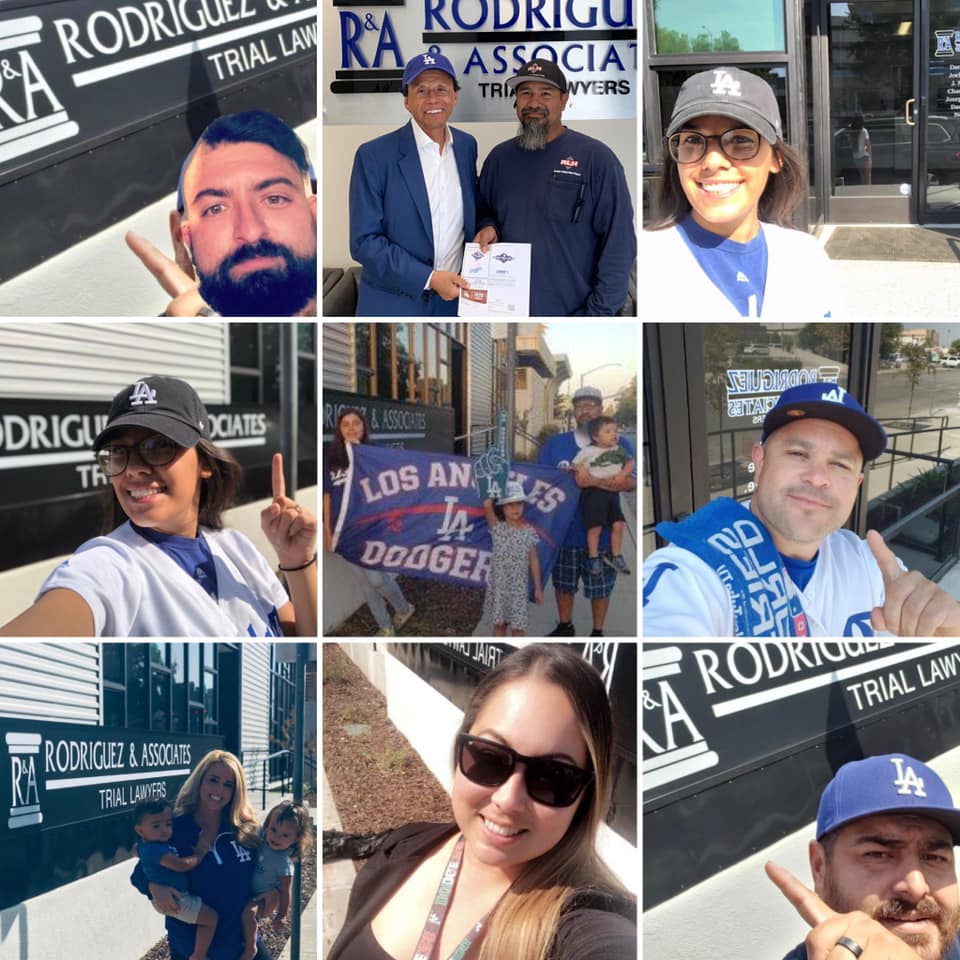 Thank you to everyone who participated. Go Dodgers!
Understanding Premise Liability Claims
Posted in Premises Liability on October 9, 2019
Premise liability is a type of personal injury law covering accidents and injuries that result from a property owner's negligence. The victim seeks compensation because the owner failed to act responsibly with their property, whether that's a dog, a staircase, or an entire building.
In a premise liability case, the property owner could be found responsible for the victim's medical expenses, lost wages, pain and suffering, property loss or damage, and emotional or mental stress.  
Since this is a very complex area of personal injury law, your best bet is to get a seasoned attorney to go through the details of your incident with you and help you make an appropriate claim in seeking compensation from the property owner.
Here are some common types of premise liability cases:
"Slip and Fall" Accidents
A "slip and fall" injury case is when a person trips or slips, falls, and is injured on someone else's property. To prove the owner was at fault, the injured person must be able to show that the accident happened as a result of dangerous conditions. That could be torn carpeting, oily floors, or damaged staircases, as well as cracked sidewalks or uncleared snow and ice around a building. In such cases, the property owner is responsible for compensation because the injury occurred as a result of their failing to maintain their property and/or warn others about any dangers.
Swimming Pool Accidents
When someone is injured in a swimming pool, the owner of the pool could be held responsible if they failed to take certain safety measures. This applies to public pools as well as those of private residences.
For example, in California, pool owners must have at least two safety mechanisms in place, such as a fence that isolates the pool or spa from the house, an approved pool safety cover, or an alarm in the pool that sounds when someone enters the water unauthorized. Public pools should include either a lifeguard on duty or warning signs when there isn't one. Failure to comply with these regulations puts the pool owner at risk of being at fault if someone is injured or drowns in their pool.
Inadequate Building Security
Building owners of hotels, apartments, hostels, and dorms are responsible for ensuring the safety of guests and residents. This might include hardware, like building locks and security cameras. Owners can also limit who is authorized to enter the building by providing non-duplicatable keys to residents or having a door monitor on duty.
If safety measures aren't in place and someone enters the premises and commits a crime (robbery, rape, assault), the owner could be responsible for compensation because they failed to take certain steps to ensure the safety of those inside the building.
Dog Bites
According to the  California Civil Code Section 3342, dog owners are "strictly liable" for any injuries their dog causes, meaning they are responsible even when their dog has no history of violent or aggressive behavior. If a victim can prove they were bitten in a public place or while lawfully on private land, the dog owner will be responsible for any damages, such as medical expenses.
Owners should always post signs on their property warning people there is a dog. When in public, they should properly leash their dogs, and if going on public transit with one, adhere to any rules and guidelines set down by the transit company.
As with most any type of law, premise liability cases come with their own complexities and exceptions to the rule. In some situations, you might not even realize the property owner was at fault for the accident and wind up taking responsibility for your injuries and missing compensation you are rightfully owed. Given that, it's important to speak with an objective third party, such as an experienced attorney, as soon as you can after the incident.
Rodriguez and Associates has a long history of dealing with premise liability cases and successfully representing clients against wrongdoers. If you have been involved in an accident on someone else's property, please reach out today to discuss your case.
Can a Spouse Sue for Loss of Consortium?
Posted in Personal Injury,Wrongful Death on October 3, 2019
If your spouse is in an accident that someone else's negligence caused, the aftermath can be devastating for the entire family. You and your family may have to deal with unexpected medical bills, funeral costs, and emotional damages, like mental anguish and a loss of consortium. Whether an accident leads to your spouse's death or an injury so severe that your spouse cannot provide the same support as he or she did in the past, you can file a lawsuit against the at-fault party for loss of consortium.
What Is Loss of Consortium?
Loss of consortium refers to the loss of moral support, companionship, or intimacy following an accident. You can claim non-economic damages for loss of consortium in both personal injury cases and wrongful death lawsuits under California law.
There are two main types of damages you can claim in a lawsuit following an accident: economic and non-economic. Economic damages refer to the tangible losses you and your spouse suffered, such as medical bills or lost wages. Non-economic damages, on the other hand, refer to the losses you cannot prove a financial burden or provide a receipt for. Instead, the damage is emotional – and loss of consortium falls under this category.
How to Prove a Loss of Consortium Case in California
If you are filing a lawsuit and claiming loss of consortium damages after your spouse's accident, you will need to work closely with a California personal injury attorney to prove your case. In order to successfully claim this compensation, you and your lawyer will need to satisfy the following four elements.
First, you will need to prove that your spouse suffered injuries in an accident that someone else's negligence caused. You will have to prove that the at-fault party owed your spouse a duty of care and breached it, leading to his or her injuries or death. You can satisfy this element in a number of ways, including medical records, surveillance footage, witness testimony, and expert testimony.
Second, you will need to prove that you and your spouse are in a legal marriage or registered domestic partnership that was valid at the time of his or her injury. You can prove this element by providing your marriage license or domestic partnership paperwork.
Third, you will need to prove that you lost your spouse's consortium as a result of the injury or death. This element can be difficult to prove, since you cannot always see emotional damages. You may need to discuss the impacts that the injury has on your spouse's abilities or behavior, and how that impacts your relationship. Speak to your attorney to determine which pieces of evidence you should present.
Fourth, you will need to prove that the injury and the accident that caused the injury is at fault for your loss of consortium. This portion of the lawsuit can be difficult to prove as well, since you will have to establish that the loss came from the accident itself instead of an outside event, like marital troubles. Your attorney can assist you with satisfying this element.
How Do California Courts Calculate Loss of Consortium?
If you are successful in proving the loss of consortium, the court will award you a settlement for your damages. Understanding how much you receive can be difficult, since there is no specific number attached to this type of loss. In addition, settlements vary from case to case; the amount you receive will depend on the extent and severity of the damage.
The court will likely consider the following factors when calculating loss of consortium.
How severe your spouse's injuries are
The emotional trauma you and your spouse have suffered
How the loss of consortium disrupts your daily life
How long it may take for your spouse to recover
Whether or not the injuries are permanent or long-term
If your family is experiencing loss of consortium after your spouse suffers severe injuries in an accident that was not his or her fault, you can claim compensation for these damages in California civil court. However, proving a loss of consortium case can be difficult depending on the circumstances. Contact a California personal injury attorney as soon as possible to discuss your case and begin the lawsuit filing process.
Our Firm is a Sponsor of Halloweenville
Posted in Events on September 30, 2019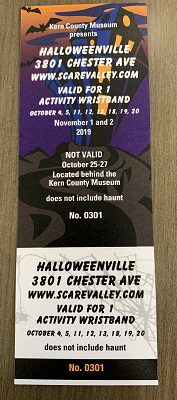 We are a sponsor of Halloweenville! It's a local Halloween attraction in Bakersfield, California. Families can pick out a pumpkin, take a ride on the Spooky Train, play Ghosts versus Ghouls Laser Tag, shoot a zombie, climb the Wicked Rock Wall, or bounce in Casper's Zone. Older kids and adults can experience Scare Valley, Bakersfield's newest haunted attraction.
Free Halloweenville Tickets to Our Followers
As a thank you for following us on social media, we are giving away 150 tickets for activities for the kids, and 150 tickets for the haunted attraction for the older kids and adults. These tickets are valid for Saturday, October 5th, 2019 only.
How to get tickets:
1. Follow us on Facebook and/or Instagram.
2. Stop by our office to pick up your tickets. Maximum 4 per family.
Our address is 1128 Truxtun Ave Bakersfield CA 93301. We are here from 8am to 5pm. Tickets are available while supplies last, so hurry!
Halloweenville is located at 3801 Chester Ave, behind the Kern County Museum. For more information about this event, visit scarevalley.com.
Can I Claim Workers' Compensation for Stress?
Posted in Personal Injury on September 25, 2019
Workers' compensation claims can involve numerous types of accidents and injuries, from falling from scaffolding to suffering from carpal tunnel syndrome after writing all day. However, you may wonder if non-physical injuries and ailments, such as mental stress, could be grounds for a workers' compensation claim. While the legal framework for these claims can be tricky, it is possible to claim workers' compensation for stress.
California Workers' Compensation Laws
Compared to many other states, California is ahead of its counterparts when it comes to workers' compensation. While the state does not explicitly name stress as an injury you can claim compensation for, you can file a claim for mental health injuries that you suffer as a result of your job.
However, you will need to prove that you suffered your mental injury as a result of your job. Providing evidence for this claim can be very difficult, since you cannot show a physical injury. As a result, many employers and insurance companies can deny mental health-related workers' comp claims.
The Definition of Psychiatric Injuries in California
In order to receive benefits for workers' compensation, you need to prove that the injury is workplace-related. For a mental health claim, this means showing that you suffered your stress due to stressful conditions at work. Due to this injury, you cannot perform certain tasks on the job and may have to take time off of work.
You must meet all of the following requirements to successfully file a workers' compensation claim for a psychiatric injury.
A doctor diagnosed you with a mental disorder established by the Diagnostic and Statistical Manual of Mental Disorders (DSM-V).
You worked for your employer for at least six months. If your injury came as a result of a sudden, extraordinary condition, you do not need to meet this requirement.
You had to receive medical treatment or experienced disability as a result of the mental disorder.
You can prove that your working conditions were the predominant cause of your mental disorder or psychiatric injury.
You did not suffer the injury as a result of any personal, good faith actions of your employer.
To prove that you satisfy these requirements, you may need to produce documentation such as medical records. You will need to collect additional pieces of evidence that prove your stress injury is work-related. Contact an attorney to determine what evidence you should submit along with your claim.
What Benefits Can You Receive Under Workers' Comp?
While you may be able to claim certain types of benefits for physical injuries under California workers' compensation, you may not be able to claim these same benefits for a psychiatric injury. Because of the way that the system verifies these claims, the insurance company may limit the amount you can receive.
For stress injuries, you could receive compensation for medical treatment. You may also be able to claim temporary disability benefits if you need to take time off of work due to your condition. However, you may not be able to receive permanent disability benefits since the system assumes that you could return to work. The company may assume that you could find a less stressful position that will not aggravate your condition.
Do You Need an Attorney for Your Workers' Compensation Claim?
If you are attempting to file a workers' compensation claim for a stress-related injury, you may run into a few issues. Since the evidence is not physical, you may find that your employer and the insurance company can deny or dismiss your claim. In these situations, you need an attorney to assist you with your case.
A California personal injury attorney will know the processes you need to follow to receive your settlement. In addition, your lawyer can launch an in-depth investigation into your stress injury, helping you build a more compelling case to the insurance company. Contact an attorney as soon as possible after you discover your injury to begin the claims process.