Blog
What To Do If Your Child Is Being Bullied at School
Posted in School Bullying on September 18, 2019
It wasn't so long ago that bullying at school was considered just another part of growing up and something children were meant to work out between themselves. Fortunately, that attitude is changing dramatically, and today more parents, schools, and lawmakers treat bullying as an unacceptable activity that in some cases is even criminal.
Nonetheless, bullying persists, and the consequences can have long-term effects on a person's mental and physical health long past childhood. In some cases, the repercussions of bullying are fatal: Rodriguez & Associates is currently representing a family of a teenage boy who was bullied so relentlessly it eventually drove him to suicide. In the United States, bullying is also closely linked to school shootings.
Parents can teach and protect their children by gaining a better understanding of what to do when their child is a victim of bullying, whether that means going to teachers or going to law enforcement.
If you believe your child is being bullied at school, consider the following steps:
1. Learn to recognize signs of bullying.
In many cases, your child won't walk right up to you and say they are being bullied by another student. But certain signs indicate the potential presence of bullying.
Random, unexplained physical injuries, such as scrapes or bruises, could mean violence. A classic sign is your child not wanting to go to school: they may try to avoid it by claiming they are sick. When this starts to happen frequently, you may have a bullying problem on your hands. Other potential indicators include damaged or missing property, failing grades, and your child suddenly wanting to avoid social activities.
While none of these things are exclusive to bullying, any one of them could indicate problems at school and should be investigated thoroughly and immediately.
2. Don't overreact.
As a parent, your natural inclination might be to head straight to school to confront the bully. Or you may feel the need to voice out loud, in front of your child, the unfairness of the situation and how angry it makes you.
But emotionally charged statements and reactions, however well intended, might actually work against you, as they might make your child feel less safe. For example, you confronting the bully on the school playground could actually lead to further teasing or worse for your child, making them feel even less safe at school than they were before.
Instead, make it a point to listen calmly as your child explains the situation in their own terms. Let them do most of the talking, so they can feel free to express their true feelings and concerns. Try to avoid making any judgements or assumptions, especially about the other child.
3. Talk to your child's teacher.
It is important to get the teacher involved early in the process, preferably as soon as your child starts talking to you or someone else about being bullied. Set up a time to meet with the teacher and explain the situation. Don't simply make the assumption that the teacher already knows and simply hasn't done anything. In many cases, teachers aren't even aware that their students are being bullied.
Once made aware, though, they must become part of the solution. Follow up with the teacher after your initial conversation to make sure the school is using the resources it should have in place to address bullying. If the situation is still not resolved after getting the teacher involved, you may need to go to the school's principal.
4. Go to the police.
In some extreme cases, bullying can turn to actual violence or threats of it. When that happens, it's a crime and it's time to get law enforcement involved. In light of tragic events that have happened at schools across the U.S. over the years, both schools and police take these threats of violence very seriously.
If taking such drastic measures makes you uncomfortable or you are not sure how to proceed, you can also consult an attorney. A lawyer with experience in handling cases of bullying can counsel you through the situation and help you understand your options as well as when it makes most sense to involve the police or pursue litigation.
Students of all ages have a right to attend school without fear of being harassed or bullied about who they are—their beliefs, appearance, ethnicity, and all the other factors that make up a human being. Rodriguez & Associates is committed to helping parents put an end to bullying and make schools safe, welcoming, open environments for all children to attend. Reach out to us today to discuss your concerns.
Do You Need to Replace a Car Seat After a Car Accident?
Posted in car accidents on August 27, 2019
Depending on the circumstances of your accident, a car collision can leave severe, sometimes irreparable damage to your vehicle. Not only is the exterior of your car at risk, but a car accident can damage your interior mechanisms and the belongings you have inside of your vehicle. If you have a car seat in your car at the time of your accident, it is a good idea to replace it – and your personal injury lawsuit or insurance claim could help you purchase a new one.
When Do You Need to Replace a Car Seat?
The National Highway Traffic Safety Administration (NHTSA) puts out recommendations on what to do with car seats after a car accident. If you are in a moderate to severe crash with your child or with the car seat in your vehicle, the NHTSA recommends that you seek a replacement as soon as possible.
Getting into a car accident does not automatically mean that you have to replace your car seat, however. If you are in a minor car accident, you can continue to use the seat. Your accident will need to meet all of the following criteria for the NHTSA to consider it a minor collision.
You were able to drive your vehicle away from the accident site.
None of the people in the car at the time of the accident suffered any injuries.
Your vehicle's air bags did not deploy during the course of the accident.
The car seat did not suffer from any visible damage.
The door closest to the car seat did not suffer from any damage.
Remember, your car accident will need to meet all of the above criteria to be a minor accident and you do not have to replace the car seat. If you do need to replace your car seat, options are available to you.
You should also check with the manufacturer of the car seat to ensure that it is still in good condition. Different manufacturers may have different requirements, so it is important to conduct some independent research after your accident.
Can You Receive Compensation to Replace a Damaged Car Seat?
If you were in a moderate to severe car accident and your car seat meets the manufacturer's requirements for a replacement, you will need to purchase a new one. Car seats can be expensive, and paying for one unexpectedly out of pocket can be difficult – especially if you are also paying for medical bills, property damage, and other losses associated with the accident.
You do have to option of recovering compensation to purchase a new car seat. You can choose to pursue a claim through your car insurance company or you can file a lawsuit in California civil court. If you start with an insurance claim, you can pursue a lawsuit at a later time.
The insurance company should cover your medical expenses, lost wages, and property damage in an accident – and car seats count as property. Depending on the company, you may have to purchase the replacement car seat first and submit a receipt for reimbursement later. Other companies may give you a settlement to purchase a new car seat.
Because these companies have to pay for your expenses, they may be difficult to deal with and take a long time to offer you a settlement. Even with a settlement, you may not receive enough money to cover all of your losses. Contact an attorney to help you with your claim and to negotiate for a fair settlement on your behalf.
Car accidents, no matter how severe, can lead to damage to you, your passengers, and your property. If someone else's negligence or recklessness led to your accident, you may be eligible to collect compensation for your losses through a personal injury lawsuit or insurance claim. Contact a car accident attorney as soon as possible after your crash to learn more about your legal options.
Joel Andreesen Named Board President for CSUB Roadrunner Scholarship Fund
Posted in Uncategorized on August 23, 2019
Joel Andreesen, senior partner of Rodriguez & Associates, has been named Board President for California State University, Bakersfield's (CSUB) Roadrunner Scholarship Fund for the 2019-2021 term.
The Roadrunner Scholarship Fund supports champions made in the classroom:
Their student- athletes are leaders among their peers, having a higher grade point average and graduating at a higher rate compared to the entire CSUB student body.
CSUB's student- athletes give back to the community, devoting more than 2,000 hours to community service projects throughout Kern County last year.
Their student- athletes have a proud history of winning, with 30 DII National Championships, 65 DI All-American honors, 318 Academic All-WAC honors, 326 individual WAC honors, and seven WAC championships.
Rodriguez & Associates congratulates Joel on his new position.
Is There a Cap on Personal Injury Claims?
Posted in Personal Injury on August 15, 2019
If you are filing a personal injury lawsuit or insurance claim, you may wonder what your chances are of receiving a multi-million-dollar settlement like some of the cases you read about in the media. Settlement amounts vary from case to case, and different states may place a cap on the amount of damages you are allowed to collect in these lawsuits. You may wonder if California has the same restrictions – and here's what you need to know.
Does California Have Economic Damage Caps?
When you file a personal injury lawsuit in California civil court, you can claim compensation for a number of losses associated with the accident that led to your injuries. These monetary losses, also known as damages, can cover a wide range of expenses and consequences.
The most common and easiest to prove form of damages are economic damages. These are more objective and usually involve hard documentation, including invoices, receipts, credit card statements, and medical reports. Economic damages usually have a monetary impact and can involve the following expenses.
Past and future medical bills related to the injuries sustained in the accident
Household services and vocational rehabilitation
Lost income and loss of earning capacity due to disability and recovery from the injuries
Property damage
Disability renovation accommodations
Because economic damages are directly related to the monetary losses suffered by you, the state of California does not place a limit on the amount you can collect in a lawsuit. However, you will need to prove that you sustained these injuries as a result of the negligence of the other person involved in your accident.
Non-Economic Damage Caps in California
Non-economic damages are harder to prove, since they involve the intangible losses, emotional damage, and shifts in your life you suffered as a result of your injuries. Your attorney can help you estimate how much of these damages you may qualify for – typically, courts use a multiplier system or set values to determine how much you can receive.
Some of the most common forms of non-economic damages include the following.
Pain and suffering
Loss of quality of life
Mental anguish
Post-traumatic stress disorder
Depression and anxiety
Humiliation
Loss of enjoyment of activities
California does place some limits on who can collect non-economic damages. In most cases, uninsured drivers cannot claim non-economic damages. However, uninsured drivers can claim these damages if the other driver was under the influence of alcohol or drugs and received a DUI conviction.
In addition, if you file a medical malpractice claim, you cannot claim more than $250,000 in non-economic damages.
Punitive Damage Limits in California
In certain circumstances, the courts may award you a certain amount of punitive damages. The purpose of these damages is not to compensate you for your injuries and losses – instead, the intention of punitive damages is to punish the at-fault party in your claim.
The courts will grant punitive damages in situations where the at-fault party acted with malice, oppression, or fraud. Usually, the at-fault party harmed you either intentionally or in an act of extreme negligence and recklessness.
To determine the amount of punitive damages you can receive, the court will take into consideration the following criteria
How severe the act of harm was to you
The relationship between the injuries you suffered and the amount of damages
How much money it will take to punish the at-fault party
Unlike many other states, California does not set a limit on how much in punitive damages you can receive. The more reckless or dangerous the behavior, the higher the amount will be.
The amount of damages you can collect in your personal injury lawsuit will depend on the facts of your case – from how much you paid in medical expenses to the emotional pain and suffering the accident inflicted on you. To accurately calculate your damages, contact a California personal injury attorney as soon as possible. Your lawyer can help you find the optimal pathway to maximum possible compensation.
What Schools Can Learn from the Bowe Cleveland Case About Gun Violence
Posted in Personal Injury,School Bullying on August 13, 2019
When it comes to gun violence in schools, questions over how to best protect our students are becoming more and more critical to answer. Last year was a record year for gun violence in schools, and students are at risk of not only mass tragedies on the scale of Parkland and Sandy Hook, but also of individual targeting.
A case Rodriguez & Associates took to trial this year underscores this issue, and raises even more questions, specifically around how much schools themselves should or can do when it comes to preventing gun violence on premises.
Bowe Cleveland, a former student at Taft Union High School in Kern County, California, was shot in the chest with a shotgun by fellow student Bryan Oliver on January 10, 2013.
Oliver pleaded no contest to two accounts of attempted murder without premeditation and was sentenced to 27 years to life. But Cleveland argued that school administrators ignored red flags about Oliver and could have prevented the attack in the first place. After suing the school district, Cleveland was awarded $3.8 million in damages this past July. The case was the second school shooting in the U.S. to ever go to civil trial. The first such trial was sometime in the 1990's.
Cleveland accused the school district of ignoring numerous threats made by the shooter in the ten months leading up to the shooting. Those red flags included threats by the shooter of bringing a gun to school and shooting 50 students and blowing up the school auditorium during a pep rally. The school administrators received reports not only from students but even from teachers and staff that they were scared of what the shooter might do.
Cleveland also accused the school district of violating their own written safety protocol. This written safety protocol called for a threat assessment plan on how to deal with students making such threats. The school district came up with a weak plan and then failed to modify it in the face of continuing threats made by the shooter. Finally, Cleveland accused the school district of violating their own written safety protocol because they were more concerned with their school image than the safety of their kids.
Cleveland suffered severe injuries after the shooting that required 30 surgeries over the past six and a half years. During his opening statement in the second phase of the trial, attorney Daniel Rodriguez said Cleveland faced lifelong continuing medical problems due to the shooting, and that he still deals with lead pellets embedded in his body.
This case, however, highlights the need for schools to not simply pay lip service to student safety but take the necessary actions to help prevent gun violence on school property.
While it is impossible to predict every single situation that might occur, raising awareness and taking steps in the face of suspicious activity could prevent cases like Bowe's from repeating themselves in the future.
At Rodriguez & Associates, we stand behind the communities we serve, including schools and the students that attend them day after day. We hope this verdict can serve as a wake-up call across the nation, and stand willing to assist and play our role in making a change.
Do You Need to Report a Car Accident in California?
Posted in car accidents on August 1, 2019
Car accidents are very common occurrences on California roads, from serious multi-car collisions to minor bumps and scratches. If you are in an accident where no one suffers serious injuries or damage, you may wonder if you need to report the car accident to law enforcement or the Department of Motor Vehicles. However, California state law does require you to file a report whenever a car accident happens.
Reporting the Crash to Law Enforcement
It is the law in California to report a car accident after it occurs. All drivers of any vehicles involved in the accident will need to make a written report to the California Highway Patrol or to the local police department within 24 hours of the crash – but only if the crash led to someone's injuries or death.
That is a very quick turnaround, so it is important to call law enforcement as soon as possible after the crash. Any police officer who responds to your accident will make a written report on your behalf so that you do not have to. If a car accident does not involve a person's injury or death, you do not have to make a report.
However, the moments after a car accident can be disorienting. You may not feel as if you have any injuries, and you may decline to report the car accident to law enforcement. However, injuries after an accident may become apparent hours or days after the initial crash. It is important to report the crash to law enforcement immediately after it occurs.
Reporting the Crash to the Department of Motor Vehicles
Depending on the circumstances of the accident, you may also need to report the crash to your local Department of Motor Vehicles (DMV) office. You have 10 days to report your car accident to the DMV if you meet any of the following criteria.
If anyone involved in your accident suffered injuries, including minor injuries
If someone died as a result of the car accident
The accident led to property damage that totals more than $750
You will need to submit a SR-1 form to the DMV to satisfy this reporting requirement. This form will ask you about the people involved in the car accident, any injuries or deaths that occurred, details about the property damage, and insurance information.
What to Do After a Car Accident in California
Meeting these reporting requirements is not only important to comply with state law – if you suffered any physical, emotional, or property damage, you could use these reports as evidence in an insurance claim or lawsuit. Through these processes, you can recover compensation to help you pay for any out-of-pocket losses that occurred as a result of the accident. However, it is important to take action as soon as possible after the accident.
Call 911 to bring emergency medical services and law enforcement officers to the accident scene. The officer will file the written report on your behalf, so that you do not have to worry about it later.
Seek medical attention as soon as possible to treat your injuries. Your medical report will be a key piece of evidence in your future claim.
Document evidence at the scene. Take pictures of any damage that your vehicles suffered, as well as your own injuries and the general area around the scene. Ask the witnesses in the area if you can have their contact information.
Contact an accident attorney. You can discuss the facts of your case with this attorney and begin the lawsuit process.
If you are in a car accident in California, it is important to remain calm and to report the incident to law enforcement as soon as possible. Not only does the state require you to do so, but a police report can greatly assist you in filing your insurance claim or personal injury lawsuit. After you file and seek medical attention, contact a car accident attorney to assist you with your case.
Understanding the Statute of Limitations for Personal Injury in California
Posted in Personal Injury on July 22, 2019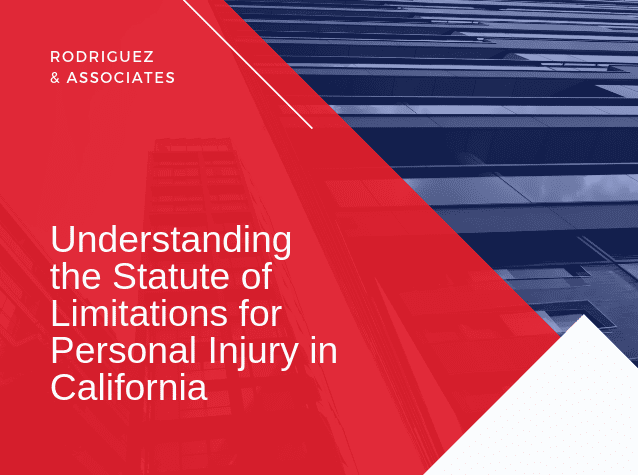 Most of us are at least familiar with the term "statute of limitations," but when it comes to understanding it in the context of a personal injury, there are hidden details and complexities to be aware of because they can drastically affect your ability to file a claim.
The Statute of Limitations in California is defined as "the deadline for filing a lawsuit." You must make a claim for your losses within that timeframe or risk losing any legal right to compensation. The Statute of Limitation varies from one type of claim to the next. For personal injury, you have two years from the date of the injury to file a claim in the State of California.
Personal injury can be anything from events where the other party had ill intentions, such as assault, battery, or emotional abuse, to accidents where there was no intent to harm, such as car crashes and injuries that happen in the workplace.
While two years is the standard amount of time to file claims against such injuries, there are exceptions — and in certain cases you have more or less time. Here are a few scenarios worth getting familiar with so you understand how much time you really have to file a claim.
Cases Against the Government
If the at-fault party is the government, you have six months from the time of the injury to file what's called an "administrative claim." This is a claim you file with the appropriate government office or agency before you file in court. The six-month timeframe only applies to the administrative claim, for which you'll need to download and fill out government forms.
Delayed Discovery of Injury
As mentioned above, the Statute of Limitations in the State of California is two years from the date of your injury. However, not every injury is apparent immediately following an event. For example, injuries from automobile accidents can take weeks and sometimes months to surface and cause the victim discomfort.
In such cases, the "delayed discovery" rule applies. Here, you have one year from the time you discovered — or reasonably should have discovered — your injury to file a claim.
When the Statute of Limitations Is Tolled
In some cases, the Statute of Limitation is "tolled" — that is, the time limit for filing a claim stops running. This applies to cases where the defendant is a minor, out of the state, in prison, or legally insane. In these situations, the statute stops counting down until the person's situation ends, whether that means they turn 18 years of age, return to the state, are released from prison, or are deemed to have their mental state of mind restored.
Whether or not the other party had intent to harm, you are entitled to compensation any time an injury occurs. While you should always try to file a claim as soon as the injury occurs, major injuries are one of life's unexpected challenges, and not everyone is able to deal with the paperwork and processes that go along with filing a claim right away. It helps to know beforehand your rights around this process in the event of a delay.
Once you know the basics, you should always seek a reputable lawyer who can further help you navigate this complex system and receive the compensation you deserve for you and your family's peace of mind. Rodriguez & Associates has a long history of helping clients through personal injury claims. If you or a loved one has been injured, reach out today to start a conversation. We have an office in Bakersfield and help personal injury victims throughout the state.
What Benefits Am I Entitled to If My Spouse Was Killed in a Trucking Accident?
Posted in Wrongful Death on July 20, 2019
Losing a spouse in a trucking accident is a tragic and difficult experience in multiple ways. Emotionally, you have to cope with the pain of losing a loved one due to someone else's negligence. You may also experience a variety of other damages, such as loss of economic support and the high cost of funeral and burial. However, you may be able to collect damages following your spouse's trucking accident through a wrongful death lawsuit.
California Wrongful Death Lawsuits
In the state of California, you can file a wrongful death claim when a person dies as a result of someone else's negligence or wrongful act. In the case of a trucking accident, you will have to prove that negligence on the part of the driver, trucking company, or other entity was responsible for your spouse's death. At the conclusion of your claim, you can recover monetary damages to compensate your losses.
According to California's wrongful death statute, only certain people can file a lawsuit on behalf of a loved one. You must be the deceased's spouse, domestic partner, child, or another person who may be entitled to the deceased's property, such as a parent or sibling. If your spouse died in a trucking accident, you have the right to file a wrongful death claim in California civil court.
Types of Damages in Wrongful Death Lawsuits
You can collect multiple types of damages in a wrongful death lawsuit. Your attorney will work with you to discuss the different benefits you may be eligible for. There are three main types of damages you can collect in a California wrongful death claim.
Economic damages: Damages pertain to the tangible monetary losses you suffer as a result of your spouse's death.
Non-economic damages: Damages that represent the intangible losses you suffer after your spouse dies, such as pain and suffering.
Punitive damages: In the case of extreme negligence or recklessness, the court may award you these damages to punish the at-fault party responsible for your spouse's death.
Final Medical Expenses
Depending on the circumstances of your spouse's trucking accident, he or she may have had to spend time in a hospital prior to his or her death. As a result, your spouse may have incurred some expenses for their final care and treatment. You can claim this form of economic damage in your wrongful death lawsuit as long as the expenses are related to your spouse's final injuries.
Pain and Suffering
You may be able to collect damages if your spouse suffered significant pain and suffering prior to his or her death. Your attorney can help you calculate the amount of this non-economic damage you can collect, depending on what your spouse experienced between his or her injury and death.
Loss of Potential Income
If your spouse contributed a significant amount of income to your household, you may suffer without his or her continued to support. With a wrongful death lawsuit, you can claim the amount of potential income your spouse could have earned if he or she survived the trucking accident. With this compensation, you and your family can support yourselves during your transition to life without your spouse.
Funeral and Burial Costs
Funerals and other burial rites can be very expensive, depending on your spouse's final wishes and the traditions you wish to follow. You may be able to collect compensation to pay for reasonable funeral and burial expenses in your wrongful death lawsuit.
Loss of Love, Community, Guidance, and Other Emotional Damages
When considering non-economic damages in a wrongful death lawsuit, the court and your attorney will discuss the emotional pain and suffering you and your family experience as a result of your spouse's death. You can claim compensation for multiple forms of emotional damage in your wrongful death lawsuit, including loss of love, support, guidance, community, affection, attention, and more.
Calculating the maximum amount of compensation you can receive in a wrongful death lawsuit can be complicated. You will need to consider a great deal of intangible and emotional loss as well as economic loss. Contact a Bakersfield wrongful death attorney at Rodriguez & Associates as soon as possible to determine what benefits you could claim.
Should I Give a Recorded Statement to the Truck Driver's Insurance Company?
Posted in Truck Accidents on July 10, 2019
If you recently suffered injuries in a semi-truck accident, you may have received a call or visit from an insurance claims adjuster. This adjuster may tell you that he or she wants to receive a recorded statement from you about the accident. He or she may claim that the company wants to settle your case as soon as possible to help you recover.
Why Do Insurance Adjusters Want Recorded Statements?
Insurance companies typically ask for a recorded statement after a semi-truck accident because they want to know what your version of events is leading up to the accident. The adjuster will use the statement you give to them, as well as the at-fault driver's statement, to build a picture of your claim. However, information gathering is not the only reason that the insurance adjuster wants to record your statement.
Insurance companies often try to solicit a recorded statement from you soon after your accident because you may not know all of the details of your accident. They will use this recorded statement as concrete evidence against you if your case goes to trial – even if you say something you believe is true at that moment and find out more information later, the insurance company can use the statement to discredit you.
Avoid Giving a Recorded Statement Before Speaking to Your Attorney
If an insurance adjuster approaches you after your accident asking for a recorded statement, do not speak with him or her before contacting a Bakersfield truck accident attorney. The adjuster may make it seem like the company requires you to provide this statement in order to progress in your claim, but this is not true.
You are not required to give a recorded statement to the truck driver's insurance company. Since you are filing a third-party claim, the company cannot require you to make a statement. If you were filing a claim with your own company, you would have to give a statement. In the majority of semi-truck accident cases, however, you are making a third-party claim.
Insurance adjusters can be very tricky. They can often ask you misleading questions to try and confuse you or say something that the company can use against you as evidence later on. As a result, you can see a lower compensation amount at the end of your claim or the courts could reduce the truck driver's liability in your claim.
Tips for Giving a Recorded Statement
You should not give a recorded statement to an insurance company until after you have had a chance to speak with your attorney. The adjuster cannot require you to give a recorded statement. However, insurance adjusters can use aggressive tactics to obtain these recordings. If you find yourself in a situation where you have to give a recorded statement, follow these tips to protect your claim.
Request that the insurance adjuster does not record the conversation. This makes it harder for the company to use your words against you in court because the evidence is not concrete.
Give succinct, to-the-point answers. Always answer slowly and clearly, and do not ramble.
If you don't know the exact answer to the question, do not guess. Simply say "I don't know" or "I don't know the facts yet."
Do not admit to any type of fault. Even if you think you may be partially liable at that point, admitting fault could reduce your claim significantly.
Do not accept a settlement from the insurance adjuster. The amount will likely be much lower than what you actually need to recover.
Do not volunteer information to the insurance adjuster. Only give answers to the questions he or she asks of you.
Remember, you do not have to give a recorded statement to an insurance company in a truck accident case. Be careful with what you tell the insurance adjuster and avoid giving any information about your injuries or the circumstances of your accident early on in your claim. Always contact your attorney before you speak to the insurance adjuster. Contact Rodriguez & Associates today.
Rodriguez & Associates: New Location Effective July 15, 2019
Posted in Uncategorized on July 9, 2019
We would like to inform you that we will be at our new location effective Monday, July 15, 2019, at 8:00 a.m.
Our new address is:
1128 TRUXTUN AVENUE
BAKERSFIELD, CA 93301
Our contact information: Telephone number, fax number, and email will remain the same.
For questions, please contact us at 661-323-1400.