Blog
Daniel Rodriguez Makes the 2021 California Super Lawyers List
Posted in Awards,Honors and Recognitions,Personal Injury Attorneys on January 21, 2021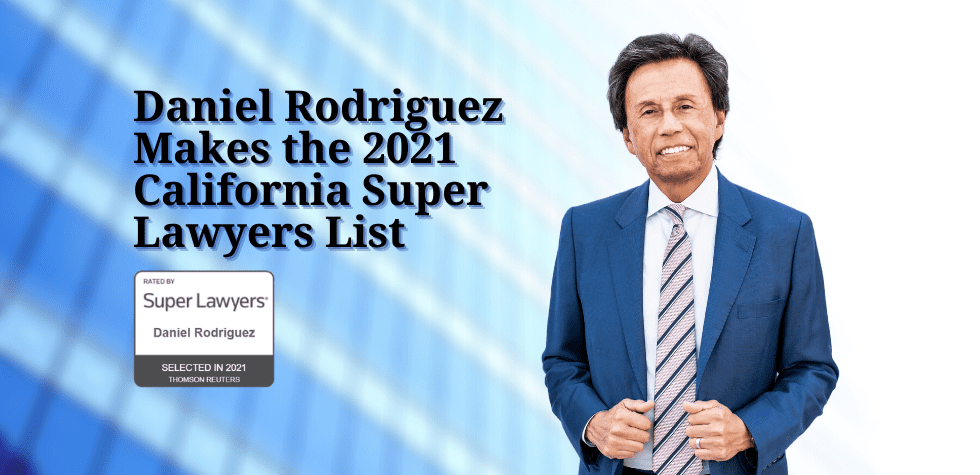 Attorney Daniel Rodriguez, Founder and President at Rodriguez & Associates, has been selected to the 2021 California Super Lawyers list. No more than five percent of the lawyers in California are selected by Super Lawyers.
For over ten years, Super Lawyers has recognized Daniel Rodriguez for his outstanding legal achievements. He has demonstrated excellence in the practice of law year after year.
Super Lawyers®, part of Thomson Reuters, is a rating service of outstanding lawyers from more than 70 practice areas who have attained a high degree of peer recognition and professional achievement. The annual selections are made using a patented multiphase process that includes a statewide survey of lawyers, an independent research evaluation of candidates and peer reviews by practice area. The result is a credible, comprehensive and diverse listing of exceptional attorneys.
Daniel is a member of The National Trial Lawyers – an invitation only group composed of the premier trial lawyers from across the United States. His firm has obtained more multi-million-dollar verdicts than any other law firm in the Southern San Joaquin Valley and has earned the highest personal injury verdict in Kern County history. In 2019 alone, he had three verdicts that made the Top 40 Personal Injury Verdicts in California list (by Top Verdict). The largest verdict in that list was a $70.5 million verdict in a trucking crash/traumatic brain injury case.
"Being listed in Super Lawyers once again for the litigation work I do is an honor," said Rodriguez. "Helping individuals and families in Kern County get the justice they deserve for the pain they have experienced is why I do what I do."
Congratulations, Daniel!
To learn more about Daniel Rodriguez, click here.
About Rodriguez & Associates
Rodriguez & Associates is Kern's County premier personal injury law firm. The lawyers have with more than 100 years of combined experience. As an award-winning law firm, it is known to deliver big firm results with small firm service. www.rodriguezlaw.net
Kern County Lawyers for DUI Accident Victims
Posted in Car Accidents,Kern County Lawyers,Pedestrian Accidents,Personal Injury,Rodriguez & Associates on January 6, 2021
Driving under the influence (DUI) is still the #1 cause of death on our roadways, according to Mothers Against Drunk Driving (MADD).
People who drive under the influence of alcohol or drugs are more likely to cause accidents that are often more serious with more severe injuries because their judgment and reaction time is impaired. While the criminal court system can punish a drunk driver for the accident, it does not compensate the victims of the accident.
Drunk Driving Civil Lawsuit
 If you have been a victim of a drunk driving accident, you have the right to pursue claims in civil court to recover monetary damages, in addition to pressing criminal charges. Even if the drunk driver is not convicted in criminal court, you may still seek compensation through a civil claim. While serious compensation will not make up for the physical and emotional costs that a drunk driving accident victim endures, it can make it easier for the person to start putting back together the pieces of their life. Financial compensation can be pursued for:
Medical bills and ongoing healthcare needs related to the accident
Pain and suffering from the accident
Lost wages as a result of missed work
Property damage to the car that was damaged or destroyed in the accident
Modifications to a home or car because of the injuries incurred from the accident
Punitive damages – intended to punish the negligent party and discourage similar negligent behavior by others
If the claim is for wrongful death, you may be able to collect damages for loss of future income, loss of consortium, and funeral expenses.
What if the Drunk Driver Has No Insurance?
Most car insurance companies offer uninsured motorist (UM) coverage so if you are involved in an accident with someone who is uninsured, you can make a claim with your insurance company to be compensated for your medical care, pain and suffering, and lost wages. However, once you file a claim, your insurance company will view you as a liability, instead of as a customer, and they will do everything in their power to minimize or avoid paying out your claim (learn more about dealing with insurance companies and Uninsured Motorist coverage here).
Another option may be to sue the drunk driver but if the judgment is returned in your favor the defendant may declare bankruptcy which means they're not responsible for paying the judgment or they may have no money to pay the judgment. Suing the driver can be a long process that may not amount to any compensation.
A third option may be suing a third party such as a restaurant that continued to serve a customer who was already drunk or a bar that served a minor.
Third-Party Liability in a DUI Accident
 While the person who was driving under the influence may be the primary cause of the accident, there could be liability for third parties who contributed to the circumstances of the driver. Third parties that may be held responsible can include:
Bar or Restaurant Staff & Owners: it is their responsibility to stop serving patrons that appear to be intoxicated.
Hosts: people who host parties or gatherings where alcohol is served can be held liable if they continued to provide alcohol to a guest that was clearly inebriated.
Determining third party liability can be complex and involving an experienced lawyer in representing DUI accident victims is highly recommended.
We Represent DUI Accident Victims in Kern County and California
At Rodriguez & Associates, our experienced personal injury attorneys are ready to represent you or a loved one who has been injured as a result of a DUI accident. We have the resources to fully investigate the accident, contributing factors, and can determine if there is third party liability. Our Kern County lawyers are caring and empathetic with our clients and will do everything possible to hold the wrongdoer accountable.
We represent DUI accident victims in Kern County and throughout California. Call us to request a free consultation at (661) 323-1400 or toll-free (800) 585-9262.
Office Manager Martha Ruiz Looks Back on 35 Years at Rodriguez & Associates
Posted in Personal Injury Attorneys,Rodriguez & Associates on January 5, 2021
It takes many more hands than those of a few attorneys to fight a personal injury case. Behind the scenes, an enormous amount of organization, troubleshooting, and detail work has to happen, and it is individuals like Martha Ruiz who provide that invaluable support.
Martha is one of the longest-standing employees at Rodriguez & Associates, having joined the firm in 1985. Over the years, she has worn many hats and performed many jobs, including time as a senior paralegal as well as her current position as office manager. On any given day, Martha can be found troubleshooting at the front desk, answering questions for both clients and attorneys, and providing ongoing training for the firm's staff.
But regardless of the task at hand, Martha sees a sense of purpose in her work that hasn't wavered since it originally attracted her to Rodriguez & Associates more than three decades ago.
A big part of her loyalty to the firm comes from Daniel Rodriguez and his staff's approach to their clients. Atypical to a lot of law firms, Rodriguez & Associates maintains relationships with its clients that extend beyond simply settling a personal injury case or taking it to the courtroom. Those who work at the firm, whether as attorneys or in roles like Martha's, build family-like relationships with their clients that last long after a case is wrapped. Martha likens this process to taking a journey with the client, one in which she and the rest of the staff get to see not just the close of the case but also what happens to the people in the years that follow.
Martha says that over the years she has watched clients who came to the firm as victims of tragedy and life-altering injuries evolve over time to lead their best lives possible. Talking to them periodically, seeing them return to the firm to say hello and share their lives' details, helps to keep her motivated and her outlook positive.
Watching the stories of these people unfold and getting to play a role in their resolution has, she says, changed the way she views the world. It has helped her to stay humble and not to take things for granted.
She has also had the privilege of watching many staff members at Rodriguez & Associates grow over the years. Having been with the firm for so long, Martha has seen it expand from just a few individuals to over 20 people. It is rewarding for her to see those she initially hired and trained grow over the years. At the same time, she believes the firm has a knack for choosing people that value and respect one another and are committed to each other and to their clients.
One of her favorite things about her job is that it lets her interact with many different types of people. This exposure to people and events she might not have otherwise encountered also has a positive effect on her worth ethic and overall motivation at the firm.
As she celebrates 35 years at Rodriguez & Associates, Martha continues to find positive influence and inspiration in the people she meets and the stories she gets to be a part of along the way.
Daniel Rodriguez: How a Not-So-Typical Attorney Built a Law Firm Based on People, Not Profits
Posted in Rodriguez & Associates on January 4, 2021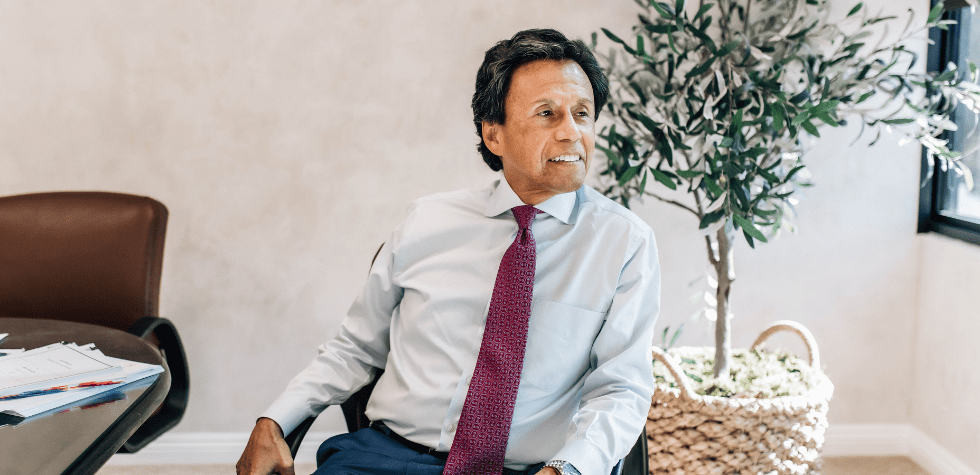 If Rodriguez & Associates is not your typical law firm when it comes to handling personal injury cases, that's largely because its boss, Daniel Rodriguez, is not your typical attorney. His beginnings as the son of migrant workers and his struggles to obtain his own education growing up have had a lasting impact on both his life and career. These experiences taught him both the value of hard work and the importance of helping those that most need it. Giving back to his community through these things is the bedrock upon which Daniel has built and maintained his firm over the years.
Daniel grew up on the move. His family took migrant jobs in Texas, Louisiana, Mississippi, and California, and during that time Daniel and his siblings attended between three and five schools each year. Even in undergraduate and law schools, he worked a variety of jobs that ranged from dishwashing to sales to pumping gas. This exposure to many different types of employment imprinted an important lesson on Daniel from a young age: that there is no substitute for hard work, and that making a difference requires time, energy, and persistence.
Daniel also learned from an early age how to size people up, and developed the kinds of social skills needed to interact with a variety of individuals from a variety of backgrounds. Years on, he still relies on these skills as necessary tools for helping victims of negligence, wrongful death, and other areas of personal injury litigation. Meanwhile, his undergraduate studies in electrical engineering helped him develop the ability to assess both sides of a situation and fully understand all perspectives involved. For a personal injury lawyer, all of these things are invaluable assets.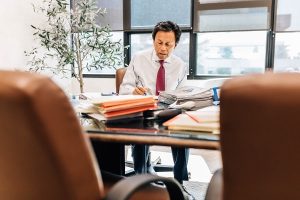 Daniel has applied all these lessons to his practice throughout his law career, championing the people of the Bakersfield, California community and giving a voice to those who most need it. His dedication to these ideas surfaced early on in his career as an attorney, when he was still working as a defense attorney at an insurance company. Discouraged at the idea of using his time and energy to represent the interests of corporations, he took the fight to the other side and started representing the people instead.
Daniel and his staff take this fight very seriously. Most personal injury firms rarely bring their cases to trial; Daniel has been in the courtroom since the first month of his career as an attorney. Going to trial with a personal injury case requires far more time and work then is usually required when that case is simply settled. Daniel's willingness to devote the extra effort and resources to win his victims fair compensation is one of the underlying values of his firm.
What Type of Compensation is Available in a Wrongful Death Claim?
Posted in Personal Injury,Personal Injury Attorneys,Rodriguez & Associates,Wrongful Death on December 28, 2020
If you lost a loved one due to the negligence of another person or entity, you may have grounds for a wrongful death claim. This civil lawsuit provides compensation to a deceased person's estate and surviving family members, such as his or her spouse and children, for the losses associated with his or her death.
However, California establishes strict rules regarding what types of compensation a plaintiff's family or estate may receive. There are two categories of damages in wrongful death lawsuits: compensation for the deceased's estate, and compensation for the deceased's family.
Damages for the Deceased's Family
Surviving family members can suffer from significant pain and suffering due to the untimely passing of a loved one. The purpose of wrongful death claims is to compensate the family for these losses with a monetary award. If a wrongful death claim is successful, the court will typically award compensation for the following losses to eligible family members.
The value of household services the deceased would have provided
The loss of anticipated financial support from the deceased
The loss of love, affection, guidance, moral support, community, and attention from the deceased to his or her family members
In California, only certain individuals may file a wrongful death claim on behalf of a deceased person. Typically, only the surviving spouse or domestic partner, surviving children, and people in the line of succession, such as the deceased's parents or siblings, may receive this compensation.
Compensation for the Deceased's Estate
After a person dies, he or she can incur certain costs that his or her estate will need to pay for. The court will compensate the estate for the cost of his or her funeral and burial expenses up to a reasonable amount, as well as medical bills and hospital expenses associated with the deceased's final injury or illness.
The court will often provide funds for the value of the deceased's lost income. This specific form of compensation reimburses the estate for the potential income the deceased would have likely earned in the future if he or she lived. The court will also provide compensation for lost wages the deceased incurred during his or her recovery period prior to death.
How Long Do You Have to File a Wrongful Death Claim?
If you lost a loved one due to negligence or reckless behavior, you may be eligible for a wrongful death settlement. However, California sets a time limit on these types of lawsuits—you only have two years from the date of your loved one's death to file. If you wait until this deadline passes to file your claim, the court will almost certainly dismiss your lawsuit and your family will lose the right to collect the compensation you deserve.
Hiring a California wrongful death attorney to represent your claim can help you avoid unexpected delays and file your lawsuit on time. Your lawyer can assist your family with every aspect of the wrongful death litigation process, from negotiating with insurance companies to identifying the damages you qualify for.
As soon as possible following your loved one's accident, contact a California wrongful death attorney to initiate your claim. Your attorney will explain your legal options and discuss you and your family's first steps toward compensation.
Joel T. Andreesen Reflects on his 16 Years Spent at Rodriguez & Associates
Posted in Personal Injury,Personal Injury Attorneys,Product Liability,Rodriguez & Associates on December 17, 2020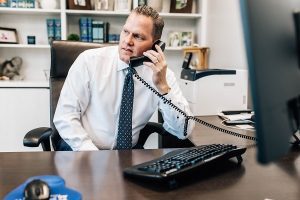 Joel Andreesen attributes his lifelong commitment to fact-finding as a huge reason for his success as an attorney. And that success is about much more than financial settlements. Throughout his career, and during his 16 years at Rodriguez & Associates, where he is now a Senior Partner, Joel has been driven more by a desire to help victims reach closure than by any monetary prize.  
Joel was born and raised in a farming family in Iowa. Leaving that setting, he initially set out to become a journalist. Though he switched to law, he cites parts of his journalism training—rigorous investigation, meticulous fact-checking, effective communication—as enormously helpful to his work as an attorney.
Joel met and began working with Daniel Rodriguez at a different law firm in the late 1980s. Some years later, Daniel left to start Rodriguez & Associates, eventually proposing, in 2004, that Joel should come and work with him. Joel has been there ever since. 
At the firm, Joel says he covers many areas of personal injury, though he started off working on business litigation, employment law, and criminal defense. "I think all of those areas helped me at a young age to be able to get into the courtroom a lot sooner than if [I] was only doing personal injury work," he says.
Over time, however, his interest shifted to personal injury because of the opportunity it provided in terms of helping others. Like so many at Rodriguez & Associates, that drive to help those in need motivates many of Joel's choices, right down to the cases on which he chooses to work: "We've taken on cases that other firms have turned down that may be tough liability cases but we really truly wanted to try and help these people."
He cites one product liability case from several years ago as a prime example. A family had contacted Rodriguez & Associates after the father was killed by a defective product. Joel says that another law firm had turned the case down flat out. Joel met with the family and, through what he says was some very basic research, determined that there was a real viable case against the product manufacturer based on a detail the other firm had overlooked. He won the case, and was even told by opposing counsel that the settlement received was the largest one ever paid out by the product manufacturer. 
Not that the money is the prime driver here. For Joel, the real payout was "the satisfaction of helping the family through this process and through a very difficult loss of a great loved one. In the end, we can never bring them back, but hopefully we can help [the family] through it."
The success of that case is in no small part due to Joel's commitment to the lengthy process of personal injury cases, which rely so much on minute details and require attorneys to keep very open minds in order to uncover new facts that could influence the outcome. "From the very beginning, we think as broadly as possible," says Joel. Most personal injury cases are settled out of court, but Joel starts out treating each one as though it were headed to trial, in order to motivate himself and the team to put as much effort as possible into it.
That involves bringing experts onboard from the start — many firms do not bring experts in until the end — and making them part of the process. He gets other attorneys at Rodriguez & Associates involved because "the more eyes that can look at something the more possibilities come up." And he conducts focus groups with potential juries in whichever county the case is taking place.
The long hours and attention to detail pay off, and not just in financial terms. For Joel, being an attorney is about helping those in need and bringing both material and emotional resolution to often tragic situations. For him, there is no greater settlement than that. 
How Commercial Truck Accidents are Different than Passenger Vehicle Accidents
Posted in Personal Injury Attorneys,Rodriguez & Associates,Truck Accidents on December 14, 2020
Commercial truck accidents differ from passenger vehicle accidents on many levels, including physical damage wrought, injuries sustained, multiple negligent parties, and insurance policies. If you're involved in an accident involving a commercial truck (also referred to as a semi-truck or tractor-trailer) you will quickly realize that truck accident claims require a different approach than an accident involving only passenger vehicles, and here's why.
Truck Accident Injuries and Physical Damages are Usually More Severe
The severity of truck accidents is often due to their weight and dimensions, which contributes to longer stopping distances, wider turn radiuses, and larger blind spots. Commercial trucks can weigh up to 80,000 pounds which is 20 times heavier than the average car. Due to this difference, personal injuries sustained in a truck vs. car accident are usually more catastrophic, including death. The physical damage to a vehicle in a truck accident can also be severe and often the car's condition is considered to be "totaled" (when the damage to repair the car exceeds the value of the car).
 Multiple Negligent Parties May Be Involved in Commercial Truck Accident Claims
When there is a car crash between two vehicles, usually only one person is at fault. When there is a crash involving a commercial truck, there may be multiple negligent parties involved. On top of this, each party may have their own separate insurance policies. Negligent parties can include:
Truck driver
Truck or parts manufacturers
Truck mechanics
Parent truck company
Freight brokers
Loading companies
Regulations for Truck Drivers and the Truck Companies
Commercial truck drivers and truck companies must comply with many federal trucking regulations, including the driving hours, training, truck maintenance, and much more. Navigating violations of these regulations is not an easy task.
 Massive Insurance Policies
In a truck accident case, there is a lot of money at stake because truck insurance policies are often worth millions. Therefore, the trucking insurance policies will aggressively defend their clients to avoid liability.
Compensation for Damages Incurred in a Truck Accident
Injured parties in a truck accident have the right to be compensated for medical care, rehabilitation, lost wages, loss of earning capacity, and damages associated with pain and suffering, emotional suffering, and loss of consortium or diminishment of relations with a spouse.
Investigating Truck Accidents
Truck accidents are complex. Investigations are extensive and can require many months of research in addition to knowledge of federal and state trucking regulations.
Our Bakersfield trucking accident attorneys of Rodriguez & Associates have handled hundreds of truck accidents. Founder and senior attorney Daniel Rodriguez, along with attorneys Chantal Trujillo and Danay Gonzalez, obtained the highest personal injury verdict in Kern County history of $70,578,289 for a truck vs SUV case. We are familiar with truck accidents' engineering, truckers' fatigue, and other issues that lead to catastrophic accidents.
If you – or someone you love – has been a victim of a truck accident, contact us today. Call us at (661) 323-1400 for a free consultation to discuss your case and legal options.
Who is Liable for a Car Accident Caused by a Medical Emergency?
Posted in Car Accidents,Personal Injury,Personal Injury Attorneys,Rodriguez & Associates on December 13, 2020
California is a fault insurance state, which means that drivers who cause accidents must pay for the damages of their victims. Dangerous and negligent driving behaviors, such as failure to yield and distracted driving, often contribute to these accidents.
There are some situations, however, where a driver may experience a medical emergency while behind the wheel and lose control of his or her vehicle. In these accidents, liability will depend on whether the medical emergency was foreseeable.
The California Car Accident Sudden Emergency Defense
California is one of many states that recognizes the sudden medical emergency defense in car accident cases. Also known as the doctrine of imminent peril, this rule relieves drivers who are responsible for car accidents if they suffered an unforeseen medical emergency at the time of the crash. This doctrine applies if the sudden emergency caused the accident, was outside of the driver's control, and the driver could not have foreseen the emergency.
A driver who seeks to use the sudden emergency defense must prove the following facts.
The driver experienced a sudden and unexpected emergency where he or she was in actual or apparent danger of an injury.
The driver did not cause the emergency.
The driver acted in a way that a reasonably careful driver would have under the same circumstances, even if a safer option became apparent at a later time.
For example, say that a driver suffers a heart attack while operating her vehicle and suddenly loses consciousness. The driver loses control of her vehicle and runs through a red light, colliding into you. Since the driver could not have anticipated the onset of the heart attack and did not have time to remove her vehicle from the road, she can establish the sudden emergency defense. As a result, this driver would not be liable for your injuries.
Exceptions to the Sudden Emergency Defense Rule
A driver cannot have any knowledge of the illness or medical condition prior to the actual emergency. If you can prove that the driver did know or should have reasonably known about the risk before the accident, he or she would have acted in negligence.
For example, say you are in an accident with a driver who loses consciousness at the wheel. She tries to establish the sudden emergency medical defense, but medical records show she lost consciousness due to the side effects of a new medication.
The medication warning label states that drowsiness is a common side effect and to avoid driving or operating heavy machinery during use. The driver should have known that she could not have safely driven while taking the medication and did so anyway, leading to the accident. In this situation, she would be liable for your damages.
If the driver has a history of medical issues that make it risky to drive, you could argue that a loss of consciousness was foreseeable. For example, if a diabetic driver loses consciousness due to low blood sugar, you could argue that it would be reasonably foreseeable that he or she would experience a medical emergency while driving.
Hiring an Attorney for Medical Emergency Accidents
Liability in car accident claims involving medical emergencies can be very complex. Although you may discover evidence that establishes a driver's negligence, the insurance company may continue to deny your claim by invoking this defense.
Hiring a California car accident attorney to handle your claim can help you establish your right to damages. Your attorney will conduct a thorough investigation of the accident and explore all possible options to secure compensation on your behalf, leveraging strategies to determine whether or not the medical emergency was foreseeable. Contact your lawyer as soon as possible after your accident to discuss your legal options.
Why You Need Uninsured / Underinsured Motorist Coverage
Posted in Car Accidents,Personal Injury Attorneys,Rodriguez & Associates on December 8, 2020
Bakersfield personal injury attorney, Danay Gonzalez, shares four very important reasons why everyone needs Uninsured (UM) / Underinsured Motorist (UIM) Coverage in her TikTok video.
Covers you when the at fault driver has no coverage.
Covers you when the at fault driver doesn't have ENOUGH coverage.
Covers you if the at fault driver is an excluded driver on a policy.
Covers you if the at fault driver has a lapse in their insurance coverage.
Being smart about your insurance coverage can spare you from having to pay for a crash that you didn't cause.
Watch Danay's TikTok video here:
If you have sustained an injury in a car accident, call our Bakersfield personal injury law firm to discuss your case at (661) 323-1400 or toll free (800) 585-9262 or request to schedule a no-charge consultation online.
Can a Passenger Be Charged for Distracted Driving?
Posted in California,Car Accidents,Personal Injury on December 5, 2020
Distracted driving, or any activity that removes a driver's attention from the act of driving, is a very dangerous practice. According to the National Highway Traffic Safety Administration (NHTSA), 2,841 people died due to distracted driving in 2018 alone.
When we think of distracted driving, we often assume the driver bears sole responsibility for the distraction itself. In some cases, however, a passenger inside the vehicle may be the reason for the distraction. In these situations, the passenger may be partially liable for the resulting accident.
What Is Distracted Driving?
As California drivers, we have a responsibility to operate our vehicles carefully and safely. This means that you must focus your attention on the road—manually, visually, and cognitively—so that you can adequately respond to hazards and follow traffic rules. Any distraction that takes your mind, eyes, or brain off the act of driving can raise the risk of an accident.
There are three forms of distractions that can occur while driving.
Manual distraction, or taking your hands off the steering wheel. Manual distractions may include eating and drinking, applying makeup, fiddling with GPS or radio controls, or texting or typing on a cell phone.
Visual distraction, or taking your eyes off the road. Visual distractions may include looking at a cell phone, GPS, or radio screen, looking at another person inside the vehicle, or reaching for something inside of the car.
Cognitive distraction, or taking your mind away from driving. Cognitive distractions may include having a conversation while driving, listening to the radio, daydreaming or becoming lost in thought, thinking about stressful situations, or driving while tired.
Passengers inside of a vehicle can distract a driver, leading to an accident. Passengers can initiate arguments, block the driver's line of sight, show the driver content on a smartphone, or engage in many other behaviors that impact a driver's ability to operate his or her vehicle safely.
Passenger Liability for Distracted Driving
California is a fault accident state, which means drivers who cause accidents must pay for victims' damages. In most cases involving distracted driving, the driver himself or herself is liable for these costs. However, if a passenger's actions are responsible for causing the accident, you may hold the passenger liable for your resulting injuries.
A driver or passenger may have sole liability for the accident, or both parties can share some portion of the blame based on their actions. Drivers have a responsibility to ignore any distraction to the furthest extent possible. If the driver failed to uphold this duty of care, he or she may be partially responsible for the accident. If the passenger's actions prevented the driver from operating his or her vehicle safety, the passenger will likely be entirely at fault.
For example, say you are in an accident where a passenger grabbed the steering wheel and caused a vehicle to run a red light. In this situation, the passenger will be at fault for the accident as it would have been difficult for the driver to ignore or avoid the crash.
If you are in an accident where a passenger showed the driver a text message on his phone and the driver ran the red light due to the distraction, both parties will share fault. California's joint and several liability laws will apply at this stage, which will enable you to file claims against both parties for specific damages.
Seek Help from a California Car Accident Lawyer
Liability in car accident claims involving negligent passengers can be complex. To ensure you file the correct claims and gather the evidence you need to secure compensation, seek the help of a California car accident attorney as soon as possible. Your dedicated car accident attorney can evaluate your case, determine which legal options are available to you, and initiate your first steps toward recovery.