Blog
Meet Bakersfield Personal Injury Attorney Chantal Trujillo
Posted in Kern County Lawyers on May 22, 2019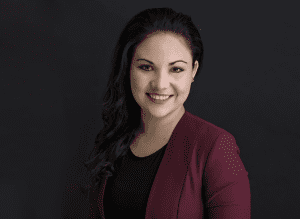 Dedicated. That is one of the words we use to describe personal injury attorney Chantal Trujillo. When she takes on a case, her mission is to secure the best verdict for her client and she does this by getting to know her clients, understanding their needs, and meeting their requests.
Chantal has been with Rodriguez & Associates for 8 years and has handled many personal injury and wrongful death cases. Some have gone to a jury trial where she has obtained impressive verdicts. Her dedication to her clients and cases have her working overtime but she doesn't mind because she considers our Bakersfield law firm her home away from home.
Born and raised in Bakersfield, Chantal left our area briefly to earn her BA from the University of Texas and her JD from St. Mary's University School of Law in San Antonio, Texas. She is happy to be back home and serving members of our community.
If you – or someone you love – has suffered from a personal injury, contact Kern Count's premier personal injury law firm at (661) 323-1400 to schedule a free consultation.
Daniel Rodriguez Makes 2019 Super Lawyers List
Posted in Awards on May 10, 2019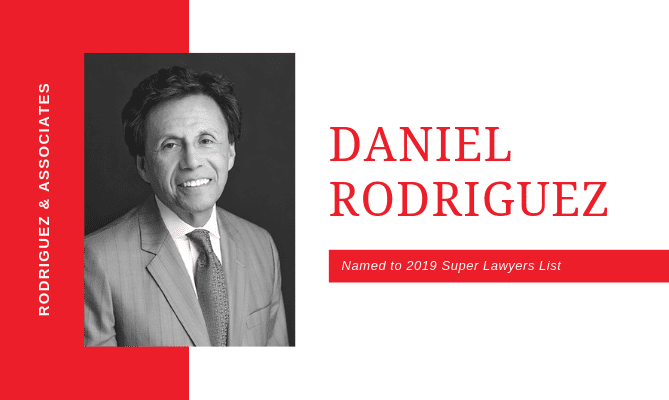 Attorney Daniel Rodriguez of Rodriguez & Associates made the 2019 Super Lawyers list. He has been continuously named to the Super Lawyers list since 2009.
According to SuperLawyers.com, "Super Lawyers selects attorneys using a patented multiphase selection process. Peer nominations and evaluations are combined with independent research. Each candidate is evaluated on 12 indicators of peer recognition and professional achievement. Selections are made on an annual, state-by-state basis. The objective is to create a credible, comprehensive and diverse listing of outstanding attorneys that can be used as a resource for attorneys and consumers searching for legal counsel."
Congratulations, Daniel!
A Bakersfield Personal Injury Law Firm That Gives Back
Posted in Community Involvement on May 6, 2019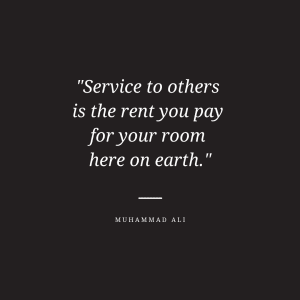 We are not only personal attorneys in Bakersfield, we live here too. And since this is our community, we find it important to give back.
We give back to the community in many ways. Just past April, we sponsored CSF Medical Non-Profit Foundation's "A toast of love to save lives" event. We gathered with the community to show love and empathy for the less fortunate and low-income individuals in need of surgery. It was a memorable event.
We also donated money to the Bakersfield Memorial Hospital Foundation; a portion of that money was used to construct a Burn Unit, which was finished this year.
As parents, we are big believers in helping the children of Kern County. We support students in many ways. Most recently, we've supported children at Arvin High School with college scholarships. We also recently participated in Fremont Elementary's Career Fair. It was a special day being there for the kids. We love helping young people stay inspired to stay on the education path.
We also sponsored an invitational track meet put on by the Kern High School District to support young people with special needs and disabilities. The son of our Litigation Director participated in the event.
"Service to others is the rent you pay for your room here on earth."
-Muhammad Ali
Kern County is our home. We believe serving others – whether it be in the courtroom or through a sponsorship or anyway we can – is essential in helping our Bakersfield community.
Daniel Rodriguez Named "Best Lawyer" in Bakersfield
Posted in Awards on May 3, 2019
Bakersfield personal injury lawyer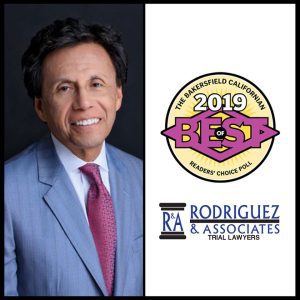 Daniel Rodriguez was selected "Best Lawyer" in The Bakersfield Californian's "The Best of Readers' Choice Poll" for 2019. He's been selected for this honor fives times over the last six years.
The categories showcased in "The Best of Readers' Choice Poll" vary from "Best Local Band" and "Best Specialty Doctor" to "Best Barbershop."
Congratulations to Daniel for making the list once again.
Congratulations to all those recognized this year! To view who else made the list, click here.
What to Do When Someone Hits Your Parked Car
Posted in car accidents on April 25, 2019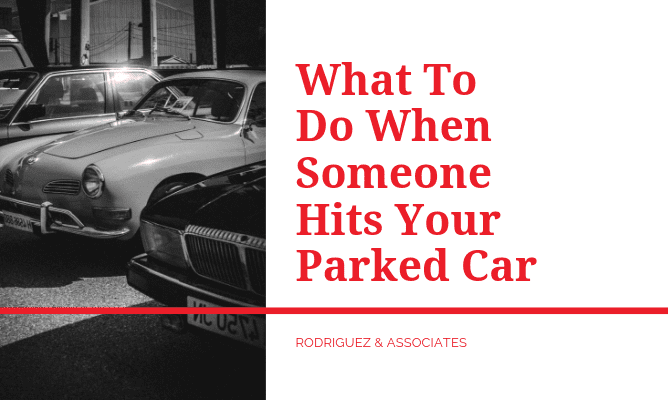 Many low-speed, low-value auto accidents happen in parking lots and garages, and any parked vehicle on the street is potentially susceptible to damage from passing negligent motorists. If another driver hits your parked car, you should know what to expect from the situation. In the event you happen to be in or around your parked car when another driver hits it, you should have the opportunity to take down the at-fault driver's contact information and insurance details so you can file a claim.
Unfortunately, Allstate Insurance reports that about 70% of all hit-and-run accidents involve parked vehicles, so the owner of a parked vehicle that sustains damage from a hit-and-run may not know what to do about recovery.
When You Witness the Accident
If you happen to be in the area and see the accident with your parked car, or if the at-fault driver takes responsibility and waits for you at your car after the collision, follow the same procedure you would with any other car accident. Take the at-fault driver's contact information and insurance details, try to take photos of the damage to your vehicle and the surrounding area, and make sure your vehicle is fit to drive before leaving the scene. You should also contact the police so there is a record of the incident, but only if the accident resulted in damage beyond a minor ding or dented bumper. Most states require drivers to report any accident that results in injury, death, or significant property damage.
After obtaining the necessary information from the accident scene, file a claim according to your state's laws for car accidents. In a fault-based state, an injured driver files a claim against the at-fault driver's insurance policy, and the insurance carrier pays for damages up to the coverage limits of the policy.
In a no-fault state, an injured driver's first step toward recovery is to file a claim against his or her own auto insurance policy for personal injury protection coverage. The photos from the accident scene and the proof of the other driver's liability will be invaluable to any insurance claim.
When the At-Fault Driver Leaves the Scene
When a driver hits a parked car, the legal and ethical thing to do is to remain at the scene until the owner of the parked vehicle arrives so the drivers can exchange information and document the incident. The responsible driver may opt to leave a note with his or her information on the damaged vehicle's windshield, and this is acceptable in most situations.
However, some drivers may simply flee out of panic or to avoid liability. In these situations, it can be very difficult to track down the responsible driver. However, if the police locate the hit-and-run driver, he or she will face criminal charges from the state in addition to civil liability for your accident.
If you return to your vehicle to find another driver has hit it but failed to leave his or her insurance information, you should contact the police to report the hit-and-run. The police may have access to traffic cameras to help identify the responsible driver. If the accident occurred in a busy area near businesses, those establishments may have CCTV footage outside their stores that may help prove liability. It is vital to report the hit-and-run to the police as soon as possible so they can begin an investigation.
When it comes to recovery for a hit-and-run, you may need to rely on the police to identify and apprehend the at-fault driver to hold him or her responsible for your damages. Depending on the terms of your auto insurance coverage, your insurer may provide coverage in the interim. If you identify the at-fault driver, your insurer will likely seek reimbursement for coverage for the accident by negotiating with the at-fault driver's insurance carrier or taking legal action against the at-fault driver.
Meet Daniel Rodriguez, Founder and President of Rodriguez & Associates
Posted in Kern County Lawyers on April 23, 2019
Daniel Rodriguez understands the meaning of hard work. As the son of migrant farm worker parents, Daniel lived in four different states and attended many schools in his first 18 years of life. Although his parents have little education between the two of them, they instilled the value of education and hard work in all six of their children which Daniel took to heart in both his professional and personal life.
Daniel's undergraduate degree is in Engineering from Cal Poly State University in San Luis Obispo, CA, one of the most prestigious public university engineering colleges in the country. He received his JD from UCLA Law School and passed the bar exam on his first try! During his college years, he worked hard – studying and holding a variety of jobs from washing dishes to selling encyclopedias door to door to working as a mechanic in the oilfields.
Within one month of starting his law career, Daniel tried his first jury trial, an unusual occurrence for a typical plaintiff attorney. His expertise and skill as a personal injury lawyer developed from experience coupled with his belief that there's no substitute for putting in the hard work.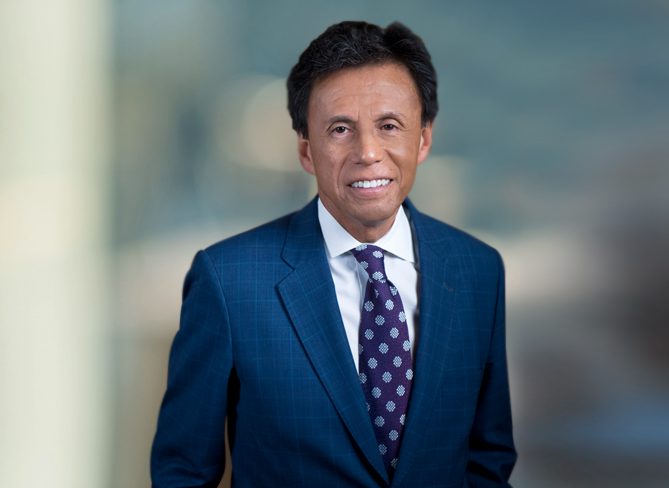 On top of managing a personal injury law firm in Kern County, Daniel is a seasoned marathon runner. His goal is to run a marathon on each of the seven continents. If you can't find Daniel in the office or on the track, you'll find him teaching at Gerry Spence's Trial Lawyers College – a trial advocacy school that is considered to be the best in the country.

To view part two of the video, click here.
Rodriguez & Associates is dedicated to serving those in need – victims of motor vehicle accidents, defective and dangerous products, workplace injuries, police misconduct and more. Contact us at (661) 323-1400 to discuss your personal injury case.
Supporting High Schoolers in Kern County with College Scholarships
Posted in Community Involvement on April 18, 2019
Our team couldn't be bigger education advocates. We support Kern County students in a number of ways – attending career fairs, speaking at schools and funding scholarships, to name a few. These thank you letters from some of the Arvin High students who benefitted from our scholarships mean so much to us.
Knowledge is power. Our Bakersfield personal injury law firm is so proud to be able to give back and support young people – they are our future.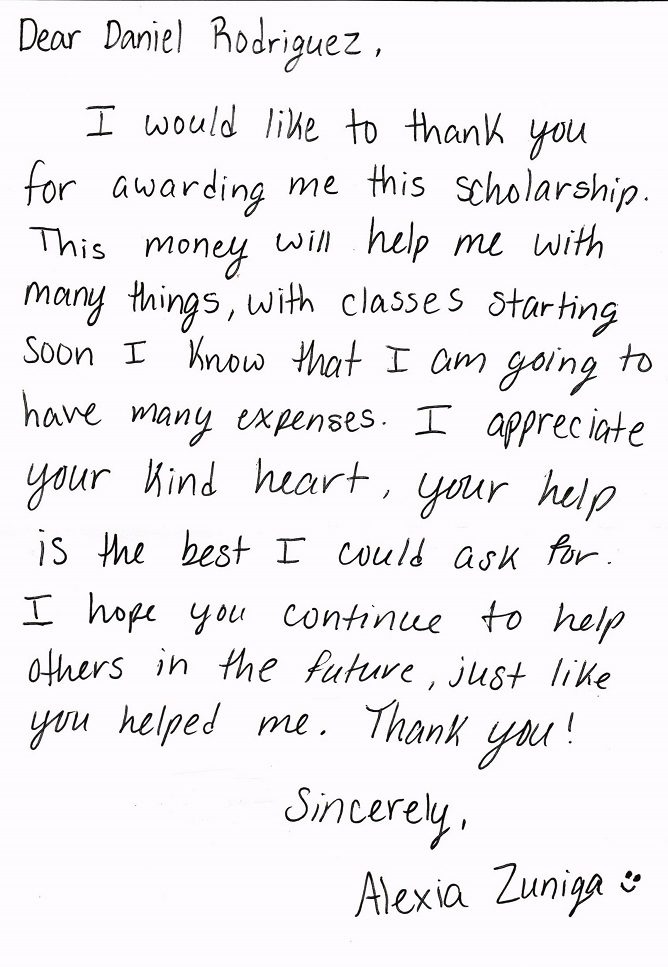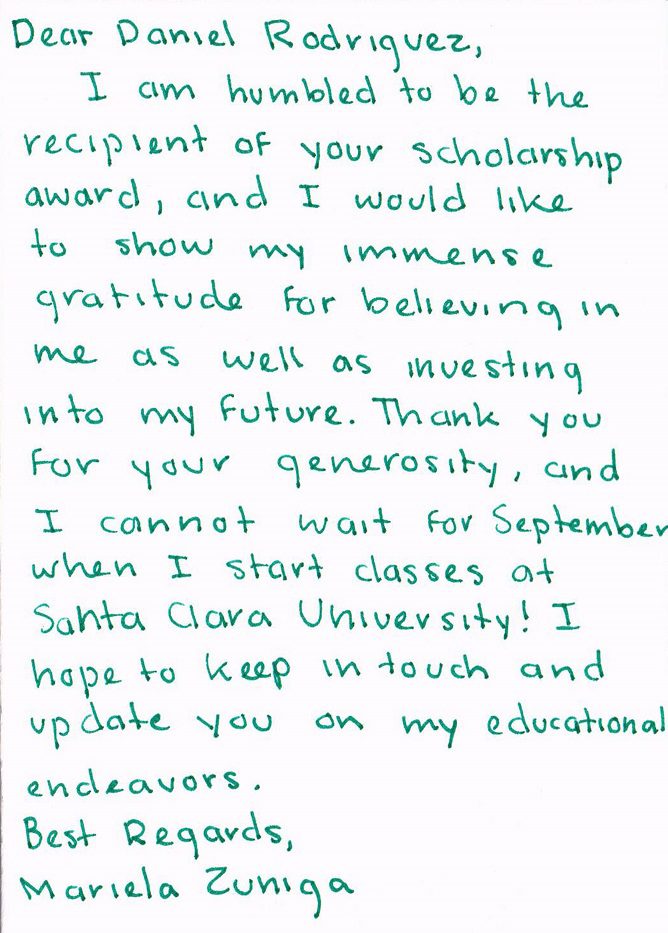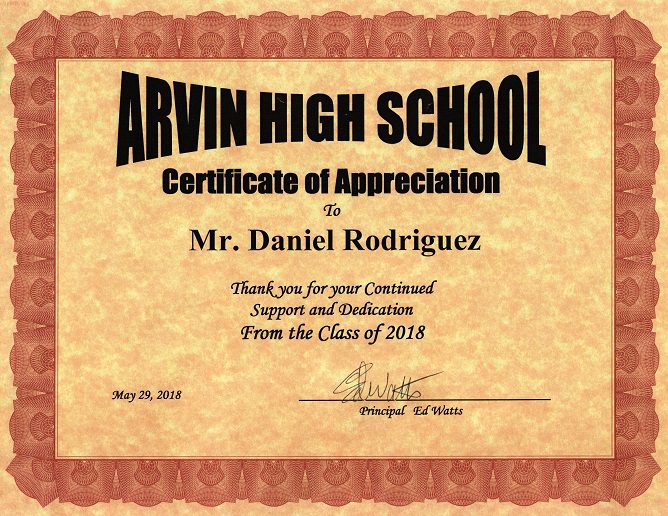 How Long Does Subrogation Take?
Posted in car accidents on April 15, 2019
When a driver causes an accident with another driver resulting in injuries and other damages, the injured driver will likely file an insurance claim against the at-fault driver's insurance policy. If the at-fault driver does not have auto insurance, the injured driver's insurance policy may cover the damages. Insurance companies have the right to pursue damages from negligent drivers and they do so to limit the losses paid out on claims.
For example, an uninsured driver hits another driver and causes $30,000 in total damages. Since the at-fault driver does not have insurance, the injured driver must file a claim against his or her own policy. The insurance company pays out the claim to the injured driver in accordance with the policy's terms, and then the insurance company starts the subrogation process against the at-fault driver. The time required to complete subrogation typically hinges on the complexity of the claim.
What to Expect From Subrogation
A basic subrogation process in a simple car accident usually involves an injured driver, an at-fault driver, and each driver's insurance company. The injured driver's insurance company will typically expect the at-fault driver's insurance company to pay for the damages in the claim, but if the two insurers cannot reach a mutually agreeable settlement, they will typically resort to covering their own policyholders' damages. Next, the injured driver's insurer will likely sue the at-fault driver's insurer or look for a mediator or arbitrator to settle the matter.
Simple claims for accidents like rear-end collisions or other accidents where fault is obvious may still take up to 30 days to settle. The at-fault driver's insurance carrier will either pay for the injured driver's damages directly or reimburse the injured driver's insurance company if necessary. Complex claims, such as those involving multiple drivers, can take a year or more to complete depending on available evidence. Each insurer will want to minimize liability, and they may move to litigation if they cannot reach a mutually agreeable settlement.
Ultimately, the time required to complete subrogation usually hinges on the complexity of the accident case and clarity of fault for the accident. If the drivers involved in a claim disagree on fault, or a claim involves several drivers that may all share some fault for an accident, the subrogation process can take quite a long time to finish. However, most drivers will have at least some protection available from their insurers during this process, and subrogation could potentially lead to reimbursement for any out-of-pocket expenses incurred during the subrogation process.
Benefits of Subrogation
The subrogation process may seem overly complex but in reality, this system is very beneficial to all drivers. Primarily, subrogation helps keep premium payments lower for insured drivers. Since auto insurance carriers can limit their liability through subrogation, there is less risk for the insurer when it comes to insuring a driver. Without the subrogation process, insurance carriers would likely raise premium rates to cover the cost of losses from third parties.
When a driver must file a claim against his or her own collision coverage during the subrogation process, the driver usually has a deductible he or she must pay out of pocket before his or her collision coverage applies. However, the injured driver's insurer will seek reimbursement for the policyholder's paid deductible during subrogation.
If you or a loved one recently had an accident and are unsure about how long the subrogation process will take in your case, a car accident attorney or a representative from your auto insurance carrier are likely the two best resources for more information about the subrogation process and how long it will take for a claim.
What is Personal Injury Protection?
Posted in car accidents,Personal Injury on April 5, 2019
Every state in the U.S. has unique laws for handling car accidents. Most states follow fault-based systems that require drivers to determine fault for accidents and file claims for coverage against at-fault drivers' auto insurance policies. However, several states use no-fault systems, and personal injury protection (PIP) insurance coverage is the standard for auto insurance coverage in these states.
In the 12 states requiring PIP coverage, state laws determine how and when drivers may pursue legal claims for auto accidents. For example, a no-fault state may require drivers to use their own PIP to cover damages after an accident. However, if an at-fault driver caused a catastrophic injury or the incident otherwise meets the criteria for legal action under state law, the injured driver may file a lawsuit against the at-fault driver. Ultimately, states that uphold no-fault standards for car accidents do so to curb the number of lawsuits filed against at-fault drivers.
How Does PIP Work?
PIP coverage is an extension of auto insurance that can cover medical expenses and lost wages for the policyholder after an accident, and this type of coverage applies regardless of how the accident happened or who was at fault. In no-fault states, drivers must purchase and maintain auto insurance policies that include the state's minimum PIP coverage. For example, one state may require $20,000 in minimum coverage while another may require $25,000 or $30,000. In most fault-based states, PIP is an optional form of coverage that may augment an auto liability policy.
Fault-based states usually require drivers to purchase auto insurance that includes bodily injury and death liability coverage for a single person in an accident caused by the policyholder, total accident liability coverage for a single accident caused by the policyholder, and property damage coverage. While a driver may legally drive with just a minimum policy, the coverage included in minimum auto insurance policies only covers damages the policyholder causes. If the policyholder sustains injuries and other losses, he or she may need additional coverage to pay for those expenses.
Purchasing Auto Insurance
Drivers with minimum coverage policies should strongly consider purchasing additional insurance coverage that allows for a decent buffer in the event of an accident. In fault-based states, this may mean adding comprehensive coverage, collision coverage, underinsured driver coverage, and/or PIP to a minimum policy. In no-fault states, PIP is mandatory, and each state determines how much a driver must carry and what types of medical treatment qualify for PIP coverage.
Every driver should strive to secure an acceptable amount of coverage with a reasonable monthly premium. More extensive coverage will lead to higher premiums, but offer a better buffer for an injured driver in the event of an accident. For example, if a negligent driver without insurance causes an accident in a fault-based state, the injured driver would file a claim against the negligent driver's auto insurance policy. Since the at-fault driver is uninsured, the injured driver would need to file a claim against his or her own policy but may only do so in most cases if the driver purchased underinsured/uninsured motorist coverage.
PIP may be optional in fault-based states, but every driver should consider the potential value of purchasing this type of coverage. PIP does not consider fault, so an injured driver can secure coverage for medical expenses and other losses after an accident no matter how the accident happened.
Additional coverage on an auto insurance policy can help a driver by providing peace of mind when an accident happens, but more expensive coverage will cost more in monthly premiums. Drivers should try to strike a healthy balance of coverage and affordability. While other drivers may face mounting economic pressure from an accident due to lack of coverage, a driver with PIP can use this coverage for immediate medical bills and other expenses while he or she determines his or her next steps.
What Is Second Impact Syndrome?
Posted in Brain Injuries,Personal Injury on March 26, 2019
Concussions are common injuries from vehicle accidents, violence, and sports accidents. These injuries can range in severity and cause a host of unpredictable symptoms, some of which may impact the victim's quality of life for months or even years.
A concussion occurs when an external force causes the brain to hit the inside of the skull. This may cause swelling or even bleeding, and the victim may experience unpleasant symptoms for several days, but most concussion victims make full recoveries within a few weeks.
Symptoms of a concussion can include short-term and long-term headaches, personality changes, symptoms of depression, and more symptoms that vary from person to person. One of the most dangerous symptoms is increased susceptibility to future concussions. A person who suffers a concussion can usually receive medical care to make a full recovery. However, Second Impact Syndrome (SIS), is a possibility after any concussion and this condition is almost always fatal.
What Is SIS?
SIS occurs when the brain swells from a concussion before the symptoms of the first concussion subside. For example, an athlete suffers a concussion during practice and receives doctor's orders to avoid training for several weeks. A few days after his initial symptoms subside, he has a minor car accident that causes a second concussion. If the swelling and other symptoms of the first concussion had not yet subsided, he could experience SIS and die within minutes.
Anyone who suffers any kind of head injury faces a risk of concussion. If you find yourself in this situation and experience any symptoms of a concussion such as confusion, dizziness, nausea, or fall unconscious for any period, seek medical treatment immediately.
Concussion Treatment
The best treatment for a concussion is rest, though a doctor may recommend anti-inflammatory medications to ease other symptoms. Rest serves two main functions: to allow the brain to physically heal from the concussion, and to keep the patient away from potentially dangerous situations that could lead to SIS.
A physician will usually recommend avoiding sports and strenuous activity for an extended time, and he or she may also recommend avoiding driving if possible. Patients should follow these instructions very carefully and use extreme caution during any activity that could lead to a head injury or they risk developing potentially fatal SIS.
Patients who fully recover from their concussions will still have an increased susceptibility to future concussions, so they must use care when deciding which activities to perform following concussion treatment. A second impact may show no visible signs at first and the victim may feel well enough to continue whatever he or she was doing only for symptoms to rapidly worsen within minutes, leading to the victim's collapse and loss of consciousness.
Concussion and SIS Prevention
While a concussion may be treatable with swift medical attention, SIS can prove fatal within minutes of a secondary impact. Those who are lucky enough to survive SIS usually develop permanently disabling brain disorders. The best method to prevent this is to prevent a primary concussion whenever and however possible.
When playing sports, wear necessary protective headgear and only play in stride with your skill level. When driving, wear a seatbelt and follow the traffic laws to limit both the risk of an accident and your potential injuries in an unavoidable accident. After suffering a concussion, pay very close attention to your doctor's orders and treatment advice.
Even after making a full recovery, use extra caution for several weeks to several months following the disappearance of your concussion symptoms. It is always best to limit your risk of a concussion at all times and use extreme caution during any activity that could potentially result in a head injury. For additional information regarding securing compensation to help with medical bills, pain and suffering, and the like, speak with a skilled brain injury lawyer in Bakersfield.