Blog
Understanding Different Types of Bullying
Posted in School Bullying on September 23, 2021
According to the National Center for Education Statistics, one out of every five students (20.2%) has experienced bullying at school. With children back in the classroom across the country after a challenging year of online and hybrid learning, it's more important than ever to be aware of the forms bullying may take. There are many kinds of bullying, all of which can have a significant negative impact on the physical and mental well-being of a child. In this article, our school bullying attorneys will describe some of the most common forms of bullying.
Physical Bullying: A physical bully may attempt to kick, hit, push, pinch, or otherwise injure another student. They may also attempt to damage another student's property, such as a textbook or cellphone. There is oftentimes a power disparity between the attacker and their victim. The bully may be stronger or be supported by other children, which leaves the victim unable to defend themselves against attack. Physical bullying can cause lasting physical and emotional harm to the victim. The victim is at risk not only of serious injury, but may also suffer from negative thoughts and feelings, despair, and worsening academic performance.
Verbal Bullying: A bully that uses verbal attacks may resort to insults, name calling, verbal abuse, intimidation, or teasing. Oftentimes, their remarks are racist or homophobic in nature. At times, it can be challenging to differentiate verbal bullying from lighthearted joking amongst friends. However, while verbal bullying may start off as harmless teasing or joking, it can escalate to a extent that it impacts the emotional well-being of the chosen target.
Social Bullying: It can be incredibly challenging to determine whether your child is the victim of social bullying. This form of bullying is usually carried out behind the victim's back, which is why it may sometimes be referred to as covert bullying. In this situation, the aggressor attempts to humiliate the victim or damage their social reputation. The bully may spread lies or rumors, play nasty jokes, encourage others to exclude the victim from events and gatherings, mimic the victim unkindly, or otherwise cause damage to someone's social acceptance.
Cyberbullying: Stopbullying.gov defines cyberbullying as "sending, posting, or sharing negative, harmful, false, or mean content about someone else." In some cases, the bully may intentionally share private or personal information about their victim. This can put the victim in great danger and may constitute unlawful or criminal behavior. Cyberbullying can occur over text, through messaging apps, in online forums, over email, or on social media platforms. With a rise in online learning due to the ongoing Covid-19 pandemic, even professional platforms like Zoom have been used for nefarious purposes.
Detecting & Reacting to Bullying
Although it can be difficult to know for certain if your child is being bullied, particularly if they refuse to talk about any behavior you find concerning, there are warning signs to be aware of. You should seek help immediately if your child:
Has unexplainable injuries
Loses or comes home with damaged books, clothing, or electronics
Suffers frequent headaches or illness
Can't sleep or experiences nightmares
Has declining grades
Losses friends unexpectedly
Changes their eating habits drastically
Demonstrates self-destructive behaviors
By getting other adults, school staff, medical personnel, and the police involved in the situation as needed, you protect your child from further harm and ensure that the bullying ends. If your child has been a victim of bullying that you feel was not adequately addressed by the school, contact the attorneys at Rodriguez & Associates today.
Who Is Liable in a Commercial Truck Accident?
Posted in Kern County Lawyers,Personal Injury,Rodriguez & Associates,Truck Accidents on September 23, 2021
One of the major differences between commercial truck accidents and the average car crash is liability, or who's at fault.
Liable parties in a regular car accident are usually just the drivers of the vehicles involved. Determining liability in a truck accident is a far more complex process that could include multiple third parties beyond the person actually driving the commercial vehicle. In other words, the accident may not have entirely been the driver's fault, even if it appears that way at first. Proving liability in cases like these normally requires an experienced truck accident lawyer.
Manufacturing, managing, and loading a truck is a long process that requires input from many different parties. There's room for error along any one of these points in the process of moving goods from one location to the next. Because of that, the following groups, companies, and individuals could potentially be held liable for negligence in a truck accident:
Manufacturers: Companies that manufacture truck parts and equipment — anything from tires to brake pads — could share in the blame if their parts helped cause an accident. Some common examples of malfunctioning equipment include tire blowouts, faulty brakes, and mechanical failures. A thorough investigation should reveal such things after an accident. If found to be at fault, manufacturers would be required to pay at least part of victims' damages.
The Trucking Company: The company that hires the truck driver is a frequent third party held liable in accidents. The trucking company is responsible for maintaining and inspecting the vehicle before every trip, ensuring that all equipment is working properly. But too often, these companies cut corners on inspections, increasing the risk of an accident. They may also push a driver to work longer hours than is safe in the name of meeting a shipping deadline.
Cargo Loaders: Cargo loaders are supposed to ensure a shipment is secured and balanced properly in the truck before the vehicle ever departs. Improperly packed cargo could spill onto the road or throw the truck off balance and hinder a driver's ability to control the vehicle. An underloaded or overloaded truck can also cause problems for the driver and potentially anyone else in the nearby vicinity.
Truck Drivers: Often, the person behind the wheel of the commercial vehicle shares some responsibility in an accident. Drivers that speed, make reckless lane changes, or break other traffic laws are a danger to everyone on the road. Many truck drivers also struggle with substance abuse, while others work past their designated Hours of Service regulations and wind up exhausted and overworked. All of these factors increase the risk of an accident happening.
Because of the number of potentially responsible parties involved, truck accident litigation can get extremely complex very quickly. If the accident is catastrophic — which is often the case with commercial vehicles — proving negligence will get even more nuanced. Trucking companies and others on the above list do not have your best interests in mind and will often try to get out of paying what they rightfully owe. These companies are armed with attorneys and resources and will usually do everything they can to avoid paying you compensation.
Your best course of action after a major truck accident is to find an experienced truck accident attorney. Rodriguez & Associates has decades of experience handling truck accident cases, and our expertise covers not just engineering and legal issues but also the day-to-day details for truckers that can lead to accidents. We are skilled at identifying and acquiring crucial pieces of evidence, too, including driver logs and trucking company records.
Please reach out to us today to discuss your case and receive support by filling out our online form or calling (661) 323-1400.
Daniel and Connie Rodriguez Support CSUB Through $125,000 Gift
Posted in Firm News,Rodriguez & Associates on September 16, 2021
Founder and President of Rodriguez & Associates, Daniel Rodriguez and his wife, Connie, have gifted California State University, Bakersfield (CSUB), $125,000 to be distributed over a five-year period.
"Giving is contagious!" –  Daniel Rodriguez
Rodriguez and his wife were inspired to donate to the university after Connie Perez-Andreesen and Joel Andreesen, a Senior Partner at Rodriguez & Associates, donated to CSUB earlier this year. The donation by Daniel and Connie Rodriguez will be shared equally between the Roadrunner Scholarship Fund, which provides scholarships to student-athletes, and the Center for Social Justice, a Political Science Department that is dedicated to telling the stories of those who have experienced social injustice in the region.
"Athletics not only helps build character but also provides entertainment to our community. As for the Center of Social Justice, we think that it helps promote fairness and justice in segments of our society that are too often neglected." – Daniel Rodriguez
At Rodriguez & Associates, Daniel Rodriguez has always emphasized to his staff the importance of giving back, both in and out of the courtroom. Supporting local organizations and charities strengthens the community that we work and live in, which benefits all members in the long run.
To learn more about the Rodriguez's CUSB donation and how it will be used, read this article.
What to Look for When Hiring a Truck Accident Lawyer
Posted in Car Accidents,Kern County Lawyers,Personal Injury,Rodriguez & Associates,Truck Accidents on September 14, 2021
In truck accidents, it's usually those inside the passenger vehicles that get the worst injuries. This is because commercial trucking vehicles like semi-trucks, which are on average 72 feet long and weigh 80,000 pounds, cause so much more destruction than your typical sedan. Drivers of smaller vehicles are therefore much more vulnerable.
Since multiple parties can be held responsible in a truck accident, including the driver, trucking company, or parts manufacturers, you may be able to claim compensation for your injuries if you are involved in a truck crash. To do that, it is best to find an experienced truck accident lawyer that has your best interests at heart.
As you search for the right attorney, you will ideally find a person with the following characteristics:
Experience With Truck Accident Cases
Your attorney should have at least some experience handling truck accident cases. This is a complex area of personal injury litigation, and your attorney needs to know how to properly investigate the case as well as the many state and federal laws that will be involved. Truck insurance companies almost always try to avoid paying what they owe to a victim, and a good truck accident attorney will be able to anticipate this and fight back with your best interests in mind.
Resources and Accessibility
Some firms take on so many cases they aren't able to give each individual one the attention it deserves. That can potentially hurt your chances of claiming as much compensation as you deserve. The ideal attorney will have enough resources to be able to manage your case and provide additional staff to help respond to your calls and emails around the clock. It is never a good sign if you cannot get in touch with your attorney's office or get a response to a question.
Positive Customer Feedback
No attorney wins every case, but you can get a sense of how competent this person is by paying attention to what others are saying. Look for online reviews about your prospective attorney to determine how easy they'll be to work with. You want someone who is available, empathetic, detail-oriented, and can make you feel at ease during a stressful situation. If reviews suggest otherwise, you might want to look elsewhere for your attorney.
Awards and Honors
Top lawyers are usually on "Best of" lists. An attorney's website and LinkedIn profile should list local and national recognition, along with that person's participation in community organizations and pro-bono activities. An added bonus is if the attorney has won an award for multiple years in a row.
Though it might feel a little overwhelming to start your search for a truck accident attorney, remember that the more work you put into finding your ideal person, the better your case result is likely to be. Truck accidents are physically and emotionally traumatic events. You can improve your changes of compensation by working with the right person.
Rodriguez & Associates has decades of experience handling truck accident cases. Our knowledge covers not just engineering and legal issues, but also the day-to-day details for truckers that can lead to accidents. We are skilled at identifying and acquiring crucial pieces of evidence, too, including driver logs and trucking company records.
Please reach out to us today to discuss your case and receive support by filling out our online form or calling (661) 323-1400.
Rodriguez & Associates Sponsor the Bakersfield September 11th 20th Anniversary Memorial Ceremony
Posted in Events,Firm News on September 9, 2021
Rodriguez & Associates is one of the Never Forget Sponsors for the Bakersfield September 11th 20th Anniversary Memorial Ceremony.
The ceremonies will be held on Saturday, September 11, 2021, at the Bakersfield Fire Department Station 15:
1315 Buena Vista Road
Bakersfield, CA 93311
Hosted by the Bakersfield Firefighter's Historical Society, the Morning Ceremony is at 9:30 a.m. and the Evening Ceremony is at 7:00 p.m. A Roll Call Ceremony will be held during the Evening Ceremony by Portrait of a Warrior Gallery memorializing the 27 fallen Kern County military members who lost their lives after 9/11/2001.
Click here for event details. The ceremonies will be live-streamed, and you can watch them here.
We are proud to be a part of honoring and remembering the heroes that paid the ultimate sacrifice for our country.
The Most Dangerous Tasks for Oilfield Workers
Posted in California,Kern County Lawyers,Oil Field Worker Injuries,Personal Injury,Rodriguez & Associates on September 9, 2021
When it comes to jobs that are inherently dangerous, the oil and gas industries are at the top of the list. From 2013 to 2017, the most recent year for data, 489 oil and gas extraction workers were killed on the job, according to the U.S. Department of Labor's Occupational Safety and Health Administration (OSHA).
Explosions, such as the type that caused the Deepwater Horizon oil spill in 2010, are typically what come to mind when we think of oilfield accidents. But while those events are undoubtedly catastrophic, they are not necessarily the most common danger for those working on the oilfield.
The most dangerous tasks for oilfield workers include:
Driving. One of the most dangerous jobs in the oil industry doesn't take place on the field or rig but instead on the freeway. Motor vehicle crashes cause over 50 percent of work-related deaths in the oil and gas extraction industries, according to the CDC.
This is largely due to the long hours these drivers are usually required to put in. Oilfield drivers are subject to different rules under the Federal Motor Carrier Safety Administration's (FMCSA) Hours of Service regulations than other commercial truck drivers. Because of this, they often work much longer shifts. The fatigue and exhaustion from such long hours can greatly increase the risk of a catastrophic accident happening.
Derrick operations. Derrick operators build, operate, inspect, manage, and service all components of an oil derrick. This means they are constantly working with heavy, dangerous equipment that if not managed properly can lead to falling objects, crush injuries, and slips and falls.
Derrick operators are also expected to work long hours in all types of weather: extreme heat, freezing cold, wind storms, and other situations. Like drivers, these individuals battle a good deal of fatigue from their working conditions and are at greater risk for accidents because of it.
Roustabout. Roustabouts are entry-level workers who do a number of different tasks, including handling cargo, transporting materials, and maintaining equipment. The work is physically and mentally demanding, and the hours are generally long.
Roustabouts also work in extreme weather conditions and with heavy, dangerous equipment.
Many oilfield accidents are preventable when proper safety regulations are followed and basic precautions taken. It is when employers cut corners to save time that their workers wind up at risk for severe injury and even death.
If anyone knows this firsthand, it's Rodriguez & Associates boss Daniel Rodriguez, who worked in the oilfields for years as a roustabout and mechanic. He knows firsthand how difficult and dangerous the work can be, and how important it is to give those injured by someone else's negligence a chance for justice.
If you have been injured in an oilfield accident because of negligence, consider contacting an oilfield injury attorney and pursuing a claim. Please reach out to us today to discuss your case and receive support by filling out our online form or calling (661) 323-1400.
Rodriguez & Associates Files Sexual Assault Lawsuit Against Kern High School District
Posted in Child Sex Abuse,Kern County Lawyers on September 3, 2021
Rodriguez & Associates has filed a lawsuit against the Kern High School District on behalf of a minor who was sexually assaulted at school in 2019.
The victim we are representing was allegedly sexually assaulted in the classroom while class was going on.
Daniel Rodriguez was interviewed by ABC News Bakersfield saying that this is an unusual case, as most sexual assault crimes occur in secluded places. The person accused, who is also a minor, has a pattern of assaulting girls at the school.
Rodriguez told ABC News Bakersfield that:
"Our information is that the teacher in our case is no more than 10-15 feet away," said Rodriguez. "Apparently, the assailant had a history of this. We say this because even though we are in the early stage of this court process, we found out that there were three other victims in addition to the girl we represent."
The incident happened in November of 2019. The purpose of the lawsuit is to hold the district accountable and get answers.
Rodriguez says the training that teachers and staff get in trying to prevent these kinds of incidents or be aware of them is not good enough. Due diligence would include the school district catching the pattern of harmful behavior.
He hopes bringing awareness to this issue will help make schools a safer place for kids.
"The question becomes, how or why did the school district or the high school ignore it," asked Rodriguez. "They either knew it, it's hard to believe they didn't know about the history, or at the very least, they should have known had they been doing their due diligence."
If you suspect your child has been the victim of sex abuse while at school or in the care of educators, contact our Bakersfield personal injury attorneys. We have experience handling child molestation, sexual assault, and sexual abuse cases involving teachers, daycare staff, coaches, and other school workers. We are here to help and are adamant about protecting children throughout Kern County. Contact us to discuss your case and receive support by filling out our online form or calling (661) 323-1400.
Rodriguez & Associates on KGET "Clear the Shelters"
Posted in Firm News,Rodriguez & Associates on September 1, 2021
Chantal A. Trujillo and Danay Gonzalez of Rodriguez & Associates were guests on KGET to raise awareness for the Clear the Shelters adoption drive from August 21 through September 18, 2021.
Chantal's dog, Penelope, and Danay's dog, Zola, make special appearances as they discuss the joy these pets have brought to their lives, as they invite you to find your best friend during Clear the Shelters.
Watch the segment here:

Adoption Drive in Bakersfield, Ca through September 18 at:
City of Bakersfield Animal Care Center
201 S Mt. Vernon Ave
Bakersfield, CA 93307
661-832-7387
Or click here to support the City of Bakersfield Animal Care Center with your donation.
Joel T. Andreesen Helps Raise Close to $1 million for Student Athletes
Posted in California,Community Involvement,Firm News,Rodriguez & Associates on August 27, 2021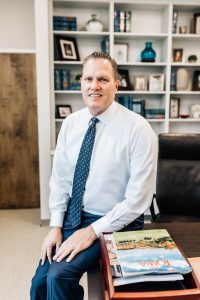 For years, the senior partner at Rodriguez & Associates, Joel T. Andreesen, has helped our Bakersfield community. As the outgoing President of the CSUB Athletic Scholarship Fund, he's helped raise close to $1 million for student-athletes. Because of this more student-athletes than ever before can achieve their educational goals with athletic scholarships.
Joel stated, "This year's record setting fundraising total of $938,433 is a testament to the Kern County community, CSU Bakersfield Roadrunner nation and the Roadrunner Scholarship Board of Directors and their commitment to all current and future Roadrunner student-athletes. He adds, "The increased donation amount will help Roadrunner athletics get closer to its goal of fully funding all available student-athlete scholarships. I want to express a big thank you to all the Roadrunner donors who helped make this a record-breaking year!"
We thank Joel for everything he's done for our student-athletes.
What Are Soft-Tissue Injuries?
Posted in Personal Injury,Personal Injury Attorneys,Rodriguez & Associates on August 20, 2021
The soft tissues in the body, such as the muscles, ligaments, skin, and tendons, can sustain serious trauma during an accident. Soft tissue injuries can result in severe pain, swelling, bruising, and other physical symptoms. If you sustained a soft tissue injury due to another person's negligence, you may be eligible for financial compensation.
Types of Soft Tissue Injuries
There are two main types of soft tissue injuries: acute traumatic injuries and overuse injuries. Acute traumatic injuries come on suddenly and often occur due to an accident, such as a motor vehicle collision or a slip and fall. Overuse injuries occur slowly and develop over time.
Specific types of soft tissue injuries include the following.
Open soft tissue injuries: Lacerations, avulsions, and abrasions are acute traumatic injuries that involve open wounds. These injuries often result in a loss of blood and may leave permanent scars. Open soft tissue injuries can be very painful and require lengthy recovery times.
Contusions: This type of soft tissue injury does not involve open wounds but does occur due to acute trauma. Blunt force usually causes a contusion, leading to pain, swelling, discoloration, and bleeding under the skin at the injury site.
Sprains: A sprain occurs when a ligament is partially torn, usually in the knees, ankles, and wrists. This type of soft tissue injury also occurs due to acute trauma and may take weeks to heal.
Strains: This injury often occurs due to overuse, force, or stretching. Strains typically involve the muscles or the tendons and can severely limit mobility during the recovery period.
Tendonitis: This overuse injury occurs when the tendons, bands of tissue that connects muscle to bones, become inflamed. It often affects the elbows, hands, shoulders, hips, knees, and other joints.
Whiplash: This condition is a soft tissue injury that often occurs during a car accident. Whiplash occurs when the neck suddenly moves back and forth in a forceful, unnatural way. As a result, the muscles and tendons in the neck and upper back tear and twist, leading to serious pain.
Signs and Symptoms of a Soft Tissue Injury
A soft tissue injury may not be apparent at first, even after an instance of acute trauma. The signs of the condition may begin slowly and worsen over time. Common symptoms of a soft tissue injury include the following.
Pain
Swelling
Visible bruising
Bleeding
Muscle weakness
A limited range of motion
Joint instability
An inability to carry heavy weight
Muscle cramping or spasms
A lump or knot at the injury site
Legal Options After a Soft Tissue Injury
Many incidents can lead to a soft tissue injury. For example, you may sustain whiplash when another vehicle collides into the back of your car. You may slip on a puddle of water at the grocery store and sustain a contusion on your tailbone. These injuries can be very painful, requiring medical care and weeks of recovery time.
If you sustained a soft tissue injury due to another person's negligence, you may qualify for an insurance claim or lawsuit. Through your claim, you can recover compensation for the medical expenses, lost wages, pain and suffering, and other damages you sustained due to the soft tissue injury. To determine whether you are eligible for legal action, speak to a Bakersfield premises liability attorney as soon as possible.