Blog
California Texting While Driving Laws and Statistics
Posted in California,Car Accidents,Personal Injury,Rodriguez & Associates on July 28, 2021
"It will only take a second." 

"Mom wants to know where I am." 

"Work had a question."
These are just a few of the various excuses people have used to rationalize texting while driving. They're also thoughts people have had right before they cause a major car accident.
Texting while driving is illegal in the state of California, and for good reasons. Because drivers take their hands, eyes, and mind off the road when texting, it's an especially risky form of distracted driving. According to Go Safely, California, a campaign from the California Office of Traffic Safety (OTS), the average time your eyes are off the road while texting is five seconds. At 55 miles per hour, that's the equivalent of traveling the length of an entire football field blindfolded. Additionally, engaging in a visual-manual task like texting increases your risk of getting into a crash by three times.
Despite these alarming statistics, plenty of Californians still text and drive. In 2019, the most recent year for data, 57.9 percent of California drivers surveyed said they had been hit or nearly hit by a driver talking or texting on a mobile device.
California law prohibits motorists from using a cellphone or mobile device while driving unless they are in "hands free" mode. That includes writing or reading texts, and applies to anyone driving on California roadways, even if you don't live in California. The only exceptions to this law are if you are driving on private property or making an emergency call to something like an ambulance. 
According to California Vehicle Code, Section 23123, a violation of this law is punishable by a base fine of $20 for a first offense and by a fine of $50 for all subsequent infractions. That sounds like a small amount of money, but in reality, you will pay more — sometimes over $250 — once assessments are added. 
Previously, drivers did not receive a point on their driving record for texting and driving, but that has changed as of July 1, 2021. A texting-while-driving violation can now result in one point to your record if the violation is within 36 months of a prior distracted driving offense. Points added to your record can increase rates or even result in your license being revoked.
All of these laws are aimed at avoiding crashes, injuries, and fatalities that happen because of texting while driving. No matter what excuse our brains may tell us in the moment, texting while driving is never safe, and the possible consequences of doing it can be devastating to more than just the driver's life.
Daniel Rodriguez, founder and president of Rodriguez & Associates and Robert Rodriguez of the California Highway Patrol, created this message stressing the importance of keeping your eyes on the road and avoid being distracted while driving. "Help save a life. Eyes forward, look up and live."
Rodriguez & Associates takes the laws around texting and driving very seriously. We are willing to fight for anyone negatively impacted by another driver's negligence. If you have been injured in a car accident caused by texting and driving, you may be able to claim compensation for damages. Please reach out to us today to discuss your case and receive support by filling out our online form or calling (661) 323-1400.
Truck Driver Fatigue is a Leading Cause of Crashes
Posted in Car Accidents,Kern County Lawyers,Personal Injury,Rodriguez & Associates,Truck Accidents on July 28, 2021
Some of the most devastating vehicle crashes are those that involve large commercial trucks. And one of the main causes of such crashes is driver fatigue. When those behind the wheel of a semi-truck, big rig, or other large commercial truck are fatigued or drowsy, they substantially increase the risk of causing a major accident. Many of those accidents are fatal.
In 2018, the most recent year for data, 4,951 people were killed in crashes involving large trucks in California. Of that number, 71 percent were occupants of other vehicles. 
Any person who drives while feeling fatigued increases their risk of causing an accident. Because of their size (the average semi-truck weighs 80,000 pounds and is 70 to 80 feet long), large commercial trucks can cause devastating damage to both property and lives if they are involved in a crash. Given that, truckers who drive while fatigued or exhausted take an inherently risky situation and make it even more dangerous. 
There are a few common causes of truck driver fatigue:
Driving for too long. Truck drivers in the U.S. are required by law to follow Hours of Service regulations. These stipulate how long they are allowed to drive and when they must take breaks.
Drivers carrying property (e.g., supplies, furniture, etc.) are legally allowed to drive a maximum of 11 hours, according to the Federal Motor Carrier Safety Administration. They may do so after having 10 consecutive hours of off-duty time.
Although driving hours are supposed to be monitored and enforced by electronic logs, drivers often go beyond these limits in order to meet a deadline. Trucking companies may not necessarily enforce the rules set down by Hours of Service regulations. Finally, even when a trucker follows the 11-hour maximum, they are still driving for an extremely long stretch of time and are at risk of extreme fatigue. 
Irregular driving schedules and inadequate sleep. Truckers don't have schedules that follow a pattern of regular days and hours. Instead, they might work long stretches at a time that are then followed by lengthy periods off duty. Because of this, their sleeping patterns may be inconsistent, degrading the level of rest they actually get. For some, these irregular hours also make sleep more difficult, which can lead to fatigue over time. Over-the-counter sleep aids can increase this problem since they cause drowsiness that may not immediately wear off upon waking. 
Substance use. Substance use and abuse among truck drivers is a serious problem, with many drivers turning to "uppers" like amphetamines to stay awake during their long shifts. Unfortunately, one of the side-effects of such drugs is that they can cause extreme fatigue once they wear off, putting both the truck driver and others on the road at risk.
Unrealistic expectations. Some truck drivers feel enormous pressure from their trucking company or subcontractor to meet very tight deadlines. These deadlines do not always factor in traffic delays, weather problems, and other incidences on the road. Because of that, delivery deadlines can become unrealistic and force truckers to work longer hours than normal without breaks.  
Any of these things can lead to poor decision-making, delayed reactions, shorter attention spans, and even more aggressive behavior on the part of the truck driver or their trucking company. 
If you are involved in a truck accident, proving driver fatigue and negligence will be easier with the help of an experienced truck accident attorney. Rodriguez & Associates can assist you in navigating this complex area of litigation as you seek compensation for damages. Please reach out to us today to discuss your case and receive support by filling out our online form or calling (661) 323-1400.
Daniel Rodriguez Named to AIOPIA's 10 Best Attorneys In California
Posted in Awards,Rodriguez & Associates on July 27, 2021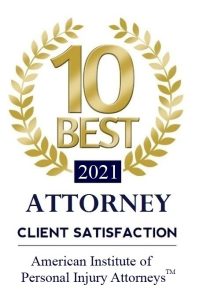 Founder and President Daniel Rodriguez of Rodriguez & Associates – a Kern County personal injury law firm – has been recognized by the American Institute of Personal Injury Attorneys™ (AIOPIA) as one of the "10 Best Attorneys" in California for 2021. This distinction is awarded to lawyers who have "achieved unparalleled success but most importantly have done so for the benefit of their client." To qualify for this award, a lawyer must meet the following criteria.
Be formally nominated by the Institute, client, and/or fellow attorney;
Have attained the highest degree of professional achievement in his/her field of law; and
Having done so with an impeccable client satisfaction rating.
Daniel Rodriguez, along with his staff of attorneys, have obtained more multi-million-dollar verdicts than any other law firm in the Southern San Joaquin Valley, including the largest verdict in Kern County of $70,578,289 on behalf of a family injured in a big rig accident.
At Rodriguez & Associates, we do our best to help our seriously injured clients put back together the pieces of their life. Our job is to hold the wrongdoer accountable and make them pay for the wrong they have inflicted; and, at the same time, we treat our clients like family because at the end of the day we are in this together.
If you've been seriously injured, call or text us at (661) 323-1400 to request a free consultation or fill out this online form.
California Statistics and Laws on Drinking and Driving
Posted in California,Car Accidents,Kern County Lawyers,Motorcycle Accidents,Pedestrian Accidents,Personal Injury,Rodriguez & Associates on July 26, 2021
Drinking and driving, or driving under the influence (DUI) of alcohol or drugs, impairs a person's ability to drive safely and threatens the well-being of other motorists, bicyclists, and pedestrians that they encounter on the road. 
Over the last 40 years, public information campaigns such as Mothers Against Drunk Driving (MADD) have set out to eliminate drunk driving through education, prevention, and enforcement by advocating for stricter laws to be passed for drunk driving offences, and while this has helped decrease the amount of DUIs nationwide, it has not ended the problem. In 2019, according to MADD, 10,142 people were killed due to drunk driving which makes it #1 cause of death on America's roads. The state of California accounted for 1,066 of the nation's drunk driving fatalities, approximately 10%. 
California Drinking and Driving Statistics 
The most comprehensive statistics for alcohol-impaired driving is from Responsibility.org for the year of 2018. 
Total alcohol-impaired driving fatalities: 1,069

Under 21 alcohol-impaired driving fatalities: 113

69.8% of alcohol-impaired driving fatalities had a BAC of 0.15+

77.9% of drivers with BAC 0.15+ were repeat offenders

Total DUI arrests: 127,250 (Nationwide: 1,001,329)
California Drunk Driving Laws
In California, it is illegal to drive while under the influence of drugs or alcohol or with a blood alcohol concentration of 0.08 or higher. The law does not distinguish between prescription, over-the-counter or illegal drugs. If the drug or medication impairs your ability to drive safely, you can still be charged with a DUI.
California has enforced tougher laws for first time and repeat offenders in an effort to reduce, and hopefully eliminate, drunk driving on our roads. Here is a summary of laws about driving under the influence of alcohol and/or drugs from the California Department of Motor Vehicles (DMV) handbook. 
It is illegal to use or possess alcohol or cannabis products in a vehicle. Any open containers must be stored in the trunk or where passengers do not sit.
It is illegal for any person to operate a vehicle with the following BAC limits:

0.08% or higher, if the person is 21 years +
0.01% or higher, if the person is under 21 years old
0.04% or higher, when a passenger for hire is in the vehicle at the time of the offense

It is illegal for drivers under 21 years of age to carry alcohol inside a vehicle unless accompanied by a parent or other person as specified by law and the container is full, sealed, and unopened. If caught, the car may be impounded for up to 30 days, driving privileges may be suspended for up to 1 year or delay the issuance of a first driver's license for up to 1 year, or a fine of up to $1000 may be charged.
Similar laws also prohibit riding bikes and scooters or driving boats under the influence of alcohol and/or drugs.
We Represent DUI Accident Victims in Kern County and California
A victim of a drunk driving accident can suffer physically, emotionally, and financially. Medical bills can pile up, they may not be able to work or perform their job as before, and their mental state may be different due to the accident. The criminal court system can punish a drunk driver for the accident, but it does not compensate victims of the accident. 
This is when a victim of a drunk driving accident would seek expert legal representation to pursue claims in a civil court for recovery of monetary damages from medical bills, pain and suffering, lost wages from missed work, property damage, and/or modifications to a home or car because of the injuries incurred. Our experienced personal injury attorneys at Rodriguez & Associates, are standing by to represent you or a loved one who has been injured as a result of a DUI accident. We will do everything possible to hold the wrongdoer accountable.
We represent DUI accident victims in Kern County and throughout California. Call us to request a free consultation at (661) 323-1400 or toll-free (800) 585-9262.
Common Injuries Associated With Oilfield Accidents
Posted in Oil Field Worker Injuries,Personal Injury,Rodriguez & Associates,Work Injury on July 22, 2021
California is one of the top oil-producing states in the country. A lot of that production is based in Kern and Ventura counties, and provides employment to residents of those areas. 
Oil field work is an inherently dangerous job. The Census of Fatal Occupational Injuries notes that 489 oil and gas extraction workers were killed on the job between 2013 and 2017, the most recent time period for data. 
While oilfield accidents aren't entirely avoidable, many could be prevented with the right safety precautions and protocols in place. But all too often, oil well processing and transport facilities skirt or outright violate state and federal regulations, making their workplaces extremely dangerous and even life-threatening to employees.
The top safety and health hazards that can result in fatalities for these workers are vehicle accidents, being struck by, caught in, or caught between equipment, explosions and fires, falls, being trapped in confined spaces, and exposure to harmful chemicals.
A number of injuries are common on the oilfield because of these types of accidents.
Burns. Workers can get severe burns from steam, fire, hot equipment, and electric shock. Serious injuries, such as third-degree burns, can cause permanent nerve damage as well as disfigurement. They normally require skin grafts for wound closure as well as rehabilitation. 
Fractures and broken bones. On the oilfield, fractures and broken bones can happen when a worker falls, gets struck by an object, or is involved in explosions or transportation accidents. These injuries can put oilfield employees out of work for weeks or months at a time, seriously impacting their ability to provide for their household.
Permanent Hearing Loss. When oil companies fail to supply their workers with adequate protection, they put those individuals at risk for all sorts of injuries. Hearing loss can happen when workers are constantly surrounded by loud machinery but not given proper earplugs for the job. This hearing loss can be lifelong, which seriously impacts a person's ability to do their job.
Brain Injuries. Oilfield workers can get a brain injury if they are hit on the head by a moving object or sustain a severe fall. Brain injuries can range from mild concussions to traumatic brain injuries that have lifelong consequences. The most severe types of brain injuries hinder a person from doing even the most basic day-to-day tasks like showering and feeding themselves.
Soft Tissue Injuries. Because of the repetitive nature of many tasks on the oilfield, such as operating machinery, injuries of the soft tissue are quite common. These muscle and tendon tears may start off as small, barely noticeable injuries and develop into more serious ones over time. 
It is important to take note of all injuries as soon as they happen, however minor they may seem at first. Many oilfield injuries are preventable, and if your injury is the result of your employer treating safety precautions lightly or violating them, you may be able to make a claim for compensation. To do that, you must have evidence of the injuries, which is why documenting them is so important. 
Rodriguez & Associates has decades of experience representing those injured in the oilfield because of someone else's negligence. Daniel Rodriguez himself worked in the oilfields for years as a roustabout and mechanic. Knowing first-hand how difficult and dangerous the work can be, he and his firm are especially attuned to the rights of workers in this industry when accidents and injuries occur. 
Please reach out to us today to discuss your case and receive support by filling out our online form or calling (661) 323-1400.
Do I Need a Lawyer? Signs of Child Sex Abuse at School
Posted in Child Abuse,Child Sex Abuse,Personal Injury,Personal Injury Attorneys,Rodriguez & Associates on July 1, 2021
Child sexual abuse is a serious crime that can have devastating and lifelong consequences for the victim, and it is on the rise in many education settings. Data cited recently by The Washington Post shows that reports of sexual assault at elementary schools and middle and high schools increased more than 50 percent between the years 2015 and 2018, the most recent year for data.
These reports of sexual assault rose from 9,600 in the 2015-2016 school year to nearly 15,000 in the 2017-2018 school year.
No child should have to go to school in an unsafe environment where this kind of abuse is a danger. Therefore, it is important for parents, teachers, guidance counselors, coaches, and other adults to know how to spot the signs of child sex abuse so they can, if necessary, intervene.
The CDC recognizes child sexual abuse as a public health problem, classifying it as an "adverse childhood experience (ACE) that "can affect how a person thinks, acts, and feels over a lifetime, resulting in short- and long-term physical and mental/emotional health consequences." For example, RAINN notes that victims of child sexual abuse are roughly four times more likely to develop symptoms of drug abuse and to experience PTSD or major depressive episodes as adults.
The bottom line is that a child cannot consent to any form of sexual activity, and any adult engaging in such behavior with a minor, including teachers, coaches, and other school staff, is committing a crime.
Signs of child sexual abuse may be physical, emotional, behavioral, or a combination of all three. While it is not always easy to spot a case of child sexual abuse, some common signs include:
Sexually transmitted diseases or infections

Physical trauma in the genital area

Not wanting to be left alone with certain people

Not wanting to change clothing or bathe

Regressive behaviors such as thumbsucking or bedwetting

Sexual behavior that is inappropriate for the child's age

Decrease in confidence or self-image

Excessive talk about sexual topics

Talk about a new adult "friend"

Mood swings (e.g., increased aggression)

Self-harming behavior

Changes in appetite

Excessive worry or fearfulness
These are only a handful of signs to look for if you suspect a child is the victim of sex abuse. It is highly important to note any sudden changes in behavior from the child and to report suspicious cases and situations. 
If you suspect your child has been the victim of sex abuse while at school or in the care of educators, you are not alone. Our Bakersfield personal injury attorneys have experience handling child molestation, sexual assault and sexual abuse cases involving teachers, daycare staff, coaches, and other school workers. We are here to help. Please reach out to us today to discuss your case and receive support by filling out our online form or calling (661) 323-1400.
What Are Coup and Contrecoup Brain Injuries?
Posted in Brain Injuries,Personal Injury,Personal Injury Attorneys,Rodriguez & Associates on June 29, 2021
The brain is responsible for controlling our body's most important functions, from memory and concentration to movement and speech. If you sustain any injury to the brain, you can sustain severe, long-term damage and permanent disability. Some of the most serious brain injuries are coup and contrecoup injuries, which occur when the brain hits the side of the skull. Without prompt treatment, a coup or contrecoup brain injury can be life-threatening. If you or your loved one was injured, a Bakersfield brain injury lawyer can help.
Symptoms of a Coup and Contrecoup Brain Injury
A coup brain injury occurs when your brain collides into one side of your skull, while a coup-contrecoup brain injury occurs both at the site of the initial trauma and on the opposite side of the skull. During a coup-contrecoup injury, the brain hits one side of the skull, slides to the other side, and sustains trauma on the opposite side of the initial trauma.
These injuries can be severe and result in painful symptoms, including the following.
Headaches
Loss of consciousness
Slurred speech
Confusion
Dizziness
Light or noise sensitivity
Coma
If you believe that you sustained a brain injury, it is important to seek medical attention immediately. Without treatment, you can sustain permanent and life-threatening damage to the neurons, blood vessels, and other structures in the brain.
Legal Options After a Coup or Contrecoup Brain Injury
A brain injury can occur due to many acts, including motor vehicle collisions, falls from high places, and acts of violence. If you sustain a coup or contrecoup brain injury due to another person's negligence, however, you may be eligible for financial compensation. You could file an insurance claim or lawsuit against the at-fault party.
To establish your right to this compensation, you will need to prove that the at-fault party was responsible for your injury and committed an act of negligence. In a personal injury lawsuit, you will need to provide sufficient evidence to prove the following four elements.
The at-fault party owed you a duty of care. For example, drivers have a duty to follow traffic laws and drive safely.
The at-fault party breached his or her duty of care. For example, a driver who runs a red light or drives while drunk breaches his or her duty.
The at-fault party's breach of duty caused the accident and your coup or contrecoup brain injury.
You sustained damages that you can recover in the lawsuit.
You can use many pieces of evidence to prove your right to compensation, such as medical records, surveillance footage, witness testimony, and police reports.
What to Do If You Experience a Coup or Contrecoup Brain Injury
If you experience a coup or contrecoup brain injury, it is important to seek medical attention immediately. Not only can emergency care help reduce the risk of life-threatening complications, but your medical records will be valuable for your future claim. Save all records related to your treatment and injuries.
Once you receive medical attention, contact a Bakersfield brain injury attorney as soon as possible. A lawyer can evaluate your case and determine whether or not you are eligible for a personal injury lawsuit. If you have grounds for a claim, your attorney will initiate your first steps toward compensation. Contact an attorney as soon as possible to discuss your legal options.
Critical Evidence After a Truck Accident
Posted in Car Accidents,Personal Injury,Personal Injury Attorneys,Rodriguez & Associates,Truck Accidents on June 28, 2021
Truck accidents are physically and emotionally devastating events for those involved. Because of their size, commercial trucking vehicles tend to cause more destruction than a regular car would, so the risk of serious injury or even death goes up in a truck accident. In 2018, the most recent year for data, 5,096 large trucks and buses were involved in fatal crashes according to the Federal Motor Safety Carrier Administration. 
Even when truck accidents do not cause fatalities, they can cause serious injuries with life-long consequences, not to mention damage to private property and mental pain and suffering.
If you are injured in a truck accident and plan on making a claim for damages, you will need to be able to prove the truck driver or another third party, such as the trucking company, was negligent. From there, you will have to show that this negligence directly caused the accident and your injury.
The best way to do that is to have ample evidence. Here are some pieces you need to be sure of collecting in the aftermath of an accident with a truck. 
Accident reports. Police create an official report of the accident when they arrive on the scene. Get and keep a copy of this report for your own records. The trucking company will usually send a certified truck inspector who will examine the vehicle before it gets removed from the scene. This person will check for things like a manufacturing defect, low tread on the tires, or other potential factors in the accident related to the truck itself. Obtain a copy of their report as well.
Electronic logs. Federal law requires all truck drivers to follow Hours of Service regulations. These rules stipulate how long they are allowed to drive and when they must take breaks. Electronic Logging Devices (ELDs) automatically record this information and transmit it to the carrier. The point of these logs is to precisely record whether a trucker is keeping to their Hours of Service regulations or not. If they are not and cause an accident, these logs will be essential to your case.
Photos and witness statements. Take pictures at the scene of the accident: your vehicle, the truck, close-ups of the damage, tire or skid marks on the road, and any other visuals that could be relevant. It is also important to document cuts, burns, and other injuries. At the same time, have nearby witnesses give statements via video or written testimonials.
Evidence requested in a spoliation letter. Your attorney may send a spoliation letter. This document requests that all evidence related to the accident be preserved. That includes truck inspection reports, the truck driver's qualifications and driving records, dispatch instructions, weigh station and loading dock reports, and the aforementioned driving logs. 
Any of this evidence will be easier to get with the help of an experienced truck accident attorney. At Rodriguez & Associates, our Bakersfield personal injury lawyers can assist you in navigating this complex area of personal injury litigation as you seek compensation for damages. Please reach out to us today to discuss your case and receive support by filling out our online form or calling (661) 323-1400.
Things to Know When You Are Hiring a Child Abuse Lawyer
Posted in Child Abuse on June 8, 2021
Child abuse cases are psychologically and emotionally upsetting for everyone involved. That is especially true for the plaintiff — the person or family filing the case against the defendant. Finding the right attorney in a child abuse case is critical to ensuring that these people get the care and support they need throughout the legal process.
The Federal Child Abuse Prevention and Treatment Act defines child abuse and neglect as: "Any recent act or failure to act on the part of a parent or caretaker, which results in death, serious physical or emotional harm, sexual abuse or exploitation" or "An act or failure to act which presents an imminent risk of serious harm." In California, child abuse can be charged as either a felony or a misdemeanor depending on the nature of the offense and the defendant's criminal history.
Examples of child abuse can include (but are not limited to) physical abuse such as punching or kicking, sexual abuse, emotional/psychological abuse, and neglect. Nor is child abuse limited to individuals within the immediate family. Sadly, children are often victims of abuse by teachers, coaches, health care providers, religious leaders, and daycare workers, to name a few.
When looking for a child abuse attorney, the goal should be to find someone with experience handling child abuse cases as well as a deep understanding of how legally complex and emotionally charged cases this area of personal injury litigation can get.
Some things to keep in mind when looking for a child abuse attorney include:
Experience: Your chosen attorney should have past experience successfully representing child abuse cases. If it is a child sexual abuse case, the attorney needs experience in that specific area, as it's often an even more delicate and complex matter.
Understanding: Child abuse cases are full of details and nuances that can quickly become overwhelming to the average person. As the California Department of Education points out, "Child abuse is more than bruises and broken bones." Not all child abuse is obvious, but all of it is extremely harmful. Any attorney working on a case needs to know what exactly constitutes child abuse, even if the evidence is not immediately clear.
Support: As noted above, child abuse and neglect cases are full of emotions for the plaintiff and their family members involved. You will need an attorney that understands the range of emotions a family can go through when dealing with such a case. This person should be able to provide emotional support as well as legal expertise when it comes to official case-related happenings, such as a deposition.
Every child deserves to be safe no matter where they are. If you suspect a member of your family is the victim of child abuse, do not hesitate to reach out for support and assistance. Rodriguez & Associates has a long record of success when it comes to defending the safety of children. You can reach us by filling out our online form or calling (661) 323-1400.
What is the California Good Samaritan Law?
Posted in California,Kern County Lawyers,Personal Injury,Rodriguez & Associates on June 5, 2021
When you encounter an emergency situation, you may try to act as a Good Samaritan and help any injured victims instead of walking away from the scene. However, our actions may end up causing more harm than good—which often opens us up to civil liability. In these situations, California's Good Samaritan laws can protect you from civil repercussions and allow you to render aid instead of worrying about potential litigation.
Who Qualifies As a Good Samaritan in California?
Under California Health and Safety Code Section 1799.102, a Good Samaritan is a person who renders emergency care to another and acts in good faith. A Good Samaritan provides this care without expecting compensation for his or her actions. As a result, this person will not face civil liability for any actions or omissions that may occur while providing aid.
Good Samaritan laws are important for several reasons. When someone is injured, it can take a long time for medical personnel to arrive at the scene. In these situations, emergency care from bystanders could increase the victim's chances of survival. With Good Samaritan laws in place, bystanders have the opportunity to help others without worrying about potential liability, protecting both parties in an emergency situation.
Civil versus Criminal Liability
California's Good Samaritan law protects bystanders from civil liability or paying for a victim's economic and non-economic damages if they harm someone while providing aid. If a person sustains an injury due to the actions of another, he or she may file a lawsuit against the person responsible for the injury to recover compensatory damages related to his or her losses. These damages may include the following.
Past and future medical expenses
Lost wages and loss of future earnings
Property damage
Chronic pain, disability, and disfigurement
Post-traumatic stress disorder
Disability accommodations
Depression and anxiety
Loss of quality of life
If a bystander renders aid in good faith, he or she will be exempt from civil liability if his or her actions injure the victim. However, California's Good Samaritan law does not provide exemptions for criminal liability. If a bystander commits a crime while rendering aid, such as stealing the victim's wallet or committing sexual assault, he or she can still face criminal charges for this act.
Exemptions to the Good Samaritan Law
Protection under California's Good Samaritan laws does not apply to situations involving gross negligence or willful or wanton misconduct. Gross negligence refers to a lack of any care while providing aid, or a departure from what a reasonably careful person would do in the same situation. On the other hand, willful and wanton misconduct involves an intentional or reckless disregard for others' safety.
For example, if a bystander encounters a person who is injured in a car accident and pulls him or her out of the vehicle, he or she will not be liable if he or she accidentally breaks the victim's leg while dragging the victim to safety. However, if the bystander pulls the victim out of the vehicle and abandons the victim in the middle of the road, he or she may be liable for any injuries that occur.
If you are injured due to a Good Samaritan's actions or are facing liability for providing aid to another person, it is important to speak to an attorney as soon as possible. A California personal injury lawyer can evaluate your case and identify your optimal legal options. Contact an attorney as soon as possible to discuss your case.