Blog
We are a Sponsor of the 2020 Halloween Drive Through
Posted in Events,Rodriguez & Associates on October 29, 2020
Our firm is a sponsor of this year's Halloween Drive Through. The event will be held on Saturday, October 31st, 2020, from 5 pm – 7:30 pm at Stockdale Moose Lodge in Bakersfield, California.
The drive-through will be a family-friendly event and is free to the public, however, donations are welcome. All donations will benefit the Ronald McDonald House.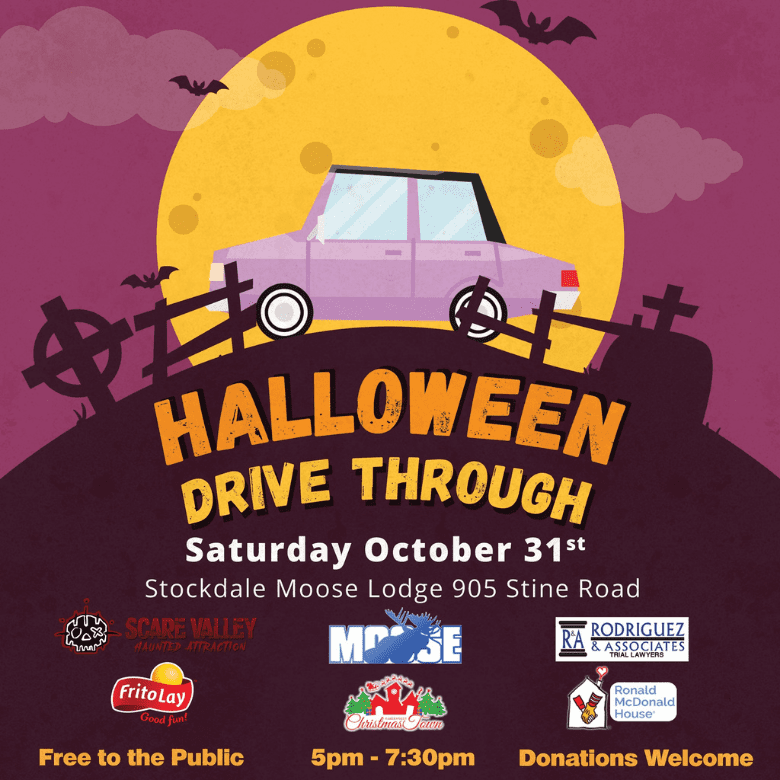 Who Will Pay My Medical Bills After a Car Accident?
Posted in Car Accidents,Personal Injury,Rodriguez & Associates on October 29, 2020
Car accidents can result in serious, debilitating medical conditions, including broken bones, spinal cord damage, paralysis, and traumatic brain damage. If you suffer severe injuries in a car crash, you may need to undergo intensive treatment that could continue for years in the future.
This medical care requires adequate insurance and funds to pay for services the policy does not cover, but many car accident victims cannot afford to pay for these costs out-of-pocket. However, filing an insurance claim or lawsuit against the person responsible for the accident can help you recover the funds you need to heal from your injuries.
California's Fault Insurance System
Like most states, California follows a fault-based insurance system. This means that any person who causes a car accident will need to pay for the damages of all of the victims involved in the crash, including other drivers, their passengers, and pedestrians. These damages include all past and future medical expenses for the injuries sustained in the accident.
To uphold this financial responsibility, all California drivers must carry the following minimum amounts of liability insurance. Policyholders can purchase higher amounts of coverage if they choose.
$15,000 for bodily injury or death per person per accident
$30,000 for total bodily injury or death per accident
$5,000 for property damage per accident
If you are an accident victim, the fault insurance system provides three pathways to collecting compensation. You can file a claim with the at-fault driver's insurance company or your own insurance, if you have the right coverage. You can also file a personal injury lawsuit in civil court.
Typically, the insurance company overseeing the claim pays the settlements in these processes. If you are in an accident with an uninsured driver and do not have appropriate coverage through your own policy, the driver may carry the financial burden alone.
Paying for Medical Treatment Before a Settlement
After a car accident injury, auto insurance policies are supposed to pay for accident-related medical costs from the beginning. However, it can take a long time for your case to reach a conclusion. You may need to pay for your treatments as your medical bills accumulate, using your health insurance or medical payments coverage, if available.
Most health insurance policies will cover treatment for accident injuries, although the terms of your policy may vary. If your health insurance pays for your medical care first, the company will typically file a claim against the at-fault party's insurance company for compensation. However, you may need to pay for deductibles, co-pays, and any treatment the policy does not cover. Your insurance or lawsuit settlement can reimburse you for these expenses; make sure to save every piece of evidence related to your medical care and the money you paid.
Medical payments coverage, or med pay, is a type of optional insurance coverage that can help you pay for your medical treatment after an accident up to a certain amount. California does not require this coverage, so you will need to purchase it separately. After you exceed your med pay policy limits, you will need to pay for your medical bills by yourself. If you do not have med pay, you will need to rely on your health insurance and personal funds to receive care.
Seeking medical care after an accident can be complex. If you need help finding treatment or understanding your legal rights, contact a California personal injury attorney. Your lawyer can assist you in receiving the care you need, understanding the compensation you qualify for, and filing your insurance claim or lawsuit.
What Is a Loss of Consortium Claim?
Posted in Personal Injury,Personal Injury Attorneys on October 14, 2020
Having a loved one suffer a serious injury or pass away due to the negligence of another person is one of the most painful experiences we can endure. Not only does your loved one suffer, but you can lose the ability to receive the same affection, comfort, and companionship that he or she was previously able to provide.
If your loved one is no longer to participate in a meaningful relationship due to injury or death, you may be eligible for compensation through a civil lawsuit. This type of legal action is known as a loss of consortium claim.
 What Does Loss of Consortium Mean?
After someone suffers an injury or dies as a result of someone else's negligence, the victim or an eligible representative can file a civil claim for the damages incurred during the accident. These damages can be economic, involving tangible financial losses such as medical care. The injured plaintiff can also claim non-economic damages, which refer to the intangible pain and suffering he or she endured.
Consortium is a term that refers to the right of association and companionship with your spouse or registered domestic partner, although some states expand this law to include children and parents. A loss of consortium action is a standalone claim you can take as part of an existing personal injury or wrongful death lawsuit.
Loss of consortium damages, on the other hand, are a non-economic form of compensation that the court awards to a spouse or family member of the plaintiff. These claims provide compensation for the following losses.
Love
Comfort
Care
Affection
Society
Assistance
Moral support
Companionship
Sexual relations
The ability to have children
According to California's loss of consortium laws, only spouses and registered domestic partners can file these types of claims. Courts typically award loss of consortium settlements to individuals whose loved ones either died or suffered a severe, permanent, and debilitating injury due to the actions of the defendant.
Proving a Loss of Consortium Claim
When you file a loss of consortium claim, you essentially state that the defendant's negligent actions and the plaintiff's injuries prevent your loved one from providing certain non-economic benefits that you once shared together.
To prove that you are eligible for these damages, you must prove four important elements.
Your spouse or registered partner suffered an injury or died as a result of the defendant's negligence.
You and the injured person were either legally married or had a valid domestic partnership when he or she suffered the injury.
You suffered the loss of your spouse or partner's consortium.
The defendant's negligent act directly caused your loss of consortium.
You can prove your claim using a number of methods, most of which will rely on the existing personal injury or wrongful death claim. For example, say that your spouse suffered a spinal cord injury in a car accident that results in paralysis. Surveillance footage shows that the at-fault driver sped through a red light and collided with your spouse, causing the accident and resulting injuries.
You can use evidence from the existing claim to establish the injury and the defendant's negligence. Your marriage license or domestic partnership registration can establish your legal right to this compensation. The third element is often the most challenging component of your claim, since loss of consortium relies on your personal experiences and how the accident affected you and your spouse's relationships. You will need to provide testimony, and your attorney can help you prepare for this stage of the claim.
No one deserves to suffer due to the negligence of another person. If you believe you may qualify for a loss of consortium claim, or that your spouse's case qualifies for personal injury or wrongful death litigation, speak to a lawyer as soon as possible.
Burn Injuries in the Workplace
Posted in Kern County Lawyers,Personal Injury,Personal Injury Attorneys,Rodriguez & Associates on October 9, 2020
A workplace burn injury can be caused by more than just flames. Depending on the line of work a person is in, a burn can be caused by oil, hot steam, or chemicals. Burn injuries are more common in the workplace than we think.
When Do You Need a Burn Injury Lawyer?
Burn injuries incurred in the workplace can be a complex matter. If the worker is burned/injured at work and the employer is responsible, the employee will file a workers' compensation claim against the employer to recover lost wages and coverage of medical bills. This will be handled between the employee and employer, and a burn injury lawyer is not needed.
However, if a third party is responsible or a cause for contribution to the injuries sustained, a burn injury lawyer should be consulted to see if a personal injury lawsuit against the third party can be pursued. Examples of a third party include someone such as a project manager, engineer or architect, a subcontractor's employee or a vendor who was working on the job site.
Causes of Workplace Burns
There are a number of causes of workplace burn injuries. Some of the common causes of workplace burns include:
Electrical burns by exposure to wires, electrical sources, or lightning. Electrical burns generated by electrical current through the body can cause damage to tissues and are one of the most serious burn injuries a person can have.
Heat burns by fire, oil, hot steam, hot liquid, and other hot objects.
Cold burns by exposure to cold, wet, and windy conditions.
Radiation burns / exposure from X-rays, UV sources, sun lamps, etc.,
Chemical burns from contact with household or industrial chemicals in liquid, solid or gas forms.
Friction burns caused by contact with hard surfaces (i.e. roads, rugs, etc.,).
Inhalation injury is a burn that can cause more damage than a physical burn. This is caused by inhalation of toxic fumes (often due to a poorly ventilated area).
Burn Severity
Burns can vary in severity depending on a number of factors. A physician can accurately determine the burn degree. Here is how burn degree is ranked (from mild to severe).
First Degree: affecting the top layer of the skin with minimal skin damage; Example: a mild sunburn. Most likely does not need medical attention.
Second Degree: the burn extends beyond the top layer of the skin; often the skin will blister and/or become extremely red and sore.
Third Degree: the burn affects the epidermis (top skin layer) and dermis (the layer of skin underneath) and may affect the tissue below that. These burns can appear white or charred.
Fourth Degree: all skin layers are affected and there may be damage to muscle, tendons, and bone. Fourth degree burns may be so extreme that they require amputation.
Occupations That Are At-Risk for Burn Injuries
While many occupations can pose a mild risk for a burn to happen on the job, there are certain occupations that are at a higher risk. These include (but are not limited to):
Electricians
Construction workers
Healthcare workers
Fire Fighters
Mechanics
Janitorial Work
Food Industry Work (chefs, cooks, servers)
If you have sustained a workplace burn injury, call our Bakersfield personal injury law firm to discuss your case at (661) 323-1400 or toll free (800) 585-9262 and request to schedule a no-charge consultation.
How Do Insurance Companies Investigate a Car Accident?
Posted in Personal Injury,Personal Injury Attorneys on October 7, 2020
After a California car accident, you may wonder what to do next. Since California is a fault-based insurance state, the person responsible for your accident is responsible for paying for your damages, or the losses you suffer due to the crash. This means you have two main pathways to compensation: an insurance claim or a personal injury lawsuit.
Most car accident cases begin with an insurance claim. During this process, the insurance adjuster assigned to your case will investigate the accident and determine whether or not you deserve compensation. Understanding an insurance company's investigation process is necessary to protect your rights and achieve a fair settlement.
Compensation in California Insurance Claims
California requires all drivers to hold the following amounts of liability coverage.
$15,000 for injury or death per person per accident
$30,000 for injury or death to multiple people per accident
$5,000 for property damage per accident
You can collect multiple types of damages through a driver's liability insurance: funds for past and future medical expenses, lost wages, vehicle repairs, and property replacement, for example. However, the driver in your accident may not have insurance; in this situation, you can file a claim under your own policy if you have the appropriate insurance, such as collision coverage.
What Happens After You File an Insurance Claim?
After seeking medical attention and consulting with a car accident attorney, you will begin the insurance process by filing a claim with the at-fault driver's company. Once you file your claim, the company will assign your case to a representative who will contact you. This representative, or adjuster, must determine whether your accident qualifies for coverage and resolve the claim.
The adjuster will ask you for information about the accident, including the police report, witness testimony, and a statement from you describing the crash. You will also need to supply evidence that you suffered the damages you intend to claim, such as medical records, pay stubs, and photographs of any damage to your car or personal property. The adjuster will also reach out to the policyholder and hear his or her version of events.
All of this information helps the company determine if the at-fault driver's policy can pay for your damages. At the conclusion of the investigation, the adjuster will issue a decision on the claim and possibly present a settlement offer.
If the adjuster believes you are responsible for the crash or your injuries are not as severe as you claim them to be, the company may deny your claim or issue an insufficient settlement. The company may also deny your claim if your damages exceed policy limits or if the policy does not cover the type of claim you are filing. At this stage, you and your attorney may decide to appeal the decision or escalate your claim to a lawsuit.
Hiring an Attorney for an Insurance Investigation
While the insurance investigation process may seem simple, it is important to remember that the adjuster's goals may not align with your own. It is the adjuster's job to act in the best interest of the company, and you may not receive a fair settlement offer. By hiring an injury attorney to represent your claim, you can protect your best interests throughout this process.
Your lawyer can help you prepare documents for review during the investigation, evaluate your settlement offers, and negotiate for fairer compensation if you do not receive an appropriate amount. As soon as you receive medical treatment for your injuries, contact a California car accident attorney to discuss your claim.
Hit-and-Run Accident Attorneys in Bakersfield
Posted in Car Accidents,Motorcycle Accidents,Pedestrian Accidents,Personal Injury Attorneys,Rodriguez & Associates,Uncategorized on September 30, 2020
A "hit-and-run" accident is when someone leaves the scene of an accident that s/he was involved in. These accidents typically involve two (or more) vehicles or a pedestrian or cyclist and a vehicle. If the responsible party for the accident flees the scene, and is not caught, the injured party can still recover compensation for injuries, damages, pain and suffering, lost wages or death of a loved one caused by the accident.
It is important to note that if you are a victim of a hit-and-run accident, you should remain on the scene until law enforcement arrives and you can give a full statement. Take notes and pictures of the scene and write down everything you can recall about the accident and any description of the other vehicle. Do not try to chase the perpetrator down. There is a chance that other people may have witnessed the accident and can provide information to law enforcement to catch the perpetrator. If the perpetrator is caught and identified, civil charges can be pursued. Having representation by a hit-and-run attorney will help you get the compensation that you need to move forward with your life.
If the perpetrator is not found, you may be able to submit a claim under your uninsured motorist coverage.
About Uninsured Motorist Coverage
About 85% of California auto insurance policies include uninsured motorist coverage. This means that if you are in an accident that is not your fault – whether it is a hit-and-run or a driver who is not insured or does not carry enough insurance coverage – your auto insurance company will cover your losses, damage, and medical bills dependent upon the amount of coverage you have.
However, there are cases when people are surprised to find that they do not have full coverage and the minimum coverage is not sufficient. If this is the case, having a personal injury attorney on your side will help you get fair and just compensation from your insurance company by using one or more of the following tactics.
Assembling evidence to prove that you were a victim of a hit-and-run accident including evidence of injuries – how severe they are and if they are going to affect your life permanently.
Holding the insurance company accountable by making sure they are being transparent in their communications and not using difficult or deceptive tactics to confuse the victim and give less than what the person is entitled to.
Calculating damages accurately for your claim including quantifying your damages and asking for enough money to make sure you will be covered for medical fees, medical devices, future treatments, and, if applicable, pain and suffering and lost income.
Negotiating with the insurance company for a fair settlement. Attorneys are familiar with the tricks that insurance companies use during these negotiations that can trap an unsuspecting victim to settle for less.
If the insurance company and attorney cannot come to a settlement, the attorney can take the case to trial on your behalf to fight for you.
At Rodriguez & Associates, our Bakersfield hit-and-run accident attorneys are committed to making the responsible party pay so you can focus on getting back on your feet.
If you or a loved one was involved in a hit-and-run accident, contact us at (661) 323-1400 or toll-free (800) 585-9262 to schedule a no-charge consultation.
Who Is Liable for Injuries Caused by a Defective Product?
Posted in California,Personal Injury,Personal Injury Attorneys,Product Liability on September 30, 2020
Suffering a defective product injury can be painful and confusing. Liability in product injury lawsuits can be complex, and you may not know who you can hold accountable for your injuries. Oftentimes, these cases involve multiple entities.
You can file a product liability lawsuit against any entity along the chain of distribution, depending on the circumstances surrounding your injury. You may name one defendant in your case, but it may be in your best interest to name every single entity or individual who was involved in the creation, sale, or supply of the defective product.
#1: The Manufacturer
The most obvious defendant in a product liability claim is the manufacturer of the product. These entities control multiple processes where the defect might have occurred, from assembling the product to developing an inherently defective design to failing to include adequate warnings or instructions. You can include additional parties who worked with the manufacturer on this product in your lawsuit as well.
#2: The Component Supplier
In products that contain several important components, such as motor vehicles, the manufacturer as a whole may not be solely liable for your injuries. If the accident occurred due to a component inside of the product that a third-party supplier provided, you can file a claim against the component supplier directly as well as the manufacturer.
#3: The Retailer
Although retailers are not involved in the design or manufacture of the product, they may be liable for selling you a defective product. Retailers have a responsibility to ensure that the products they sell are safe and not defective. They must remove any products that are defective, and failure to do so is an act of negligence.
You do not have to be the actual buyer of the product to hold the retailer accountable, and you do not have to be the product user either — for example, if you suffer an injury after a friend's vape pen exploded, you can still hold the retailer, manufacturer, and any other entity involved in the chain of distribution accountable. Both new and used products may be eligible for this type of litigation.
#4: The Distributor
You can also hold the distributor or wholesaler who provided the product to the retailer responsible for your injuries. The distributor is the reason why the product made its way to store shelves, after all, and distributing a defective product is an act of negligence. Any middlemen that appear between manufacturers and retailers may be liable for your injuries.
What to Do After a Defective Product Injury
If you suffer an injury while using a product, you need to take two immediate actions: seek medical attention and preserve evidence. Keep the product and all physical evidence related to your injury, such as your clothing or vehicle — do not throw anything away. Visit a hospital as soon as possible to treat your injuries and save all documentation. After you seek medical attention, contact a product liability attorney.
Your defective product lawyer can help you determine the cause of your injury, seeking help from expert witnesses who can examine the evidence and provide valuable testimony in your case. Your attorney will also help you understand who to hold liable, helping you navigate the complex litigation process. To preserve your right to compensation, speak to your attorney as soon as possible following the accident.
Understanding Liability Waivers
Posted in Personal Injury,Personal Injury Attorneys,Rodriguez & Associates on September 17, 2020
 If you have ever visited a trampoline park, waterpark, or any other type of recreational activity that could result in injury, you may have received an activity waiver. Businesses provide this type of waiver to protect themselves from liability in case someone suffers an injury on their premises. If you do sustain an injury, the company may use this document to avoid paying for your damages — but there are certain circumstances where an activity waiver will not hold up in the courtroom.
Are Activity Waivers Effective?
Activity waivers may protect the company's best interests, but there are some situations where a court will not uphold the waiver. If any of the following scenarios apply to your case, you may be able to bypass the terms of the waiver.
The document violates state law or public policy.
The waiver does not contain the proper wording that California contract law requires.
Your injury does not occur due to the risks that the contract states or from simple, or ordinary, negligence.
Your injury lawyer in Bakersfield can evaluate the language in the contract to determine whether you may have grounds for a lawsuit. California has a list of criteria that would make a liability waiver void, and your lawyer will have the experience and legal knowledge necessary to determine if you have grounds for a lawsuit.
When it comes to negligence, you will need to determine whether simple or gross negligence occurred. Simple negligence refers to unsafe conditions that may occur even if the property owner upholds his or her duty to maintain safe premises, such as malfunctioning equipment. For example, if you slip on a puddle at a water park and hit your head, you may not be able to pursue compensation since this hazard is likely to arise even if the owners paid attention — especially if the contract explicitly states this is a risk.
Gross negligence, on the other hand, refers to intentional harm and a willful disregard of patrons' safety. If the owner knew about a hazard and ignored it, leading to your injuries, you would have grounds for legal action, even if you signed a waiver. For example, say you visit a trampoline park and suffer injuries when a trampoline collapsed. You discover a manager noticed the damage, reported it to the owner, who ignored it. You can hold the facility accountable under these circumstances.
Liability Waivers in the Age of COVID-19
As more states loosen restrictions during the pandemic, some owners are asking patrons to sign liability waivers releasing their companies from any fault if they contract COVID-19 during their visit. Businesses, including hair salons and restaurants, as well as in-person events have utilized these waivers.
These types of waivers are unprecedented, and they may not hold up in court, depending on the language in the waiver. Future federal legislation may extend broad protections for businesses and nonprofit organizations to avoid COVID-related liability.
Do You Need an Attorney?
If you experience harm while participating in an activity or visiting a business that requires you to sign a liability waiver, you still have options for legal action. Speaking to a California injury attorney can help you understand whether or not the activity waiver could hold up in court.
Your attorney can also assist with evidence collection, handle negotiations, and help you develop a compelling case for your compensation. Contact your lawyer as soon as possible after your accident to discuss your legal options.
Different Types of Burn Injuries
Posted in Kern County Lawyers,Personal Injury,Rodriguez & Associates,Uncategorized on September 15, 2020
Victims of fire or burn injuries can be left with debilitating injuries, physical and psychological scars and may face many years or surgeries and physical therapy to try to get back the life they once had.
There are many ways that people can be burned – from a property hazard, to a bonfire party, to faulty wiring or a workplace injury. While some of the burns are mild, others can be disfiguring. There are four types of burn injuries.
Thermal burns are caused by contact with flames, hot water (or hot liquids), steam or other sources of intense heat. These are usually the source of household burns from kitchen fires and burns from auto accidents. Within thermal burns, there are:

Flash burns – explosions of natural gas, propane, or other flammable liquids.
Flame burns – due to exposure of prolonged, intense heat such as in a car accident or house fire.
Scald burns – usually caused by hot liquids such as water, grease, oil, and tar.

Contact burns ­– from coals, glass, hot metals or plastics.
Chemical burns can be caused by contact with strong acids or alkali substances that may be found in some household cleaners such as bleach, drain cleaner, swimming pool chemicals, etc.,
Electrical burns are common in the workplace, such as construction sites, restaurants, agricultural sites, and offices. These are caused by an AC or DC current.
Radiation burns are caused by alpha, beta, or gamma radiation, commonly known as sunburns. X-rays and radiation therapy may also cause a burn, which could be a medical malpractice case.
Burn severity is categorized by medical professionals based on how deep the burn is and how they will approach treatment. Burns range from first-degree (mildest) to third-degree (most damaging).
First-degree burns include only the outer layer of the skin (epidermis). Most are minor and superficial. A first-degree burn usually does not require treatment by a medical professional unless it covers a significant portion of the body. A first-degree burn injury can include:

Redness
Swelling
Minor pain
Texture changes when it starts to heal

Second-degree burns involve the epidermis (outer layers of skin) and the upper layers of the tissue underneath (also known as the dermis). A small second-degree burn may heal on its own, however a larger second-degree burn may require medical treatment and skin grafting. An individual will usually experience:

Blistering of the skin
Higher degree of pain than first-degree burns

Third-degree burns damage all layers of the skin – the outer layer epidermis and the dermis tissue below it – and may extend into subcutaneous tissues, ligaments, tendons, and bones (when this is the case, some physicians may classify this as a fourth-degree burn). Symptoms include:

Charring
Dark brown discoloration
Waxy and white discoloration
Leathery textured areas
Undeveloped blistering areas
Our Kern County personal injury law firm has represented many clients including those who have suffered burn injuries from workplace accidents, car accidents, truck accidents, and construction accidents. We not only care about the case, but we care about the well-being of our clients and will assist in obtaining medical care and day-to-day support following a serious burn injury.
And always, we will fight to hold the responsible party accountable and for fair compensation.
If you or a loved one has experienced a burn or electrical injury, contact us at (661) 323-1400 or toll-free (800) 585-9262 to schedule a no-charge consultation.
What Are the Top Reasons for Insurance Denials?
Posted in Car Accidents,Personal Injury,Personal Injury Attorneys,Rodriguez & Associates on September 10, 2020
Filing a car accident claim should be a simple process — since California is a fault insurance state, the person responsible for your accident is liable for your damages. However, insurance companies often deny claims for a number of reasons, ranging from questions of fault to bad faith practices. Understanding these common reasons can help you prepare for the claims process and appeal the decision, if necessary.
#1: Unpaid Premiums
The at-fault driver in your accident is responsible for making his or her monthly premium payments each month. If a policyholder does not pay his or her monthly insurance premiums, the company will deny your claim. Under these circumstances, you may file a claim under your own insurance if you have underinsured/uninsured motorist (UM/UIM) coverage.
#2: Late Reporting
After a car accident, there are a few actions you should take. You should call 911 to report the accident to law enforcement, you should seek immediate medical treatment, and you should contact a personal injury attorney to begin to file your insurance claim.
Waiting to report the accident to the insurance company can result in a denial — the company may claim it did not have enough time to investigate. Speak to your lawyer and request a copy of the at-fault driver's policy to see what your reporting deadline is.
#3: Insufficient Coverage
The at-fault driver's insurance policy may not have the appropriate coverage to pay for your injuries. All policies have limits on the amount of compensation the insurance company can disburse to victims, and if your damages exceed these limits, the company will likely deny your claim. In certain circumstances, the terms of the policy may not cover your injuries and the company will then deny the claim.
#4: Liability Disputes
Since California insurance claims rely on fault, the insurance company may reject your claim if it is unclear who caused the accident or if it believes you are responsible. The company may dispute the damages you claim, questioning whether or not your injuries are valid, and the treatment costs you claim are necessary. The company may also conclude that you are partially responsible for the accident; if you were at-fault for a portion of the crash, the company may use this information as grounds for denial.
#5: No Medical Records
After an accident, it is vital to seek medical attention immediately, even if you do not feel hurt. Medical expenses not only comprise the bulk of your settlement, but the medical records you receive from your visits are valuable evidence for your case. If you fail to receive medical treatment or wait days or weeks after the accident to see your doctor, the insurance company can use this information to dispute your claim's credibility.
What to Do If an Insurance Company Denies Your Claim
After an insurance denial, you have two options you can pursue. You can appeal the insurance company's decision and try to reach an agreement, and possibly file a bad faith claim against the company as well. You can also file a personal injury lawsuit against the at-fault driver in civil court. Different pathways work best for different situations, so speak to an attorney to determine which option is best for you.
From the beginning of your claim to the end of the lawsuit or appeal, you should have an attorney on your side. Lawyers represent the interests of their clients through numerous processes, including the initial claim, any appeals or bad faith actions, and lawsuits. If you haven't reached out to a Bakersfield car accident attorney, contact a lawyer as soon as possible to discuss your claim.