A pillar of the Bakersfield community for over twenty years, Rodriguez & Associates has become known as Kern County's top personal injury law firm, committed to pursuing justice for those who need it most.
The firm's founder and president, Daniel Rodriguez, inspires his team of partners, attorneys, and staff to approach their work with diligence and dedication, offering the resources of a large law firm while maintaining the culture of a small, local practice.
A Growing Firm
Since opening its doors in 2001, Rodriguez & Associates has nearly tripled in size, adding three partners and numerous more attorneys and staff. Despite its growth over the years, the firm maintains a closely-knit team determined to make a difference in the lives of victims of serious accidents caused by negligence, approaching each case and treating each client as if they were family.
In 2023, the firm celebrated the completion of its 5,000th case, a significant milestone that represents the culmination of extensive casework, thorough depositions, and countless court dates. The demonstrated verdicts and settlements have launched the success of the firm as one of the most respected law firms and trial teams in Kern County.
"The long hours, extensive research, and challenges are all worth it when we take a step back and look at the larger picture which shows the impact we have made in our community," says Patrick Benitez, Rodriguez & Associates' Litigation Director.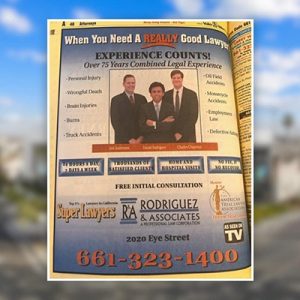 Joel Andreesen, senior partner, pictured left in this Yellow Pages ad from 2010, is among several attorneys and staff members who have played an instrumental role in the growth and development of Rodriguez & Associates since its beginning. Like Joel, senior paralegal and case manager Adriana Bravo, and Litigation Director Patrick Benitez, have supported Daniel Rodriguez and his team of personal injury attorneys for more than two decades. Their tenure exemplifies the respect and values the firm places on its employees as it continues to develop.
A Culture of Excellence
A repeated sentiment among both the firm's staff and clients is how Daniel's principles of commitment, professionalism, and drive impact each case. Attorneys and staff at Rodriguez & Associates fully understand the critical challenges their clients face, especially in cases involving minors, and approach each situation with compassion and empathy, aware of their potential to bring positive change with every outcome.
"We truly treat our clients like family – that's what makes us so special. That touch of detail is what makes our firm different. We are able to maintain relationships after the fact and see [our clients] be able to move on from traumatic experiences."
-Danay Gonzalez, Partner
Much of the development of the firm's culture can be attributed to the high standards of personal and professional excellence that Daniel exemplifies. Always willing to learn new techniques and legal strategies, he keeps the firm moving forward into the 21st century.
Since 2009, Daniel has shared his expertise with attorneys from around the nation as a faculty member at Gerry Spence's Trial Lawyers College, and the Gerry Spence Method College, a trial advocacy school widely regarded as the best in the country. Daniel teaches a 3-week course on the "Spence Method" which guides trial lawyers through the application of legal storytelling. Storytelling has grown in the legal industry as a unique approach to providing personal insight to attorneys and creating a deeper understanding of their clients and their cases. It is proven especially useful during a jury trial when the trial team must appeal to a diverse group of individuals.
A Team You Can Trust
As a local firm, many of the attorneys at Rodriguez & Associates are also local to the Bakersfield area and grew up knowing Daniel as a pillar of the community. Several members of staff are multi-lingual and understand the cultural dynamic of such a diverse area, and help remove linguistic barriers that might keep victims from seeking the legal guidance they deserve. The firm's culture of excellence, trust, and success established by Daniel from the start has built the firm's reputation of genuine compassion for the community.
To learn more about the top trial lawyers at Rodriguez & Associates, click here.