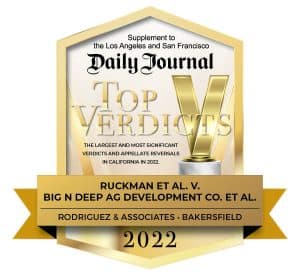 Daniel Rodriguez, founding partner of Rodriguez & Associates, along with partners Chantal Trujillo and Danay Gonzalez, are recognized in the Daily Journal's Top Verdicts list for obtaining the largest verdict in Kern County history in Ruckman et al. v. Big N Deep Ag Development Co. et al.
The record verdict awarded $73.6 million to a family that suffered burns and other significant injuries and lost their home in a natural gas pipeline explosion that occurred in November 2015. The preventable incident took place when a bulldozer operated by Big N Deep Agricultural Development Co. struck a PG&E Co. gas pipeline as the dozer was prepping land for planting. 
The persistent trial team navigated extensive legal opposition, aggressive corporate insurance teams, a pandemic, and a number of appeals in order to reach a successful resolution for their client. 
"Our clients' quality of life was taken away. They feel vindicated," Rodriguez said of the outcome.
Read the full Daily Journal Top Verdicts article here.
Congratulations, team!