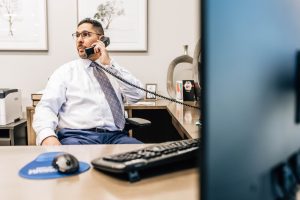 After two decades at Rodriguez & Associates, Patrick Benitez still finds the people he encounters the most compelling part of his job.
As Litigation Director, he interacts closely with not just the firm's attorneys but also the individuals and families who are victims of oilfield injuries, motor vehicle accidents, and the wrongful deaths of their loved ones. Through close work with these people, he gleans details of both their personal injury cases and, more importantly, their lives. That process forms close bonds between those families and Patrick—ones that last long after the verdict is settled.
Law firms aren't typically known for maintaining familial-like ties with their clients that go on for decades. Rodriguez & Associates' commitment to those close ties with clients is one thing that sets the firm apart, and a characteristic Patrick believes serves as a reminder that under every personal injury case is the story of an individual.
"Their accidents are not the same because the people are not the same," he says.
This kind of close, personal work with clients has profoundly impacted his own life, too. One case that stands out happened early on in his tenure at the firm. It involved a station wagon that hit three children in a crosswalk. The driver—a school district employee driving a district-owned vehicle—changed lanes and sped up to move around stopped traffic. By the time he saw the children crossing in front of the traffic, it was too late to stop. The youngest of those children was rendered a quadriplegic from the accident.
Because of the long-term relationships the firm keeps with its clients, Patrick was able to watch that child grow up and even graduate from college. This, he says, has not only given him empathy for families with disabled children, it has also influenced the way he interacts with his own kids, one of whom is on the spectrum for autism.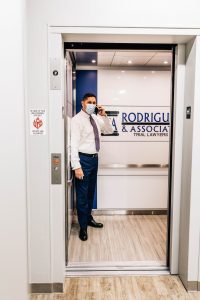 Working with clients is just one of the many roles Patrick plays at the Rodriguez & Associates. As Litigation Director overseeing all the firm's attorneys, his day-to-day work life is never quite the same. One of his main jobs is to manage the flow of information that comes in from clients, experts, insurance adjusters, and many other individuals involved with a case, organizing the details and preparing the team ahead of a case. This behind-the-scenes work is what gets attorneys, including the firm's boss, Daniel Rodriguez, as prepared as possible when it's time to go into the courtroom.
"I have probably been involved in almost every trial Mr. Rodriguez has had in the last 20 years," says Patrick.
He notes that Daniel himself is one big reason he has stayed with the firm for two decades.
"Although [Daniel] has been practicing for 40 years, he continues to learn new techniques and new strategy," Patrick says of his employer, adding that this has "helped me grow not only in my profession but as a person."
As he celebrates 20 years at Rodriguez & Associates, Patrick continues to weave these lessons into his work, whether in the office, in the courtroom, or at home with his own family.