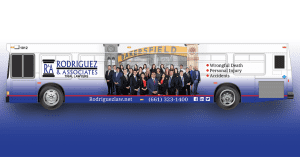 We hope this post finds you and your family healthy and well during these uncertain times. While we may not be able to meet in person, you might still "see" us on buses around town.
Our attorneys and staff are safely working from home and are available to help clients and potential clients in a few different ways.
Text Us Through Our Website
If you have a question or would like to get information to one of our attorneys, use the green "Text Us!" box on the bottom right corner of our website. This chat does not create a client-lawyer relationship but it is a quick, easy way to ask questions or schedule a consultation.
For Potential Clients
To request a FREE case evaluation, please fill out this form on our contact page (scroll to the bottom of the page and fill in the fields in the red area under "request a free consultation"). Under normal circumstances, we would have you come into the office to meet with us, but during the pandemic we will evaluate your submitted information and contact you via phone to further discuss your potential claim.
For Existing Clients
During this time, we are continuing to work on cases and monitor the status of court proceedings. If any currently scheduled matters are postponed or canceled, we will keep you advised.
Text or call us ((661) 777-7575) with your questions. If no one is available, leave a voice mail and we will respond at our earliest convenience. If a meeting is needed, we will schedule a phone or video-conferencing time that works for you.
E-Signature Convenience
For your convenience, we will be using ESign for all documents that need to be signed to complete the intake process. ESign is safe and can be done without printing, scanning, or faxing documents back to our office.
While we navigate through this unique time, our goal and commitment is the same – putting our clients and justice first.