Joseph Whittington, partner and lawyer at Rodriguez & Associates in Bakersfield, was born into a family in the legal field so it was natural for him to pursue a career in the legal profession. He has fond memories and photos of sitting behind the judge's bench at the Kern County Superior Court with his grandfather, a retired Kern County Superior Court Judge. His father is a practicing real estate attorney in Bakersfield.
Joseph was raised in Bakersfield and is a graduate of Garces High School (2004). He earned a BA in Interdisciplinary Studies with an emphasis in the Globalization of Business from UC Berkeley, where he was also a four-year varsity member of the UC Berkeley's Men's Swim Team and Captain of the 2008/2009 team. While at Cal, he worked for a law firm in Oakland, California, where he learned legal principles and ideas. Joseph attended Western State College of Law for his Juris Doctorate and passed the California Bar Exam in July 2013.
Joseph joined Rodriguez & Associates in 2015. Joseph primarily handles cases involving multi-party car crashes, pedestrian vs. auto cases, and civil rights violations by police departments.
"I really like being able to help people through some of the most difficult times in their lives. Lawsuits can be complicated and if I can take one thing off my client's to-do list, then they can spend more time recovering from their injuries." – Joseph Whittington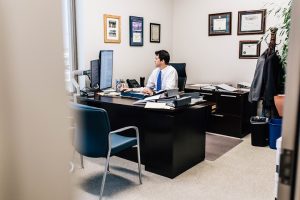 At Rodriguez & Associates, we also strongly believe in giving back to our community. Joseph volunteers as a board member of the Dignity Health and Mercy Hospitals Friends of Mercy Foundation. The board supports the hospital's fundraising efforts to continue to ensure the legacy of the Sisters of Mercy, who started the hospital in 1910.
Joseph loves spending his free time with his wife and two children. He also enjoys exercising and running – particularly through the Hart Park hills and around the outskirts of town – and in obstacle course races like Tough Mudder and Spartan. He is also a huge fan of the LA Dodgers baseball team!