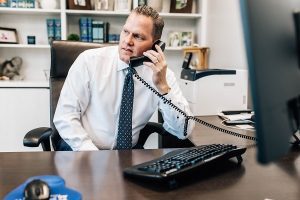 Joel Andreesen attributes his lifelong commitment to fact-finding as a huge reason for his success as an attorney. And that success is about much more than financial settlements. Throughout his career, and during his nearly two decades at Rodriguez & Associates, where he is a Senior Partner, Joel has been driven more by a desire to help victims reach closure than by any monetary prize.
Joel was born and raised in a farming family in Iowa. Leaving that setting, he initially set out to become a journalist. Though he switched to law, he cites parts of his journalism training—rigorous investigation, meticulous fact-checking, effective communication—as enormously helpful to his work as an attorney.
Joel met and began working with Daniel Rodriguez at a different law firm in the late 1980s. Some years later, Daniel left to start Rodriguez & Associates, eventually proposing, in 2004, that Joel should come and work with him. Joel has been there ever since.
At the firm, Joel says he covers many areas of personal injury, though he started off working on business litigation, employment law, and criminal defense. "I think all of those areas helped me at a young age to be able to get into the courtroom a lot sooner than if [I] was only doing personal injury work," he says.
Over time, however, his interest shifted to personal injury because of the opportunity it provided in terms of helping others. Like so many at Rodriguez & Associates, that drive to help those in need motivates many of Joel's choices, right down to the cases on which he chooses to work:
"We've taken on cases that other firms have turned down that may be tough liability cases, but we really truly wanted to try and help these people."
He cites one product liability case from several years ago as a prime example. A family had contacted Rodriguez & Associates after the father was killed by a defective product. Joel says that another law firm had turned the case down flat out. Joel met with the family and, through what he says was some very basic research, determined that there was a real viable case against the product manufacturer based on a detail the other firm had overlooked. He won the case, and was even told by opposing counsel that the settlement received was the largest one ever paid out by the product manufacturer.
Not that the money is the prime driver here. For Joel, the real payout was "the satisfaction of helping the family through this process and through a very difficult loss of a great loved one. In the end, we can never bring them back, but hopefully we can help [the family] through it."
The success of that case is in no small part due to Joel's commitment to the lengthy process of personal injury cases, which rely so much on minute details and require attorneys to keep very open minds in order to uncover new facts that could influence the outcome. "From the very beginning, we think as broadly as possible," says Joel. Most personal injury cases are settled out of court, but Joel starts out treating each one as though it were headed to trial, in order to motivate himself and the team to put as much effort as possible into it.
That involves bringing experts onboard from the start — many firms do not bring experts in until the end — and making them part of the process. He gets other attorneys at Rodriguez & Associates involved because "the more eyes that can look at something the more possibilities come up." And he conducts focus groups with potential juries in whichever county the case is taking place.
The long hours and attention to detail pay off, and not just in financial terms. For Joel, being an attorney is about helping those in need and bringing both material and emotional resolution to often tragic situations. For him, there is no greater settlement than that.