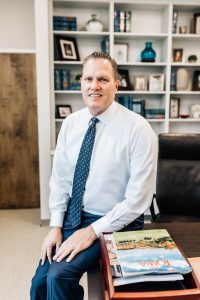 For years, the senior partner at Rodriguez & Associates, Joel T. Andreesen, has helped our Bakersfield community. As the outgoing President of the CSUB Athletic Scholarship Fund, he's helped raise close to $1 million for student-athletes. Because of this more student-athletes than ever before can achieve their educational goals with athletic scholarships.
Joel stated, "This year's record setting fundraising total of $938,433 is a testament to the Kern County community, CSU Bakersfield Roadrunner nation and the Roadrunner Scholarship Board of Directors and their commitment to all current and future Roadrunner student-athletes. He adds, "The increased donation amount will help Roadrunner athletics get closer to its goal of fully funding all available student-athlete scholarships. I want to express a big thank you to all the Roadrunner donors who helped make this a record-breaking year!"
We thank Joel for everything he's done for our student-athletes.