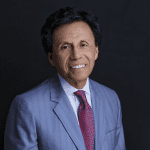 Daniel Rodriguez may be a renowned California lawyer today, but he comes from much more humble roots—ones he's not planning to forget anytime soon. As an article for the most recent issue of Kern County law publication Res Ipsa Loquitur details, it's his beginnings as the son of migrant workers and his early years spent struggling for his own education that have informed so much of what he does today with his personal injury law firm, Rodriguez & Associates.
From a young age, Daniel understood the importance of education. Even though he and his family moved a lot, he took it upon himself to ensure he and his five siblings were always enrolled in school, often filling out the paperwork to register them himself.
Daniel enrolled as an electronic engineering student at Cal Poly San Luis Obispo in the early 1970s, where he became the first Latino to graduate from that program. Even so, he always knew he wanted to become an attorney, though he found the profession initially challenging as a first-year law student at UCLA. "In engineering, there's a formula and there's always a right answer. It's black and white. It took me a whole year to understand that law is different. You have to be able to see both sides of the coin, both viewpoints at stake in a dispute," he told Res Ipsa Loquitur.
The value of that lesson has informed much of Daniel's career. Personal injury law is a tricky, often messy business that relies on nuances and gray areas. Being able to argue both sides of a case has been key to Rodriguez & Associates' success over the years when representing its clients.
Perhaps an even more valuable lesson he has learned along the way is the importance of community and remembering one's roots. Despite success in law school that led to multiple job offers upon graduation, he decided to forgo working with a Los Angeles-based firm and instead returned home to the Central Valley, California. Once there, he actually struggled to find work as an attorney.
And when he eventually landed a job with an insurance company as a defense attorney, he quickly realized how discouraging it felt to represent the interests of companies rather than individuals.
So he changed course and instead went to work for a Bakersfield law firm where he was able to fight for people who were injured working, as the article puts it, "in the same orange groves he grew up working in or on the same cotton gins he and his father had worked on all those years before."
Eventually, he met a law clerk named Joel Andreesen and the two decided to start working together. Over the last decade, they have built a firm around the values of helping people who need it most and giving back to the communities from which they came. Serving the community, both inside and outside of the courtroom, continues to be a value on which Daniel and his firm practice law and to build a bond with each and every client along the way.