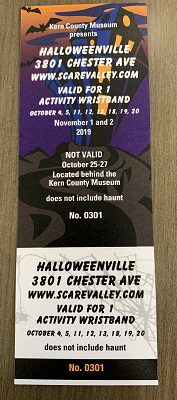 We are a sponsor of Halloweenville! It's a local Halloween attraction in Bakersfield, California. Families can pick out a pumpkin, take a ride on the Spooky Train, play Ghosts versus Ghouls Laser Tag, shoot a zombie, climb the Wicked Rock Wall, or bounce in Casper's Zone. Older kids and adults can experience Scare Valley, Bakersfield's newest haunted attraction.
Free Halloweenville Tickets to Our Followers
As a thank you for following us on social media, we are giving away 150 tickets for activities for the kids, and 150 tickets for the haunted attraction for the older kids and adults. These tickets are valid for Saturday, October 5th, 2019 only.
How to get tickets:
1. Follow us on Facebook and/or Instagram.
2. Stop by our office to pick up your tickets. Maximum 4 per family.
Our address is 1128 Truxtun Ave Bakersfield CA 93301. We are here from 8am to 5pm. Tickets are available while supplies last, so hurry!
Halloweenville is located at 3801 Chester Ave, behind the Kern County Museum. For more information about this event, visit scarevalley.com.