In Union Glacier on December 17th, 2021, Runbuk, Inc hosted the 16th edition of the infamous Antarctic Ice Marathon with sixty-two registered athletes from all over the world. For over a decade, marathoners and adventure athletes looking for their next challenge have gathered in Antarctica to compete in the annual race.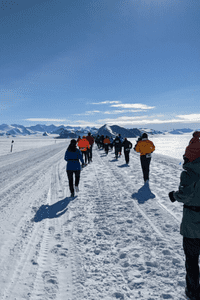 These ice-marathoners trek through the frozen tundra near the South Pole, beginning at the foot of the Ellsworth Mountains and running 26.2 miles through freezing temperatures. The race is recognized by the Association of International Marathons and Distance Races and qualifies runners for the World Marathon Challenge, where runners aim to complete marathons on each of the seven continents.
Antarctica is the coldest, windiest, highest, and driest continent in the world. Because of these severe conditions athletes must train to be prepared for a number of possibilities during their race. The extreme elements and windy weather constantly change the Antarctic landscape, making the marathon course notoriously unpredictable, as well as the annual race winners. This year was no exception to the extreme.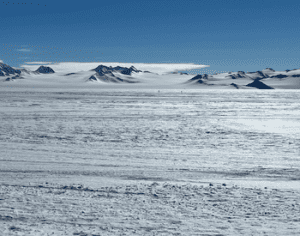 Before even reaching the race's starting line, athletes had already endured a marathon of multiple flights, travel restrictions, quarantines, and weather delays. A massive storm detained many athletes in Chile, where they had been quarantined, prior to the last leg of the trip to Antarctica. The storm led to a multiple-day weather delay, difficult, soft snow, and temperatures in the negative teens. The challenges the athletes faced leading up to the race did not deter this group one bit and instead they bonded, many forming friendships.
Due to weather concerns and the possibility of cracks forming in the ice, athletes were required to stay on a predetermined loop of approximately 6.5 miles (10.5km). The loop was completed four times to meet the marathon distance. Winning the men's division is Grzegorz Bogunia of Poland who completed the course in 3:53:02. Evija Reine of Latvia took home the gold for the women with a time of 4:06:11.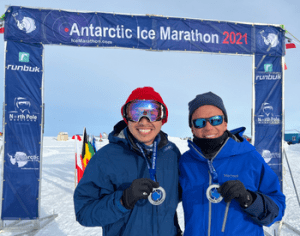 Among the competitors is Daniel Rodriguez, founder and president of Rodriguez & Associates of Bakersfield, California. Daniel made the trip to Antarctica with his son, Tomas Rodriguez, where they both overcame the challenges of climate and travel to race in this once-in-a-lifetime athletic experience.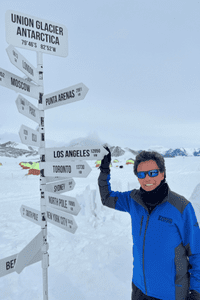 A marathon runner for many years, Daniel is no stranger to hard work, determination, and grit. These personal traits that have been ingrained in him from a young age, and that made him such a successful attorney, are evident throughout all aspects of his life. Competing in the Antarctic Ice Marathon race is just one more testament to his drive and passion for life.
Congratulations, Daniel!