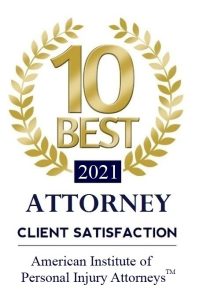 Founder and President Daniel Rodriguez of Rodriguez & Associates – a Bakersfield personal injury law firm – has been recognized by the American Institute of Personal Injury Attorneys™ (AIOPIA) as one of the "10 Best Attorneys" in California for 2021. This distinction is awarded to lawyers who have "achieved unparalleled success but most importantly have done so for the benefit of their client." To qualify for this award, a lawyer must meet the following criteria.
Be formally nominated by the Institute, client, and/or fellow attorney;
Have attained the highest degree of professional achievement in his/her field of law; and
Having done so with an impeccable client satisfaction rating.
Daniel Rodriguez, along with his staff of attorneys, have obtained more multi-million-dollar verdicts than any other law firm in the Southern San Joaquin Valley, including the largest verdict in Kern County of $70,578,289 on behalf of a family injured in a big rig accident.
At Rodriguez & Associates, we do our best to help our seriously injured clients put back together the pieces of their life. Our job is to hold the wrongdoer accountable and make them pay for the wrong they have inflicted; and, at the same time, we treat our clients like family because at the end of the day we are in this together.
If you've been seriously injured, call or text us at (661) 777-7575 to request a free consultation or fill out this online form.