Danay Gonzalez, partner at Rodriguez & Associates, has been selected for membership into The National Trial Lawyers: Top 40 Under 40.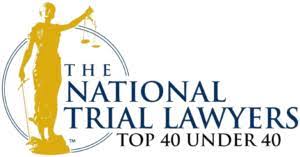 The National Trial Lawyers: Top 40 Under 40 is a professional organization composed of the top trial lawyers from each state or region who are under the age of 40. Membership in the elite organization is by invitation only and is extended exclusively to those trial lawyers practicing civil plaintiff and/or criminal defense law.
Danay is recognized by many as the voice of justice in Bakersfield, Ca. A local to the area, she was first inspired to become a lawyer after seeing firsthand the injustices many of her classmates faced as migrant or immigrant families. She ultimately followed in the footsteps of her mentor Daniel Rodriguez to become the voice for families in her community.
In her five years with Daniel and the Rodriguez & Associates trial team, Danay has gained a tremendous amount of experience and has contributed greatly to the trial team through her collaborative work on cases. Her deep connection to her clients paired with her natural compassion and empathy allow her to expertly handle challenging and sensitive cases that have gone to trial, ranging from wrongful death to school sex abuse matters.
"I have learned and grown so much as a personal injury lawyer. I really feel like I belong here and this is what I was meant to do. I am more confident, more vocal, and have a greater understanding of the law. I am excited to keep learning."
– Danay Gonzalez, partner
Danay attributes much of her success as a trial lawyer to hard work and the application of guidance provided to her by Daniel. She has adopted his unique skill of storytelling, optimizing how she connects with a jury during trial to share the experiences of her clients and building a relationship with the people who decide each case. Her abilities in the courtroom have led to some significant victories for her clients and the firm.
Congratulations on this recognition, Danay!