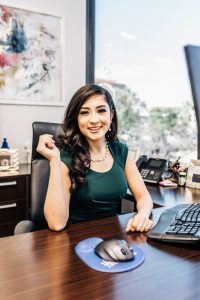 Giving a voice to those who most need it is one of the driving forces for Danay Gonzalez, in both her life and career.
A native of the Bakersfield, California area, she returned home after receiving her undergraduate degree at UCLA in the hopes of being a positive influence in her own hometown. Joining the Rodriguez & Associates family has allowed her to do just that, serving her community and getting to know the lives and stories of its individual members.
Danay cites events from her childhood as huge motivators for her eventually becoming an attorney. Growing up in Lamont, California, she had many classmates that were victims of crimes, including sexual abuse, who were afraid to speak up because of their families' risk of deportation. She remembers watching her classmates' personalities change because of the abuse they suffered, and, in her own words, she felt "an obligation" to help them find both their voice and the courage to use it.
"I don't want people to be afraid," she says.
That personal mission statement fits well into the philosophy at Rodriguez & Associates, which is "to serve those who are most in need." It was this outlook, along with the close, family-like relationships the firm keeps with its clients, that first attracted Danay to the firm.
"Something that I love is that  we're a family and we treat our clients as family," she says.
She describes the attorney-client relationship as more of a partnership than a transaction.
Danay remains committed to helping sexual abuse victims that come to the firm with their cases and stories. A detail that stands out from her first case with Rodriguez & Associates is the sheer number of women and men who admitted to being sexually abused but had kept that fact a secret. Even more disturbing was the fact that these incidents were happening at schools, churches, and after-school programs—all places.
"Where you're supposed to feel protected or safe."
But many people—especially those under age—are not safe in these environments. Danay spends a great deal of her time working with minors who are victims of sexual abuse and assault, learning their stories and those of their families. Along with fellow attorney Chantal A. Trujillo, she handles the majority of the firm's sex abuse cases involving minors.
"Something that we've learned through our experts is that these kids will live with this for the rest of their lives."
Many have PTSD, and Danay sees the effects of that condition.
Giving these children, along with anyone else who is the victim of a crime or accident, a voice is part of what motivates Danay's day-to-day work life. Back when she was working on that very first case and realizing how many people are sexual abuse victims, she had the realization that something needed to change to help these individuals step out from the silence imposed on them by fear.
"I feel like I need to be a part of that change one way or another," she says.
The work of a Bakersfield personal injury lawyer is grueling, and often emotionally taxing, but she believes the rewards of helping those in need overcome their fear and find their voice are worth the fight.