Connie Perez-Andreesen, wife of Rodriguez & Associates Senior Partner Joel Andreesen, was inducted into the 2022 CSUB Alumni Hall of Fame. The honor recognizes graduates whose career accomplishments, community service, and/or support of the university have made their alma mater proud.
From Humble Beginnings to Major Achievements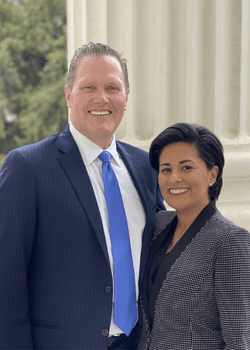 In this article by CSUB, Ms. Perez-Andreesen shares her life story that began when her parents came to the Unites States from Mexico in 1975 to work the fields. Shortly thereafter, Ms. Perez-Andreesen was born and she spent her early years in Woodville Farm Labor Camp, eight miles west of Porterville. When she was in junior high, her parents bought a home in Porterville and she began attending Monache High School. Her dream "was to get married, have kids and live happily ever after". She didn't know anyone who had gone to college but started hearing about college from the family of her high school boyfriend.
After a brief stint at Porterville College, she dropped out to work until one day her store manager was having a bad day and took it out on her. It was that moment where she decided she didn't want to turn into a miserable person like him, living paycheck-to-paycheck. She re-enrolled in Porterville College, got straight As, and eventually enrolled at CSUB.
In 2000, Ms. Perez-Andreesen graduated with a degree in business administration with an emphasis in accounting. With the encouragement of her CSUB professor, she applied to the biggest and most prestigious accounting firm in town, and landed the job. She worked hard, taking on whatever projects they gave her including lots of traveling for work. When one of her colleagues told her that she'd never make partner – as the other partners where all white and mostly male – he inadvertently put a challenge in front her that she rose up to through conscientious work and a commitment to excellence in her job. In 10 years, she made partner.
After a brief time in politics, she was approached by Arturo Rodriguez, president of the United Farm Workers, who asked if she knew anyone who'd be interested in its controller position. Ms. Perez-Andreesen was interested, which is what Rodriguez had hoped for. She applied and got the job. Working for the UFW "brought me back to my roots," Ms. Perez-Andreesen said. "I'm the daughter of farm workers. I grew up in the labor camp."
Ms. Perez-Andreesen became the chief administrative officer of the UFW in 2020.
Ms. Perez-Andreesen has also been recognized as a Businesswoman of the Year by the Kern County Hispanic Chamber of Commerce, Latina of Influence by Hispanic Lifestyle, Woman of Excellence by the National Latina Business Women Association Los Angeles, and as an experienced leader by the American Institute of Certified Public Accountants and the California Society of Certified Public Accountants. Ms. Perez-Andreesen joins 64 CSUB alumni who have been included in the CSUB Hall of Fame, which was started in 2007. Congratulations!
There is much more to her inspiring story, read the full article here.