On January 10, 2013 (almost a month after Sandy Hook), a Taft Union High School student walked into class carrying a shotgun, aimed it directly at a fellow classmate, and shot him.
Now, almost 10 years later, the then 16-year-old victim is receiving full closure.
The State of California Court of Appeals has upheld the original verdict decided in July 2019, placing 54 percent of the responsibility on the School District for failing to protect their student. The judgment holds Taft Union High School District liable for over $2.5 million in damages.
The School District and its employees tried to dodge responsibility for what happened to their student and instead claimed it was all the actions of the school shooter, his mom, and his brother. The school district and its employees also tried to dodge responsibility by saying they are entitled to immunity under the law.
And, while this is usually the case, the ongoing reports of concern made by fellow students and staff to the school district and its employees revealed who knew the most and cared the least.
The mountain of evidence against the school district and its employees created a groundbreaking case in connection with what a school district is supposed to do when confronted with threats of a school shooter and how to protect their students from a school shooting.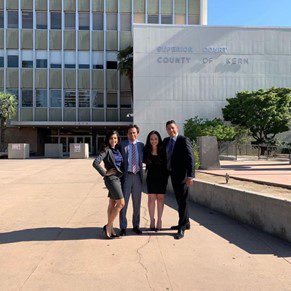 Daniel Rodriguez, Chantal Trujillo, and Danay Gonzalez, from Rodriguez & Associates, have represented the student who was shot throughout this legal battle, which included a six-week jury trial.
During this six-week jury trial, they were able to prove that the school district chose to ignore its own policies and procedures, never informed the police about the reported threats, and never even informed the school shooter's mom about the reports of concern surrounding her son.
California has had the most school shootings of any state since 1970, totaling 164. With school shootings on the rise, systematic improvements need to be made within the institution of public education to ensure the safety of all students and staff within schools.
In addition to handling cases of school violence, Rodriguez & Associates have experience working with victims of school sexual abuse seeking legal action to resolve complicated problems. If you believe your child's school has failed in its duty to provide a safe environment for its students, contact us today for a free consultation.