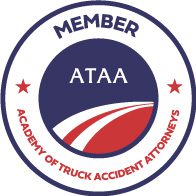 When compared to other types of Bakersfield motor vehicle accidents, truck accidents are unique. In no other type of accident is the weight and size of the vehicles so mismatched. It's this difference in weight and size that usually winds up badly hurting the people in the car and the truck driver ends up walking away unscathed. With often catastrophic results, it's important to contact a skilled Bakersfield truck accident attorney in the event of an accident or injury.
Truck accident cases can involve motor vehicle carrier rules, state and federal transportation laws, and even the particular trucking company's own safety rules. The question becomes what rules of the road did the truck driver violate. But, even more importantly, why did he violate the rules of the road? Was it because he was texting, fatigued, or just in a hurry to get to his next stop that wound up getting people badly hurt or even killed?
Truck Accident Statistics
Accidents involving commercial motor vehicles contribute to thousands of deaths and even more injuries each year. According to the National Highway Traffic Safety Administration and Federal Motor Carrier Safety Administration:
In 2015, 4,067 people lost their lives in trucking accidents. An additional 116,000 people incurred injuries.
These accidents involved an estimated 433,000 large trucks.
Fatalities involving large trucks appear to be increasing. In 2014, 3,908 people lost their lives in commercial trucking accidents.
California makes up 7.2% of the nation's total commercial motor vehicle accidents. There were 291 fatalities throughout the state in 2015.
While a truck accidents can occur at any time, they're statistically more common during the week. In fact, 78% of crashes occurred between Monday and Friday, and 65% of all crashes occurred during the daytime.
Several other factors may influence your likelihood of being in a car accident. Driver behavior is the leading cause of commercial motor vehicle crashes, so things like speeding, drug and alcohol use, and distracted driving all can play a role. Truck drivers spend long hours on the road where they can become bored and easily preoccupied. They also face tight deadlines which may encourage speeding and other reckless behavior. Statistically, you're most likely to be in a truck accident during the daytime on a weekday – 73% of all commercial vehicle accidents occur within this time period.
Common Causes of Trucking Accidents
The Federal Motor Carrier Safety Administration (FMCSA) conducts regular studies to analyze the cause of crashes and look for ways to improve roadway safety for American drivers. Since tractor-trailers (also known as big rigs) are much larger and inherently more dangerous than other passenger vehicles, the FMCSA recently performed a Large Truck Crash Causation Study to help determine the major causal factors of big rig accidents.
Researchers examined nearly 1,000 crashes involving big rigs to assess what causes trucking accidents, and the data they collected included criteria such as the conditions of the drivers involved, roadway obstacles, and weather conditions. While some of the major influencing factors are common to most other types of vehicle collisions, there are some factors unique to big rigs that drivers should recognize.
Distraction and Driver Error
The Large Truck Crash Causation Study indicates that driver error accounted for 87% of fatal and injury-causing collisions. The law defines "Driver error" as any of the following situations:
Non-performance. A driver failed to take the appropriate action or make the proper maneuver in time. This includes incidents where a driver was incapacitated by a medical issue or fell asleep at the wheel.
Inattention. A driver did not notice or recognize a roadway hazard or other dangerous driving conditions. This includes distracted driving, such as using a cell phone or other distracting activities.
Poor decisions. A driver made an erroneous judgment, causing the accident. This includes misjudging other vehicles' speeds, driving too fast for the roadway conditions, tailgating other vehicles, or braking too hard.
Poor driving. Simply put, this defines any instance in which a driver makes a technical mistake, such as over-steering, panicking, or failing to execute a turn safely.
It's important to note that not all driver errors are entirely the fault of the driver. It's difficult to make split-second decisions on the road, and a driver may not always react appropriately. However, big rig drivers have an added responsibility to exercise care on the road due to the inherent risks of driving such large, heavy, and dangerous vehicles.
Other Causes of Trucking Accidents
Aside from definite driver errors, there are several other common causes of motor vehicle accidents that our Bakersfield truck accident lawyers have seen, and all drivers should take care to understand these risks and exercise extra caution near big rigs:
Poor vehicle maintenance. Big rigs are complex, powerful machines that make very long journeys. As such, they need careful, regular maintenance performed by trained professionals. When a big rig receives subpar maintenance, the driver and every other motorist around them on the road is at risk if a critical part fails.
Weather conditions. Every driver should use extra care when driving in bad weather. This is especially true when driving near big rigs.
Poor hazard marking. Roadway hazards, construction zones, and disabled vehicles can cause accidents if they are improperly marked.
Traffic flow. An accident ahead, congestion, and other factors influence the flow of traffic, sometimes for many miles. Drivers typically become frustrated when they get stuck in slow-moving traffic, heightening the risk of aggressive driving.
Unfamiliar territory. You've probably struggled to navigate an unfamiliar area at some point. Big rig drivers have to do this frequently, as their job takes them across the country in large stretches. Some drivers may have regular routes between the same usual stops, but others may find themselves on new roads every week. It's vital to use extra caution when driving on unknown roads.
Ultimately, there are some unavoidable hazards that every driver will face such as bad weather, sudden tire blowouts, wildlife crossing the road, and countless other possibilities. However, it's every driver's responsibility to stay focused on the road, pay close attention to their surroundings, and exercise special care in inclement weather and other hazardous driving conditions.
How Long After a Truck Accident Can You Sue In California?
Like most other states, California sets certain time limits for pursuing a personal injury claim, also called the "statute of limitations." California follows the same statute of limitations for truck accidents as it does for any other personal injury case. The California Code of Civil Procedure Section 335.1 states that a claimant has a two-year deadline for filing a suit to compensate for the losses arising from the negligence or wrongful act of another person.
One important thing to consider is when the "clock" starts running on this two-year time limit. Your statute of limitations may vary if a truck accident led to injury or wrongful death in Bakersfield. For example, if you or a loved one sustained injuries in a truck accident, you have two years from the date of the accident in which to file a claim. On the other hand, if you lose a loved one in an accident, you have two years from the date of his or her death, if the two dates are different.
On the other hand, if a truck accident results only in property damage, the California Code of Procedure section 338 allows you three years to file a claim against an at-fault truck driver.
Following these statutes of limitation is essential. If you attempt to file an action after the applicable time period, the court can – and likely will – refuse to hear your case unless it falls under an exception, which is rare.
The best thing you can do to protect your right to compensation is contact an experienced Bakersfield truck accident attorney as soon as possible.
What to Do After a Truck Accident in Bakersfield
The hours, days, and weeks following a truck accident are important times for victims. Your actions in these moments could ultimately affect your right to compensation. If possible, take as many of the steps below following a Bakersfield truck accident:
Check on All Other Passengers and Drivers
California law requires that drivers provide "reasonable assistance" to anyone injured in a car accident. Check on your own passengers and the drivers of the other vehicles involved. If anyone needs medical attention, call 911 as soon as possible.
State law also requires that motorists provide any of the following information if requested:
Names and addresses
Personal information of the occupants or the owner of the vehicle, if it's different from the driver
Vehicle registration and insurance information, and;
Driver's license number.
If possible, pull your vehicle over to the side of the road while waiting for the police to arrive. This will minimize disruption to area traffic and keep you and your passengers safe from further injury.
Report the Accident
Law enforcement will generally report to the scene of an accident, especially since these types of accidents involve significant property damage and injuries. When an officer arrives at the scene, he or she will want to take a statement and learn more about the accident, since California law holds at-fault drivers accountable for damage to roads or bridges.
A police report is also an integral part of your insurance and/or personal injury claim. Be as thorough as possible, without embellishment or emotion. Describe what was happening at the time the accident occurred, how it happened, and any other details you can remember. If you smelled alcohol on the driver's breath or he or she was weaving in and out of the traffic lanes, say so.
An accident report could prove valuable for establishing a driver's liability – so much so, in fact, that insurance companies use them in their own investigations.
Preserve Evidence, If Possible
If you can, take pictures of the accident scene, including damage to your vehicle, damage to any area roadways, and forensic evidence like skid marks. These could prove useful later should you decide to pursue a personal injury claim.
Contact a Truck Accident Attorney as Soon as Possible
If you believe a truck driver was at fault for your injuries, contact a Bakersfield personal injury attorney as soon as possible. The lawyers at Rodriguez & Associates can review the specifics of your case and help you determine your next steps.
Compensation for Truck Accident Victims
Victims of negligence can collect several types of damages in a truck accident claim. A personal injury claim seeks to provide compensation for both tangible and intangible losses. Here are some examples:
Compensation for medical bills. The courts will take into account expenses like doctors, hospitalizations, therapy costs, and emergency room visits.
Property damages, such as damage to your vehicle and other property.
Lost wages or the amount of money you would have earned at work had you been able to attend.
Pain and suffering, in which a jury may award damages for past, present, and future discomfort associated with your experience
Emotional distress may depend on the intensity of your experience and any related bodily harm.
Punitive damages are rare, but a jury may award them when an at-fault driver's egregious conduct leads to your injuries. An example of egregious conduct might be operating under the influence of illegal drugs or alcohol.
Truck accident claims seek to provide compensation for both material and immaterial losses. To determine the number of your intangible losses such as pain and suffering, your Bakersfield truck accident attorney will work closely with the insurance company to demand fair compensation based on the extent of your injuries and other damages.
The lawyers at Rodriguez & Associates are committed to helping California families gain compensation for their injuries following accidents with commercial vehicles. If you recently suffered harm in a truck accident and believe that someone else may be responsible, schedule a free initial consultation with our firm today.
How a Truck Accident Attorney Can Help
When you need help in recovering compensation following a truck accident, you need assistance from a lawyer with the expertise to know the difference between Bakersfield car accidents and truck accidents. At Rodriguez & Associates firm founder and lead lawyer Daniel Rodriguez has:
Thirty-plus years of experience as a personal injury lawyer and trial attorney
A degree in engineering, which enables our firm to quickly grasp the causes and effects in truck accidents involving the securing and loading of cargo, brake failure and other issues involving speed, weight, and impact.
Bakersfield is a relatively small community. It can be difficult to locate a law firm that has extensive experience in a particular practice area.
The Bakersfield trucking accident attorneys of Rodriguez & Associates have handled hundreds of truck accidents. In addition to our knowledge regarding truck accidents' engineering and legal issues, we are familiar with how truckers' fatigue, hours on the road and other day-to-day issues can lead to catastrophic accidents. We are skilled at identifying and acquiring drivers' logs, company records, and other evidence, and using it to create strong cases.
Contact a Bakersfield Truck Accident Lawyer Today
Rodriguez & Associates is conveniently located in downtown Bakersfield. We are available for weekend and evening appointments, charge no fee for consultations and speak both English and Spanish. To contact us, please call (661) 777-7575 to schedule a free consultation with one of our truck accident attorneys in Bakersfield.