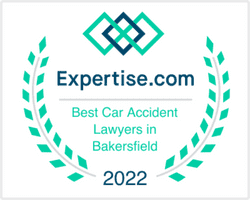 The number of Bakersfield motor vehicle accidents involving motorcycles is much less than the number of accidents involving cars and trucks, making it difficult to locate a law firm that has more than occasional experience in assisting motorcycle accident victims and their families. At Rodriguez & Associates, Bakersfield motorcycle accident lawyer Daniel Rodriguez and his legal team have handled more than 100 motorcycle accident cases in our three decades of service to residents of California's Central Valley.
California Motorcycle Accident Statistics
According to the California Office of Traffic Safety, there were 58 people killed or injured in motorcycle accidents in Kern County in 2013. Although it's been reported that motorcycle fatalities were down 7% nationwide and 13% in the state of California, there is still a major issue with motorcycle accidents throughout the state. We are familiar with the unique factors that lead to motorcycle accidents, as well as the challenges of recovering full compensation following a crash.
Common Causes of Motorcycle Accidents in California
For motorcyclists in California, it is important to know the most common causes of motorcycle accidents. Recognizing the factors and situations that most often lead to crashes can increase the odds of avoiding them. An ounce of knowledge can go a long way in reducing the level of risk. According to police reports, studies, and state-specific crash statistics, the following are the most common reasons motorcyclists end up in auto accidents in California:
Unsafe speeds. In 2014, speeding caused the majority of vehicle operator injuries in California, with 49,400 people injured. When drivers speed, they're more likely not to stop in time to avoid a rear-end collision. Driving too fast for conditions also increases the odds of drivers losing control of their vehicle and causing a collision.
Automobile failing to yield the right-of-way. Drivers might fail to yield the right-of-way to motorcyclists because they either don't see them, don't understand the law, or because they are negligent. Other motorists making left-hand turns puts motorcyclists especially at risk and accounts for 42% of all motorcycle accidents. Drivers might fail to look carefully enough for motorcycles or misjudge the distance of a motorcyclist prior to making a turn.
Improper turning. Although speeding causes the greatest number of automobile injuries, improper turning causes the most deaths. Making improper or illegal turns caused 22,801 motorist injuries and 539 deaths in California in 2014. Improper turns, such as illegal U-turns, can cut off a motorcyclist and end in serious injuries and death.
Driver distraction. Drivers must pay strict attention to the road at all times. Engaging in illegal habits such as texting and driving, eating or drinking, chatting with passengers, fiddling with the radio, or personal grooming increases the risk of causing a motorcycle accident. Distracted driving often results in severe crashes because drivers don't hit the brakes or try to avoid a collision.
Roadway hazards and defects. A motor vehicle might be able to roll over or maneuver around roadway defects such as potholes, but motorcyclists cannot. Defects such as loose gravel, uneven shoulders, debris, fallen trees, and other road problems can present serious dangers to motorcyclists. The city of Bakersfield might be liable for these accidents if they knew about the dangers and did not repair the roadway defect.
At Rodriguez & Associates, we've helped dozens of injured motorcyclists exercise their rights and secure sizeable settlements and jury verdicts in California. We have the ability to confront negligent or reckless drivers, careless road maintenance crews, motorcycle manufacturers, property owners, and any other party that might share liability for your recent accident. If negligence played a role in your crash, discuss your legal options with a seasoned Bakersfield motorcycle accident attorney at our firm.
California's Motorcycle Helmet Law
California has a "universal" motorcycle helmet law. Every motorcycle operator in every city in California must wear an approved helmet. The law applies to operators and passengers, regardless of age. The California Vehicle Code Section 27803 mandates that motorcycle helmets must meet regulations under the CA Department of Motor Vehicles. According to the statute, it is against the law to operate or ride a motorcycle without an approved helmet.
Failure to wear a motorcycle helmet in California can result in a legal violation and citation, punishable by a fine. It can also negatively affect a claim if you get into a motorcycle accident. The defense might use the lack of wearing a helmet against you to argue that you contributed to your head, brain, neck, or back injury because you chose not to wear a helmet. California courts might reduce your compensation award by a certain percentage if it deems that you were "comparatively negligent" for your injuries because you broke the law and didn't wear a helmet.
To have a case against you for comparative negligence, the defense would have to show that your lack of helmet wearing contributed to the severity of your injuries. If your injuries do not relate to your head or brain, this can be difficult to prove. The defense might use tactics such as bringing up statistics that prove wearing a helmet reduces the risk of injuries. If you broke the helmet law in a recent motorcycle accident, hire a Bakersfield personal injury attorney experienced in motorcycle accidents to help you stand up against potential helmet-related defense strategies.
Motorcycle Accident Injuries in California
The severe nature of motorcycle accidents can cause a variety of injuries to motorcycle riders and their passengers. Motorcyclists are almost entirely exposed to injuries in a collision, with no metal shell to protect them. Even with a helmet and protective body gear, motorcyclists can suffer serious and life-threatening injuries. In our years representing motorcycle accident victims in California, some of the most common injuries our Bakersfield motorcycle accident attorneys have seen include:
Bone fractures. It is common to break bones in a vehicle-motorcycle collision. Motorcyclists are most at risk of bone fractures in their lower extremities but may suffer breaks in their arms or wrists from trying to break a fall. More serious breaks like skull or spine fractures are also possible.
Head and brain injuries. The head is at great risk of injury in a motorcycle accident, as the operator can fly from the bike and strike his or her head on the road or another object. Helmet or no helmet, the skull and brain can suffer serious or permanent injuries. Traumatic brain injuries can weigh on a victim for life.
Neck and spine injuries. Injuries to the neck, back, and spine can occur depending on the factors of the collision. If a motor vehicle runs over a motorcyclist or pins him/her to another car, it can sever the spine. Spinal cord injuries can result in lifelong, untreatable paralysis below the point of impact.
No matter what type of injury you suffered in a California motorcycle accident, talk to our lawyers. Taking legal action against a responsible driver or other parties could result in payment for your injury-related hospital bills, medical costs, disability, lost wages, and more. Rodriguez & Associates can handle minor to catastrophic injury claims in Bakersfield. We work hard to help our clients get restitution for their injuries. Our firm also includes a number of experienced Bakersfield bike accident lawyers, if you've suffered an injury on a traditional bicycle.
Compensation for Bakersfield Motorcycle Accident Victims
Securing financial compensation for your motorcycle accident damages depends on the legal actions you take. Start protecting your rights immediately after a collision. Documenting important details about your accident, such as the name and insurance information of the other driver and photographs of injuries, can significantly help your case. The more evidence you gather about your case, the better. You could be eligible to recover for:
Hospital bills
Lost wages
Property damage
Physical pain
Emotional suffering
Loss of consortium
Once you receive medical care for injuries, the next step is to contact a Bakersfield motorcycle accident attorney at Rodriguez & Associates. Ask us how much your motorcycle accident claim could be worth during a free consultation with one of our lawyers. We could help recover for economic losses as well as non-economic losses, such as pain and suffering. The skill of your attorney can make all the difference in the amount of pain and suffering damages you receive from a California jury – especially if you suffered a catastrophic injury such as brain damage or spinal cord injury.
Rodriguez & Associates | Bakersfield Motorcycle Accident Lawyers
At Rodriguez & Associates, we are in business for one reason: to help injury victims in every way we can. To that end, our legal team combines our focus on getting the best results for the client along with caring and helpful service at each step of the legal process. Our firm is conveniently located in downtown Bakersfield. We are available for weekend and evening appointments, charge no fee for consultations and speak both English and Spanish. To contact us, please call (661) 323-1400 to schedule a free consultation with one of our qualified Bakersfield motorcycle accident attorneys today.